I've waited long enough to do this, and now that I have some somewhat decent photos it's probably time.
Way back in 2001, I unexpectedly ran into an old college friend at a mutual friend's house. Turns out he had just bought (and modified) a brand new 2002 WRX wagon. In our college days, I was in the car with him when he rolled 3 tires off the rims on his old Ford Probe GT. This feat was performed on campus while trying to learn how to do e-brake 180s like you see on TV and such. That was quite an experience, and I was a little hesitant to go for a ride when he offered, despite having never ridden in a WRX. It was dark out, so I didn't really get a good look at his car, and I was admittedly uneducated on Subaru modifications at the time. He did the stuff that was typical at the time - Vishnu TMIC, VF30, JDM 4/2 pots, Vishnu tune, etc.
Long story short, that little ride around Pacifica and South SF was enough to convince me that I had to have a Subaru of my own. So, 4 years later I bought a used 1999 Impreza L wagon in the Aspen White variety, and did a few simple mods to make it more fun.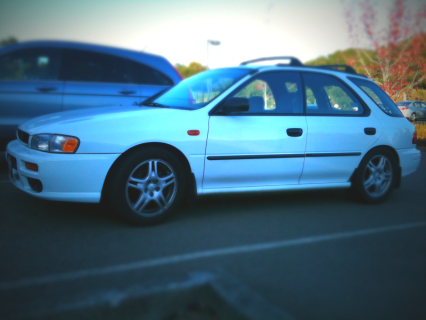 That photo was taken with my iPhone 1.0 and then poorly tilt-shifted by yours truly. As previously stated, the mods were pretty simple:
02-04 WRX wheels
225/50R16 tires - no rubbing!
Ver. 6 struts
Tanabe GF210 springs
STi 20mm RSB
Kartboy short shifter
Momo shift knob
Somewhere in my course of my L ownership I borrowed my former bosses 04 FXT Limited to run some errands around SF while my girlfriend (now wife) was using my car for something else. Even though it was an auto and I've only ever had 5MT cars with one exception (Jeep), and even though his whippets had chewed the upholstery to death, I fell in love. I was finishing up my degree still - on the 11 year plan - so I couldn't exactly rush out to buy a new car so I threw around the idea of swapping my L, which would have been awesome but also expensive - in the neighborhood of 12K to do it the way I wanted. Needless to say, I just figured it wasn't the best plan. I began a relentless search of the various for-sale boards and craigslists - probably almost 2 years worth. Once I finished school and started my career, I started saving and looking more seriously. Finally toward the end of December 2009, I found what I was looking for.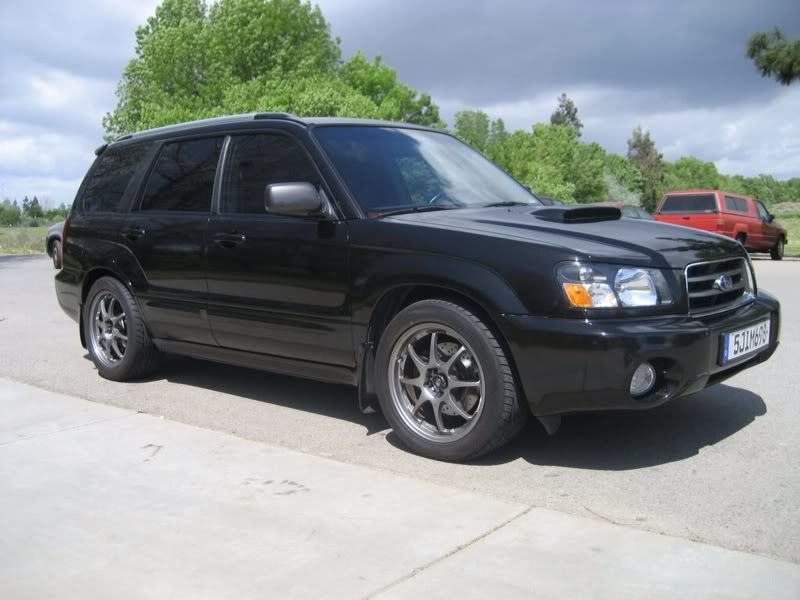 Some of you may remember this being up for sale by a user named Norester, then off-sale, then back up for sale around that timeframe. Him and I talked back and forth A LOT for a couple of weeks while I was waiting for a sizable check to arrive. He was nice enough to wait for me, and on January 23, 2010 I flew down to LA with $12,000 in a ziploc bag in my backpack and left plus one Forester XT and minus $11,500. I think I had a smile on my face the whole drive back to San Francisco. Not having to downshift going up hills - it's what makes a Forester XT, a Forester XT. There were some nice mods already done to this car:
Lowered
Tinted
17x8" Rota Rev wheels
245/45R17 Toyo Proxes 4 tires
Invidia catless uppipe
STi control arms
STi 20mm rear sway bar
Whiteline 24mm front sway bar