Discussion Starter
•
#1
•
Thanks to Peaty giving me good info on doing the job. Thanks peaty your awesome :rock:
I disconnected the battery and left the headlights on to drain any residual current.
Then I removed all the stuff required to get the job done. The crank pulley needed a little more power to remove the 22mm bolt so a cheater bar was used.
Here are some pics with the 2.5 N/A front end taken apart to access the water pump.
Fully stripped front end.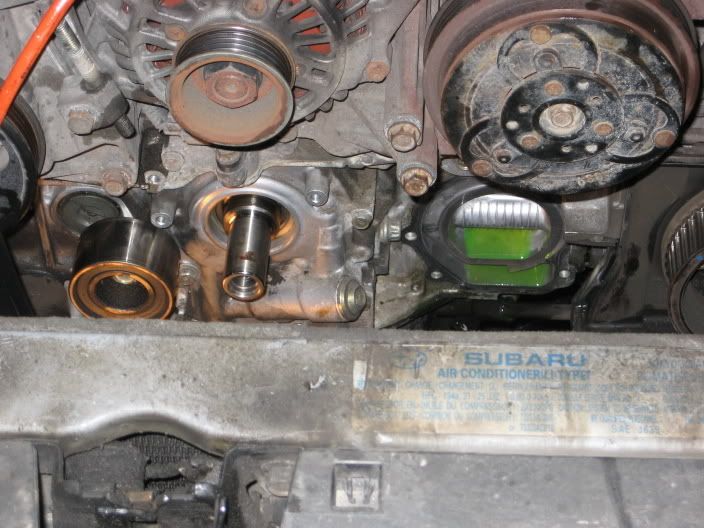 New pump and crank seal installed.
Timing belt installed. I had the hardest time getting the belt on, so i loosened the cogged idler left of the water pump pulley. Then i slipped the belt over the smooth pump pulley. Notice the Allen key holding the Belt tensioner piston.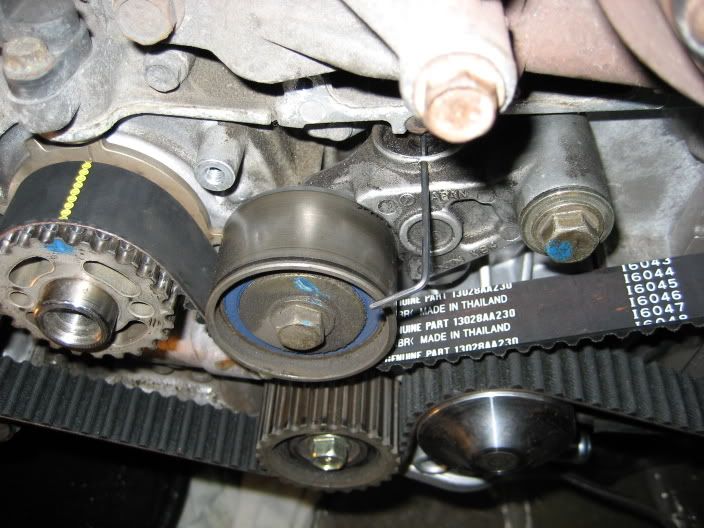 The OEM Timing belt is awesome. I really suggest using this part since it had the timing marks on the belt itself.
passenger side timing mark
crank timing mark
driver side timing mark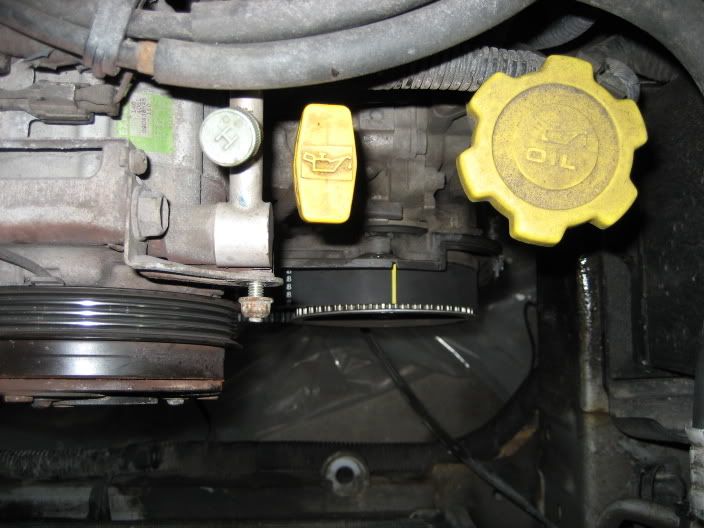 Full view of belt installed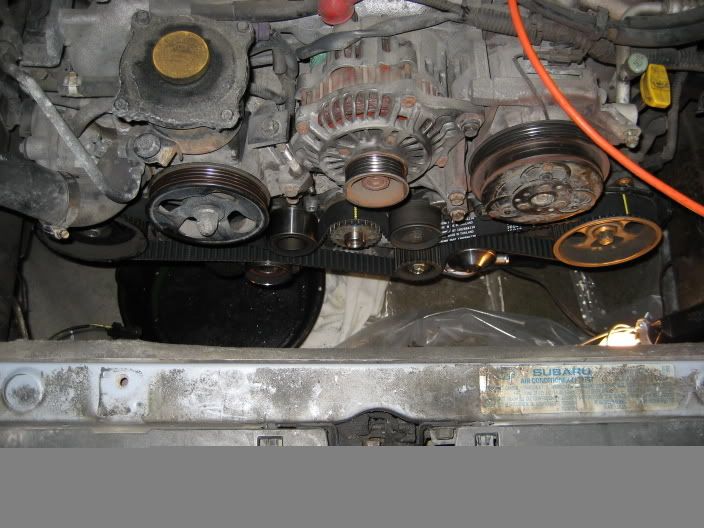 View of Belt tensioner with Allen key removed.
I then flushed out the radiator. I never saw something so clean in my life. No deposits are crud coming out. Like new.
I also cleaned out the rad core with compressed air. I did the same with the condenser blowing air towards the front side of the car. A lot of crap came out :icon_eek:
I then inspected the cleanliness with a light behind as i looked through. A/C should be good this summer. :icon_cool:
All major and important bolts were torqued to the specified requirements. If you are good at wrenching, this is a pretty straight forward job.
After all the cooling system was buttoned up, i made a 50/50 mixture using OEM Scoob coolant with distilled water. Man is this stuff so dark green. Perfect for St-Patties day :biggrin:
Prior to pouring it into the rad, i also poured in the conditioner per instructions on the TSB that peaty sent me.
Then I started her up and ran it at 2000rpm's for 5 mins. Once heated up i knew it was all good to put the rad cap on. I never seen an engine as simple. I checked the hoses to make it burp and nothing came up. VW's are a nightmare for burping.
I've wrenched on VW's and all i can say is that the Subaru is way easier and probably one of the easiest engines to work on.