My Ultimate Daily Driver Project
Teaser shot just to get you interested:
I'll start with the background. It was a few years ago, and I was at the dealership having my impreza serviced, and sitting in the showroom was an 08' turbo sport in WRB. It was probably the best looking car I had ever seen, but being dirt broke I knew I could only dream. Fast forward a couple years, my mind would still wonder back to that car and I knew one day I would have one. So I set up a search on autotrader and carmax, and had them e-mail me everyday with matches for that car. A few popped up, but would always be sold by the time I got in touch with the dealer. (which a few times was literally a matter of hours). So I decided to wait. I figured, I'm planning on moving in a year and starting a new job around the same time. So I would wait till after the move to start my search again. I found a nice cheap MR2 and bought that to play around with, and i still had my impreza. Well one day in the summer of 2011 months ago, I was bored at work, so I ran a quick autotrader search and imagine my surprise when the exact car I was looking for, showed up #1 on the autotrader list, and it was only an hour and half away from me, and it was one of the three hundred that had a manual transmission. :Banane17: So long story short, two days later I had a deposit on it (thank you wifey) and the rest will be history.
What I had at the Time:
06' Impreza 2.5i:
91 SW21 mr2:
I ended up selling both of these cars to help pay for the forester and its initial modifications.
So now on to the FOZ. I personally think that making the perfect balanced Daily Driver is one of the hardest cars to build. If I wanted an all out race Machine (I wouldn't have gotten a forester for one), but you focus purely on the engine and suspension. If I wanted a luxury car, I would only focus on the interior. And so on and so forth, but to build the ultimate daily driver, you need to compromise on everything and on nothing. It has to be the best balance of comfort and performance, all out power and reliability, luxury and practicality. Unfortunately modding for me is a very long process as well, having seen first hand many times the effects of cheap & bad modifications (having been a Harley Davidson technician for years I've seen my fair share of really bad ideas and even worse parts) so I try to only use the best when it comes parts and shops for work I can't do myself. Doing things this way costs alot more and thus it is usually months if not years between mods, but in the end you have a vehicle that is still up to or better than OEM spec and will be just as reliable down the road as it was when it rolled off the factory floor.
On to the Forester
current mod list:
Interior:
STI front seats
WC Lathe Works hybrid piston shift knob (custom engraved with my family crest)
pioneer avic-z130bt
Ebay center gauge pod
STRI DSD-SLMII gauges (boost, fuel pressure, oil pressure, oil temp)
Innovate LC1 wideband AFR gauge - waiting on install
Subtle Solutions ash tray gauge pod
Exterior:
04/05 tail lights
FXTSPORTS08 lightbar
Subtle Solutions Carbon Fiber Exhaust shield
Philips Extreme vision +100 low beam bulbs
Philips HIR high beam bulbs
GAU DONQ LIH extra long, hard rubber exhaust hangers
Suspension:
SPT lateral links
Whiteline 22mm adjustable rear sway with kartboy endlinks
Whiteline 22mm front sway bar with kartboy endlinks
Tokico D-Spec with RCE Black springs
SPT Titanium FSB
Wheels/Tires:
Summer:
OZ Alleggerita HLT 17x7.5
15lbs
each
Yokohama S. Drive 245.40.17
Winter:
Stock rims custom painted in subaru gold
Dunlop Winter Sport M3 215.45.17
Engine:
LightSpec Titanium cat back - catback=
12lbs
V.7 STI hoodscoop
Optima Yellow Top Battery
now onto the pictures:
Stock Pics: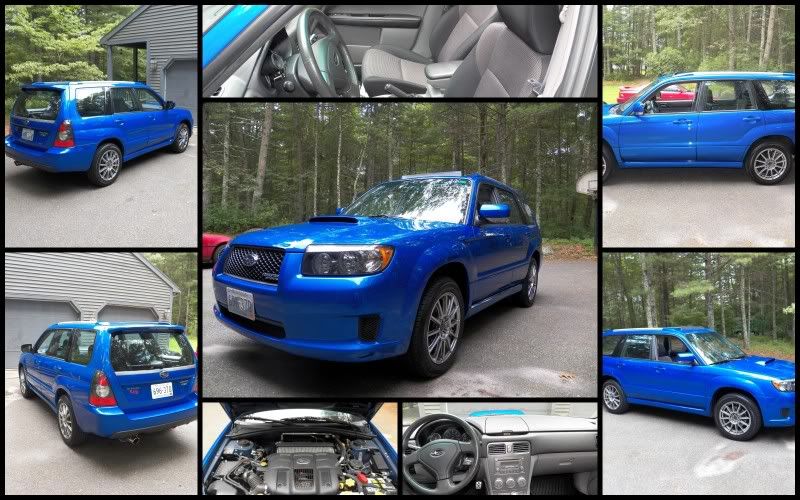 (we all know what a stock car looks like)
Mod Pics:
(I'm going to try and copy some of the more successful build threads on here and when I do a mod worth documenting I'm going to make a separate link with the how to, and then link that thread in here along with some updated photos)
The first thing to go in were the 06' STI front seats I had in my Impreza. What I thought was going to be a quick and easy swap turned into a much involved process and post #2 will have all the info on how to do that swap and have everything still fully functional:
Next I installed the Lightspec Titanium catback, and kinda like the seats this ended up being a much more involved process than I was hoping for, but being that this was the first forester to ever have a lightspec exhaust (at least that's what Lightspec told me), it was worth the effort. (I also switched over to the O.Z. wheels around this time):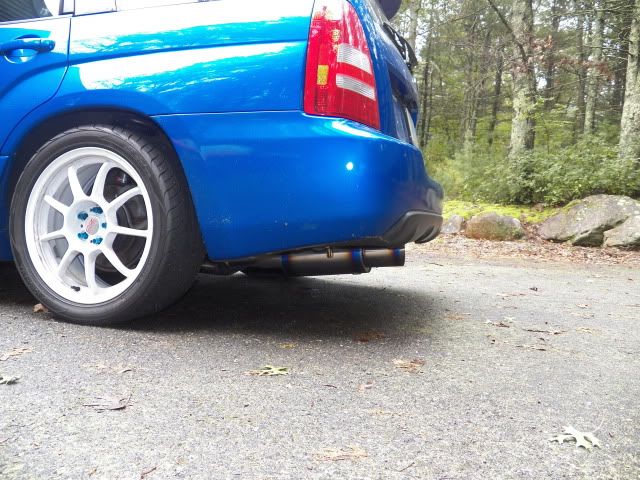 quick exhaust clip:
Next to go on was the new suspension. Now, not having a spring compressor or a few of the other tools needed for this job, the car went over to the guys at Wicked Innovation. Who are probably the best Subaru guys in RI and probably a chunk of the eastern seaboard. (here is a video about the shop) (no I didn't make it):
I also somewhere around this same time swapped taillights with a friend of mine who had an N/A 04 foz. The 06-08 tail lights are just to much of an altezza style for me (even the blacked out ones). This same friend is the one who painted my winter wheels for me (thanks Nick)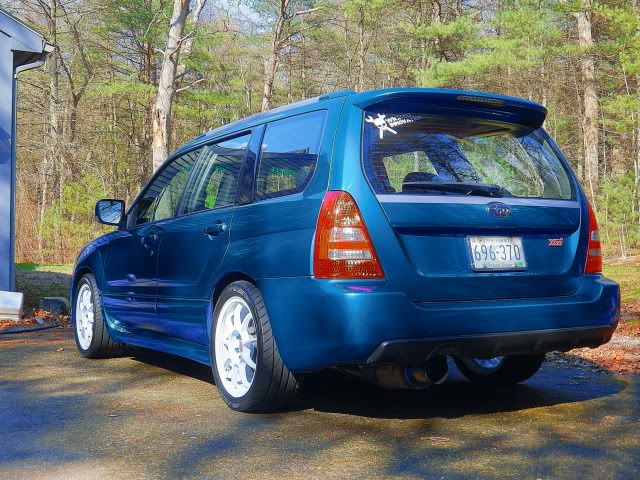 Here are a few more Winter mode pics taken by a friend who knows what they are doing (thanks Payam)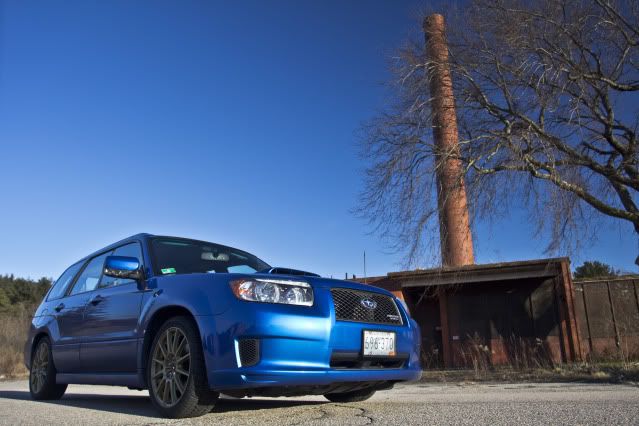 So some time and a lot of money later I got my gauges set up. Having been a certified mechanic in the past I like to have lots of info about what is going on with my car so hence a lot gauges. The scan gauge II reads water temp, battery voltage, intake air temp, and MPG (just for fun), then in the center pod I have boost, oil pressure, and fuel pressure, and finally the ash tray pod reads oil temp, and wideband 02: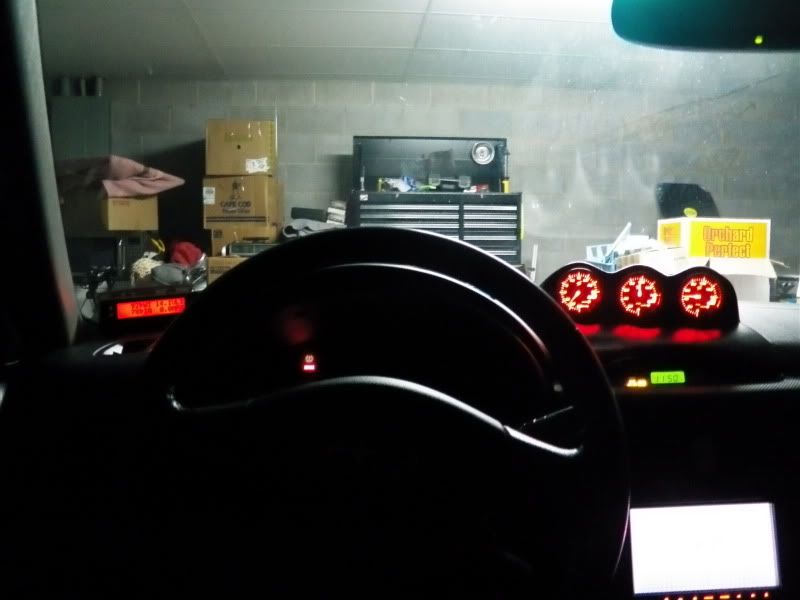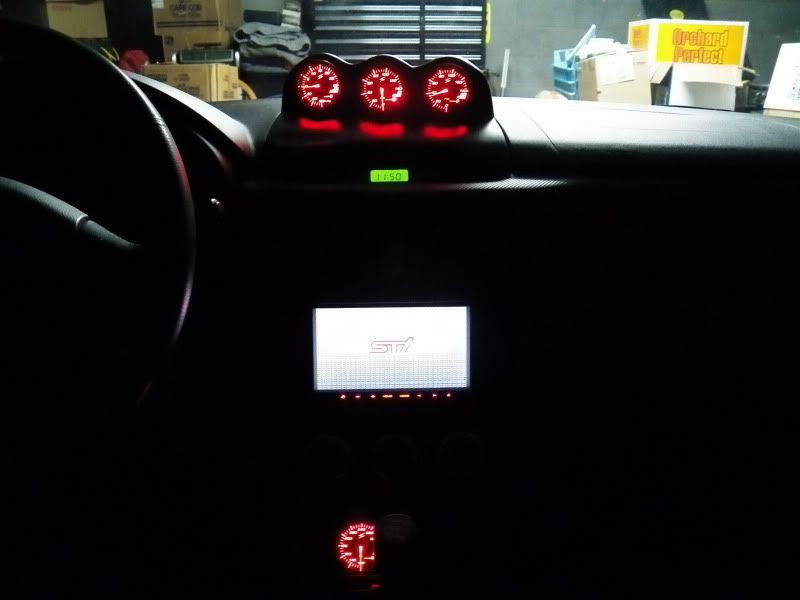 In May of 2012, my wife and I moved from RI to WV for work. So I decided it was time to mount the CB rig into the Foz, but because I wasn't always going to be "on the air" I went with as stealth a set up as I could. I purchased a lil' wil' magnetic mount antenna, and used my "all in the mic" cobra 75wxst. This CB design was perfect because, it uses only a small "hard mount" box that I industrial velcro'd to the bottom of the hvac control shelf, then I just screw the mic in and throw the antenna on when needed:
mounted under the HVAC: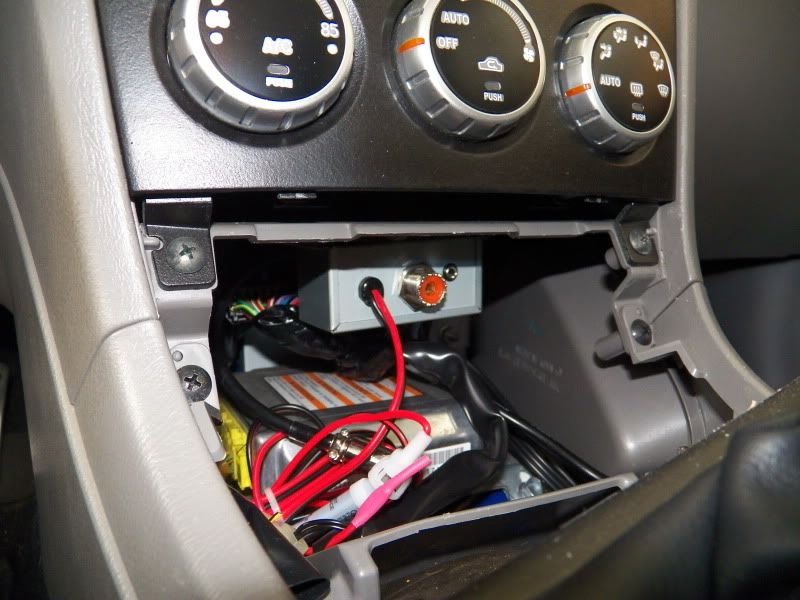 CB unit: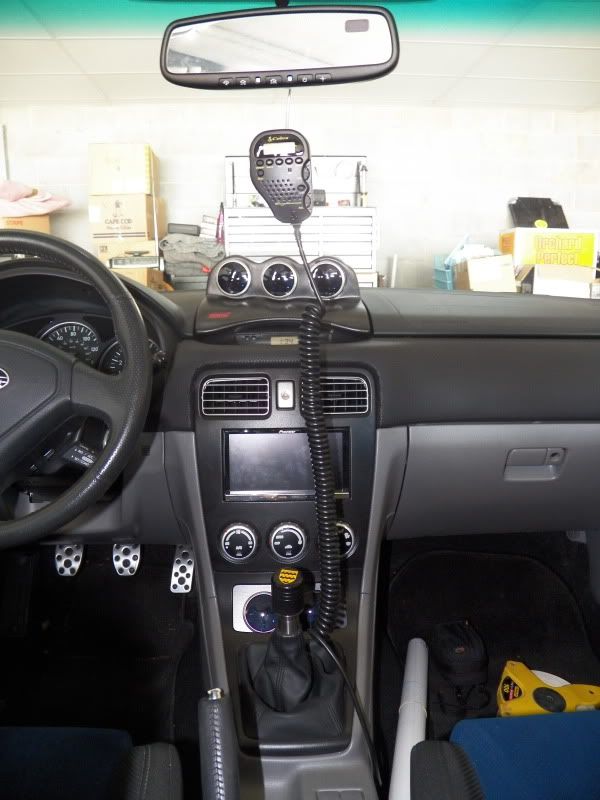 big wippin: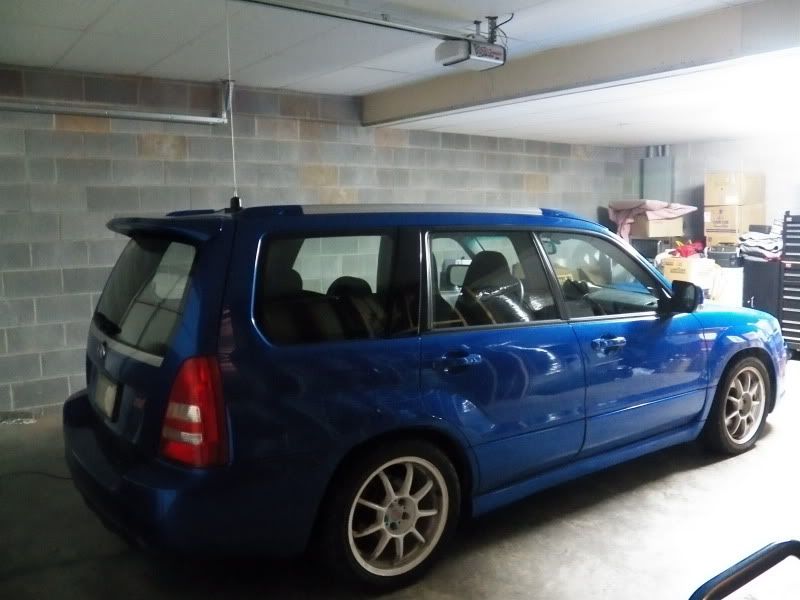 I also learned during all this moving and a lot driving around for work that I need to add sound deadening, because at highway speeds I almost need to yell even to hear myself. So I took some sound readings with a free app on my phone, and the phone placed in the front cup holder. With the cruise set at about 75mph (speed limits here are 70, traffic moves between 75-80mph). and the radio on to a normal listening volume ( I know the radio kinda messes with the results, but I wanted to know what my "real life" db. reading was) I was getting between 87-92db. (which according to:
Decibel (Loudness) Comparison Chart
puts me between a train horn at 500' and a jackhammer at 50' or more simply a level which prolonged exposure may actually cause hearing loss) So now using
http://www.subaruforester.org/vbulletin/f77/project-quiet-car-28591/
as a guide I'm going to be adding sound deadening measures to my vehicle.
I also am making a few custom "splash" screens for my Pioneer AVIC-Z130BT, if anyone wants a copy of one for you car let me know and I'll send you the file (they are all 944x592 pixels)