2007 Forester XT 4EAT-VTD
An Essay by CanonShooter
As a life-long car enthusiast
, I have certainly had plenty of opportunity to experience a wide assortment of interesting vehicles, a few of my own and plenty that belonged to others. From cars intended for on-road performance to SUVs designed to conquer off-road terrain, I have been lucky to experience some of the best.
As with any specialty product, when designed to do one particular task very well, compromises have to be made in other areas. In the case of motor vehicles, a Corvette will offer an exhilarating on-road performance, but don't expect it to do well on a snow-covered back road on the way to the ski lodge. Likewise, a Jeep Wrangler will get us through the worst road conditions Mother Nature can throw at us, but don't expect it to run the Autobahn with the quiet, high-speed competence of a BMW M3. Likewise, few will take their Mazda Miata to pick up a load of home improvement supplies when there's pickup truck or SUV sitting in the driveway.
So it seems to excel in any particular category, serious compromises have to be made. Because of the drawbacks of such specialization, it is widely believed that no one vehicle can do it all with any degree of competence or competitiveness.
At least that is what I had always believed...
My Subaru experience began in January of 2006 with the purchase of a new WRX. I had been looking at a few other cars as well, but the idea of a high performance vehicle with all wheel drive capability is what hooked me. Coming from a Jeep Grand Cherokee, I knew the advantages all wheel drive had to offer, and the addition of some true on-road performance capability sealed the deal for me.
My 2006 WRX
The WRX was without a doubt a fun car to own. On top of its ability to handle slippery winter roads without sacrificing dry road performance, the relatively low cost of the vehicle was a major plus too. But due to my job and the need to carry sales literature, the inability to even get a box of sales binders through the small trunk opening was becoming an issue. Because of the places I had to travel, the attention the WRX draws from both law enforcement and potential car thieves was not working well for me either.
So a year later the WRX was traded in for a 2007 Forester XT. It was a decision that I had mixed feelings about, as the Forester I settled on has an automatic transmission so the joy of rowing through the gears was also gone. But, I had gained the interior cargo room and access that I needed and I was still in a turbocharged Subaru.
The "FXT" was fulfilling my needs very well. Plenty of room, adequate comfort and even though it could not hold a candle to my old Stage 2 WRX in terms of performance and sheer driving enjoyment, I quickly learned to appreciate all the FXT had to offer. It was about this time that I would begin to learn that there was so much more the FXT could do.
Coming from a couple of Jeeps, my wife and I always enjoyed trips to Fire Island, the barrier island that runs along the south shore of Long Island. Our favorite county park that allowed vehicles on the beach was only a 15 minute drive, so we spent plenty of time with the Jeeps enjoying the park. Nothing was more relaxing than heading out to Smith Point Park on a Sunday morning with the Sunday paper and a cup of coffee, backing up to the dune and enjoying the utter peace, solitude and relaxation of listening to the ocean waves break on the surf.
Though we still had our 2000 Grand Cherokee at the time, the idea of taking the FXT to the beach began to interest me. After some research I decided to give it a try. Not entirely sure how it would do in the soft sand (which can place a huge strain on the driveline), I loaded the FXT with all of the required safety and recovery gear the outer beach permit required and ventured out on to the beach with all of the "real" 4-wheel drive vehicles. To my surprise, the FXT handled it very well – easily as well as our Grand Cherokee, though not quite as handily as our old 1996 Cherokee with over-sized tires, which was unstoppable in soft sand. As long as I did my part of managing the limited ground clearance and airing the P225/55-17 tires down to about 15 psi, the FXT never gave us any problems in the soft sand of Fire Island. Without a doubt, the best part of taking the FXT to the beach was the surprised looks on the faces of those driving 4-wheel drive pickup trucks, Jeeps and large SUVs – it was always apparent that they were amazed to see a Forester on the beach with them.
Foresters Off Road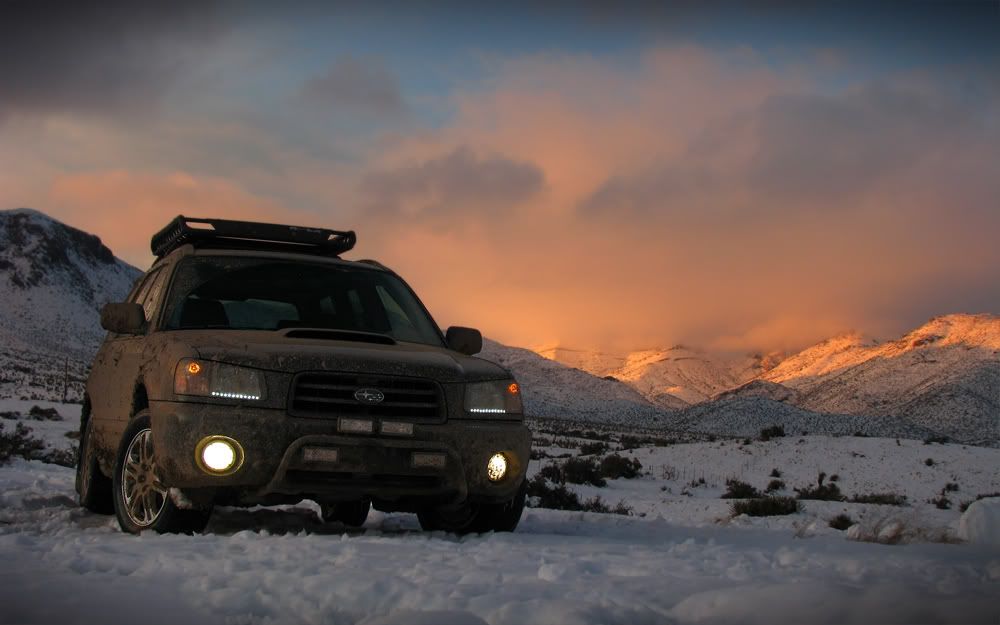 In late 2007, I took a job in New England that required me to travel back and forth from Long Island in the FXT while we were selling our house. The days of enjoying Fire Island were coming to an end and we would eventually make our move to New Hampshire. During this time, I replaced the stock springs on the FXT – which maintained adequate ground clearance for going on the beach – with a set of Forester-specific Swift Sport springs. These springs lowered the FXT by about an inch, gave improved road handling without sacrificing ride quality.
Though there are no easily accessible beaches to drive on in New Hampshire, there is something even more challenging that has to be dealt with on a regular yearly basis – snow. I had been riding on a set of Goodyear all season tires and with all of the traveling I had been doing, the tires were in need of replacement. I decided to purchase a second set of factory wheels and had a set of Nokian Hakkapeliitta R tires mounted in November of 2008. This turned out to be well-timed decision as there was no shortage of snow that winter.
Street-legal Snowmobile
Once again, the FXT surprised me with its ability to handle the worst winter conditions. A combination of its AWD and quality winter tires made the FXT unstoppable. In fact, I only got stuck once when I decided to go off-road into an area that I would find out too late was a snow mobile trail! And it was only bad decision-making on my part that got me stuck. At all other times, the FXT went places that other cars couldn't, and handled slick road conditions with great confidence. Without a doubt, the FXT was really growing on me by this point – sand, snow, it handled it better than I ever thought it could.
In the summer of 2009, I finally got bit by what many of us end up getting afflicted with – a desire to wrangle more horsepower and on-road performance out of our Subarus. I started with some modest suspension upgrades to compliment the Swift springs – heavier anti-roll bars front and rear and high performance end links. I also installed a few bracing pieces, including fender braces, a rear strut tower support bar and a set of rear sub-frame locking bolts. In combination with a new set of wheels wearing P235/50-17 Yokohama Advan S4 tires and a performance alignment, the FXT was finally handling at a level comparable to my old WRX, which had comparable suspension modifications. The FXT was still taller and carried more weight up high, but it was now truly fun to drive through the twisties on my way to Home Depot to pick up home improvement supplies. Once again, the FXT surprised me – this time with its competence at road handling.
Foresters Attacking the Twisties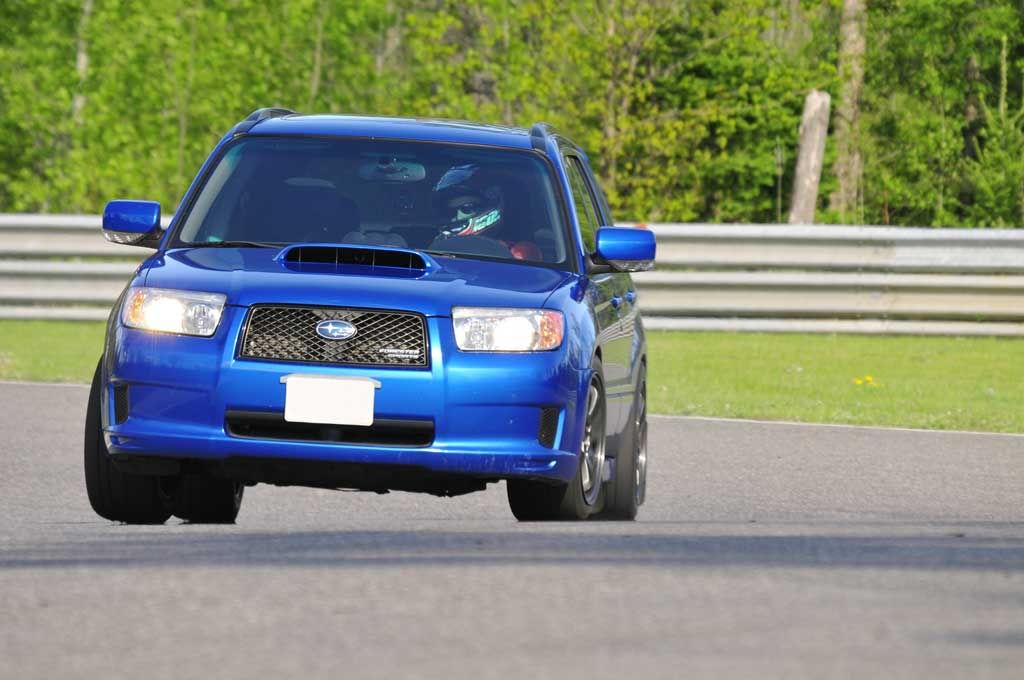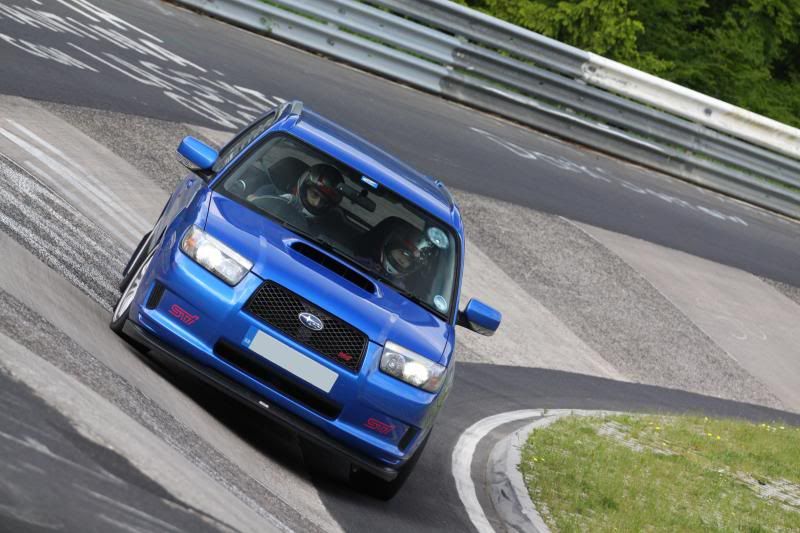 They say once the bug bites it turns into an epidemic, and so it was for me as well. Other than a STi axle-back, my FXT was still stock in terms of power. Through the fall of 2009 to the spring of 2010, I added the usual performance bolt-on parts, including a larger turbocharger and intercooler, low restriction intake parts, a full 3-inch turbo-back exhaust, a water/methanol injection system and a series of dyno-tunes to make it all work together. The FXT started with a factory horsepower rating of 230 HP in 2009 and now stands close to 400 crank HP as of this writing.
As one would expect, these HP modifications have transformed the character of the FXT. It still drives as reliably, smoothly and with the same fuel economy as before. In fact, it's not until I really step into the throttle that the change becomes apparent – my FXT will now run with the majority of high-performance cars on the road. During a recent trip to the local drag strip, I was lined up with a 2003 Corvette on one of my runs. Like those in their Dodge Power Ram 4-wheel drive trucks were amazed to see the FXT on the beach, so must have the driver of the 'vette as he watched the FXT beat him to the finish line.
As a life-long car enthusiast, I often think of the cars I would love to own - Corvettes, Cobra Mustangs, SRT-8 Grand Cherokees - they are all vehicles I would love to see parked in my garage. But at the end of the day, I realize that I already own one of the most incredibly versatile vehicles perhaps ever created. It may not be the fastest vehicle available in a straight line or around the curves, or have the best off-road capability, or have the most room for cargo, or get the best gas mileage, or have the highest level of comfort and luxury. But the amazing Subaru Forester does so many things so well that I cannot think of any other vehicle that can match its incredible versatility. I challenge anyone to make a compelling argument that I am wrong.
Notes
My sincere thanks to the participants of this forum for their guidance and advice, which has proven invaluable during my ownership of my Forester XT. My thanks as well for the photos posted in this forum that I have taken the liberty to use in this essay.
Please feel free to post your own photos in this thread that illustrate the extraordinary versatility of the Subaru Forester!