Discussion Starter
•
#1
•
Thought it was time I documented the story of my Foz so far here.
I bought it back in March of 2006 from a local dealer, a 2002 MY03 XS Auto, with 27k kms on the clock.
We got the dealer to chuck in a cargo barrier, which we had fitted shortly after, and also added some other creature comforts, and did an alarm upgrade.
Since then, I've upgraded the rear sway bar to a Whiteline 22mm adjustable and got a set of the PMD strengtheners to accompany it. I also picked up a second hand set of the gas bonnet struts. I then got a second hand pair of the factory tweeters. I also ordered a stainless rear step from Japanparts.
4 pot goodness was achieved in November '08, and well worth the wait!
And I'd be lucky to fit a sheet of paper between the rims, going for '04 XT wheels for the stock look, and the calipers. Looks like it was meant to be there.
Then in May of '09:
STi Alternator Shroud
and
Phat as Customs Radiator Shroud
Fire Extinguisher and bracket at front passenger seat
and JDM OEM AV input
September of '09 saw a change to the rear lights.
Before.
After.
Then in October of '09, with the help of my fellow OzFozers, Sackster, and bubba, she received some new suspension components, consisting of a set of new Tein S-Tech springs for the SG Foz, and new KYB Excel-G struts to replace the rear self levellers.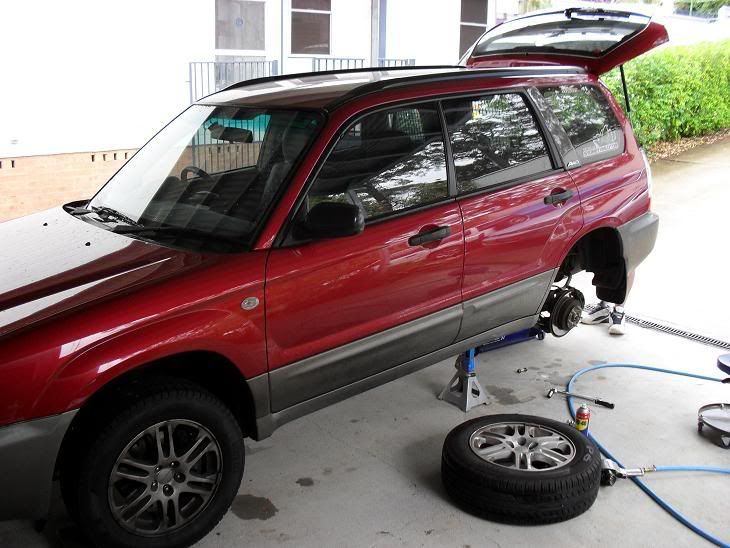 Before
After