On the road again... lifted, loud, and angrier than ever.
Car:
MY'00 Outback (Base) 4EAT w/premium sound + Rear limited-slip differential (oddball option on the car)
Purchase Date:
8/14/2000
Purchase Location:
Bremerton, WA
Mileage:
176,000, and counting (updated 1/5/12)
Mods:
Updated 1/5/12
**Engine and Trans**
-Full 3" intake setup w/torque box mod, snorkel coming soon
-Borla replica UEL header, ported/polished
-Gutted stock catpipe
-Custom stainless 2.25" catback tucked into trans tunnel, glasspack muffler
-Painted stock intake mani wrinkle black
-Valve covers and injector guards shot in gloss black
-Ported/Gasket matched intake manifold
-Gasket matched and shaved heads (higher C/R)
-Gates Racing Timing Belt
-FelPro PermaTorque MLS head gaskets
-NGK Iridium Plugs
-Injectors cleaned, tested to new condition
-STI GroupN engine mounts
-Fully rebuilt 4EAT w/mods
-Centre diff lock switch
-Radiator fan shutoff switch (coming w/snorkel)
-Prosport Oil Pressure Gauge
-Prosport Oil Temperature Gauge
-Prosport Water Temperature Gauge
-Scangauge II displaying TPS, Water Temp, IAT, and Bat. Voltage
-Air conditioning delete (including condenser, etc)
-Shell Rotella T6 5W-40 engine oil
-Wix 51365 Oil Filter
-Subaru ATF-HP auto trans fluid
-Subaru OEM 4EAT filter
**Suspension and Rolling Stock**
-KYB GR-2 Struts
-Subaru OEM Subaru Baja front springs and Subtle Solutions spacers (+2" lift)
-RalliTEK Heavy Duty Rear Springs (+2" lift)
-Custom Alignment
-Axxis Ultimate Ceramic brake pads
-225-60-16 General Alitmax HP's on stock 10-spoke alloys
-Full size spare, roof mounted
**Interior/Exterior and lighting**
-MY'04 FXT 4EAT leather shift knob
-Pioneer DEH-P6000UB Head Unit
-Custom single DIN toggle switch panel
-RoadBlockR sound deadening in the hatch
-All weather front floor mats
-Subaru A/W rear floor mats
-Custom aluminum front skid plate
-Thule crossbars
-cheap Swagman bike rack
-DRL delete + GE Tungsram Selective Yellow H1 lowbeams
-Trailer hitch + various balls/hooks for towing/offroading
-Front tow hook cover removed, hook painted red
TABLE OF CONTENTS:

-The story, and the first detail job (You are HERE *big red dot*)

-Hawkeye WRX rim's (just a photoshop...)

-'04 FXT 4EAT Leather Shift Knob

-Comparison with '09 Outback, and Foglight rockguards removed

-Mystery box arrives, and what's inside

-HomeDepot hybrid CAI (for MAP Subbies)

-First pic with the new suspension setup, I say good-bye to the car for a few months

-Adding some more parts to the MOD box!

-I'm not a parts-whore... I swear...

-It's BACK!

-Permatex Headlight Restoration

-Custom Lightbar installed

-'07 FSXT 6CD Changer

-Borla Replica header installed

-Link to my Hella wiring mess, and Bbottomley's helpful expertise

-Just some more pics!

-Magnaflow muffler painted, ready for catback install!

-Soundclip of new stainless catback

-Got some SNOW!

-RoadBlockR Sound Deadening

- Protection for the dangly bits...

-Bad news


-Axxis Ultimate Ceramic brake pads

-eBay Swagman Bike Rack installed

-Trip to Paris Landing State Park, BattleWagon turns 150k miles young

-Spring Cleaning, and undercoating! :smile:

-Finished up the Pioneer install, painted my shifter surround

-Got tint!

-Subtle Solutions front lift installed

-Couple pics from the alignment shop

-Ordered the new engine

-Scangauge II installed

-Starting the engine replacement!

-Finished pics!

-Murphy's law... I get torque bind and a failed transmission clutch pack, as well as a new throttle position sensor.

-The TuRD... my transportation while the Scooby is in the shop!

-All fixed up, showing off the new shoes!

-A loose wire leads to another trip to a different dealer, and a tow truck along the way.

-GE Tungsram Gold (Selective-Yellow) Low Beam Bulbs

- DIY Intake V2... 3 inch, modded airbox!

- Painted my 'new' spare set of wheels.


[story snipped to save space... shoot me PM for details... lol)
First mod... resonator deletes! Eventually I will get a different tube to replace the piece between the scoop and the airbox, but for now, it adds a little more growl. I neatly sealed off the holes with electrical tape. Ghetto-tastic.
Before:
After:
Next, I removed the silly piece of plastic that Subaru put in front of the intake scoop to deflect air away from it.
Now, for my first appearance mod. This may not seem like a mod, but it certainly made a difference in the way the car looks. The paint's clearcoat was contaminated with all sorts of stuff, from old wax buildup to waterspots to ground in road grime, you name it. It gave the car an odd grey-ish tint. :huh:
Today I was determined to remove the aforementioned 'tint', and make her shine again.
First step was removing the bug deflector, and doing a two-bucket wash. Here's what it looked like after that:
Then, I claybarred the entire car. The clay took out most of the surface stuff that was left behind, but the paint still felt rough to the touch. So I broke out the Griot's/Porter Cable buffer and Meguiar's Swirl X for a test spot. Here's a pic of the spot:
After verifying that the method worked, I started working my way across the hood. Here you can see that the right edge of the hood is whiter than the rest. :icon_razz: I love seeing progress being made.
After that, I added a coat of Meguiars Gold Class wax for protection. I'll follow up with another coat of NXT 2.0 Tech Wax once I get some at the store later. Then I moved on to the interior... sorry, no before pics, just an after:
I <3 big gauges...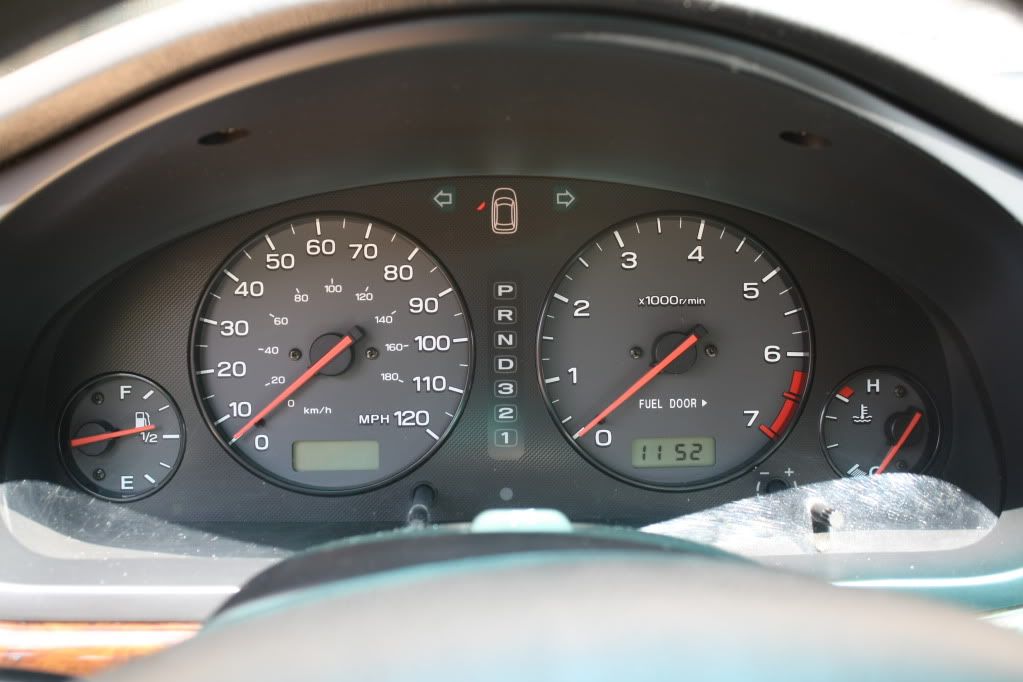 After pics of the exterior (total time invested: 12 hours):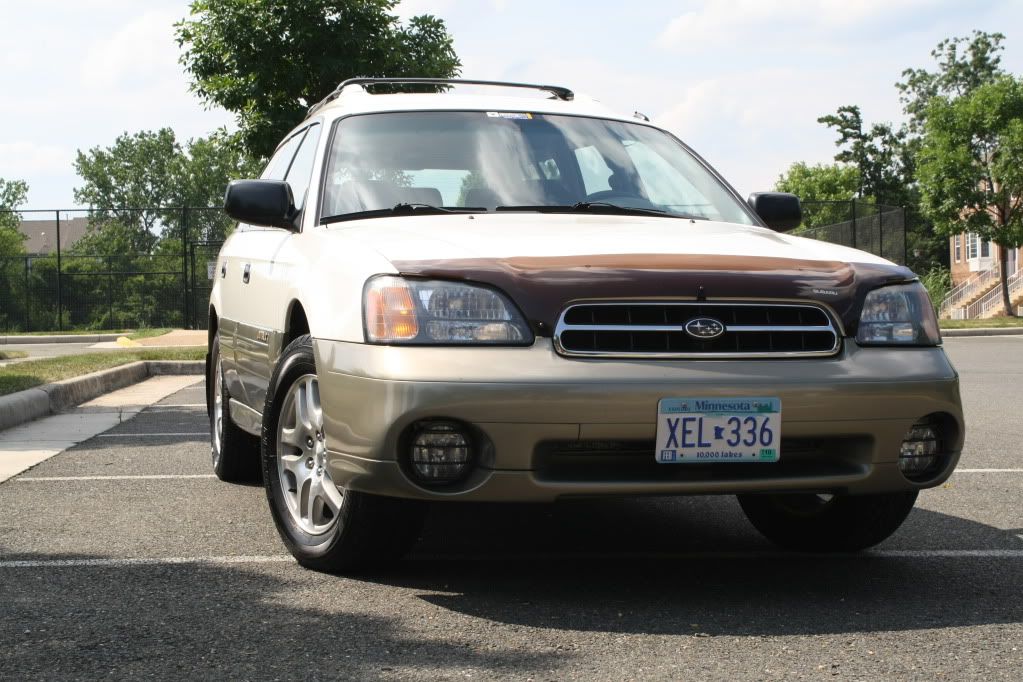 More to come, I have some fun stuff in mind. :biggrin: