Discussion Starter
·
#1
·
No injuries in overnight accident on Atkins Street
MERIDEN - Atkins Street was closed through the morning hours and local residents lost power for about five hours following an accident on Atkins Street Monday night.
Police said the accident involved just one car, which had rolled over and also hit a utility pole, but there were no serious injuries in the crash. The name of the driver has not been released.
The accident caused damage to the utility pole and staff with Connecticut Light and Power was forced to repair the damages. Power was cut to those in the local area, but was restored around 5 a.m.
The road reopened to all traffic just before 8:30 a.m., police said.
Unfortunately, I have to say that my Forester and I were involved in this.
Last night, I was coming home from Robotics, it's dark and raining, and I'm going the usual route I take home. I was alone in the car. I didn't have my phone out, radio was off, and I just put new wipers on. I just shift into 4th, at around 35 mph, in a straight section of the road. I see a pothole coming up, and this road is notorious for potholes, so I quickly swerve a bit around the pothole, however, the back end starts to kick loose from under me, and being inexperienced with handling oversteer, I overcorrect, sending me sliding the opposite way, diagonal to the left side of the street. I panic and slam on the brakes, which may or may not have been the smartest thing to do, and the car slides out even more. The front end clips either the pole or the curb first, right by the front passenger wheel, and I watched in slow-motion as the car flips on it's passenger side and lays to rest. I check myself to see if everything's alright, and I'm hanging by the seat belt (seat bels save lives!) and the engine is stalled. I unbuckle and jump down, and I open the moonroof(which was still functional) and climbed out. Neighbors are coming out, checking to see if i'm alright, if anyone is in the car, and calling the police. I assure them that I'm fine, no cuts, bruises or anything. It's still raining as hell out, so I call my dad at home. I was really shaken up and pumped on adrenaline, even though it was a slow crash, but overall, I'm alright.
I went to the auto-body place where they towed the car after school. The body held on very well, it's all straight, save for a few scratches. The doors are dented, but shut, and the entire right side is crumpled. The two right wheels are bent, probably bent struts, control arms, and axels. Assessment: totalled. Everything stayed straight, nothing collapsed. Thank you Subaru, your good engineering probably saved my life.
Here's some pictures. I just finished putting on my new mudflaps I made, and I was about to post about it too. It hurts to look at.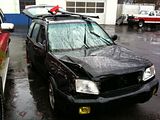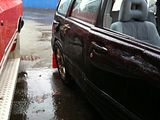 I still can't believe what just happened. I owned her for just over 2 months, it ran perfect, and I wanted to keep her forever. Everything seems like just a dream right now.
I know this seems like I am an irresponsible 17 year old, but my friends can attest to that I'm usually a very safe driver. I've been driving for more than 2 years, and I had my license for a bit more than 1 year. I don't speed, eat, or do other things while in the car. I pay attention to traffic, and I'm not easily distracted. I'm just glad that no one else was involved, or else it would have been a lot worse. Life comes at you fast, because this accident could have ended with a completely different story. All of you guys be careful driving out there. Think twice before doing some stupid stuff in public roads. You or someone else could get injured, and you don't want to live with that. This experience has definitely opened my eyes to driving and life in general. It's a big deal, totaling your first car, and quite expensive too. I hope I never have to experience something like this ever again. :icon_frown::icon_frown:
Take care and stay safe, Ben.