I decided to start this journal to document all the modifications I've made to my Subaru over the last 5 years. I picked it up in 2016 with about 50k on the odometer. Today she is still going strong with around 110,000 miles on the clock.
Over the years I've done quite a few modifications and general upgrades. Including:
Full Black Interior Swap
Steering Wheel Radio Controls
Heated and Power Front Seats.
Android Headunit
Rear view camera
OEM Rain Guards
Gorilla Mud Flaps
Blacked Out Grille
Outback Fog Lights
Yesterday I started the process of adding fog lights to the Subie. Specifically fog lights from a 2005 Outback. I was never a fan of the stock Forester fog lights. I always thought they looked a bit too small. I knew the early Outback fogs would fit in the holes in the bumper but mounting them on the inside was the biggest challenge to overcome.
Fitting Outback fog lights in a Forester:
I'll be using the factory fog switch on the stalk to work the fog lights. My Forester did not come with fogs standard so I did source the switch off another parts car and installed that the relay and tested the lights prior to this mod to be sure the wiring was still good after sitting unused for 9 years.
Here's the final product with blacked out grille. As of this post it's still in my back room (I ran out of daylight!). I'll post pictures tomorrow of it mounted on the car.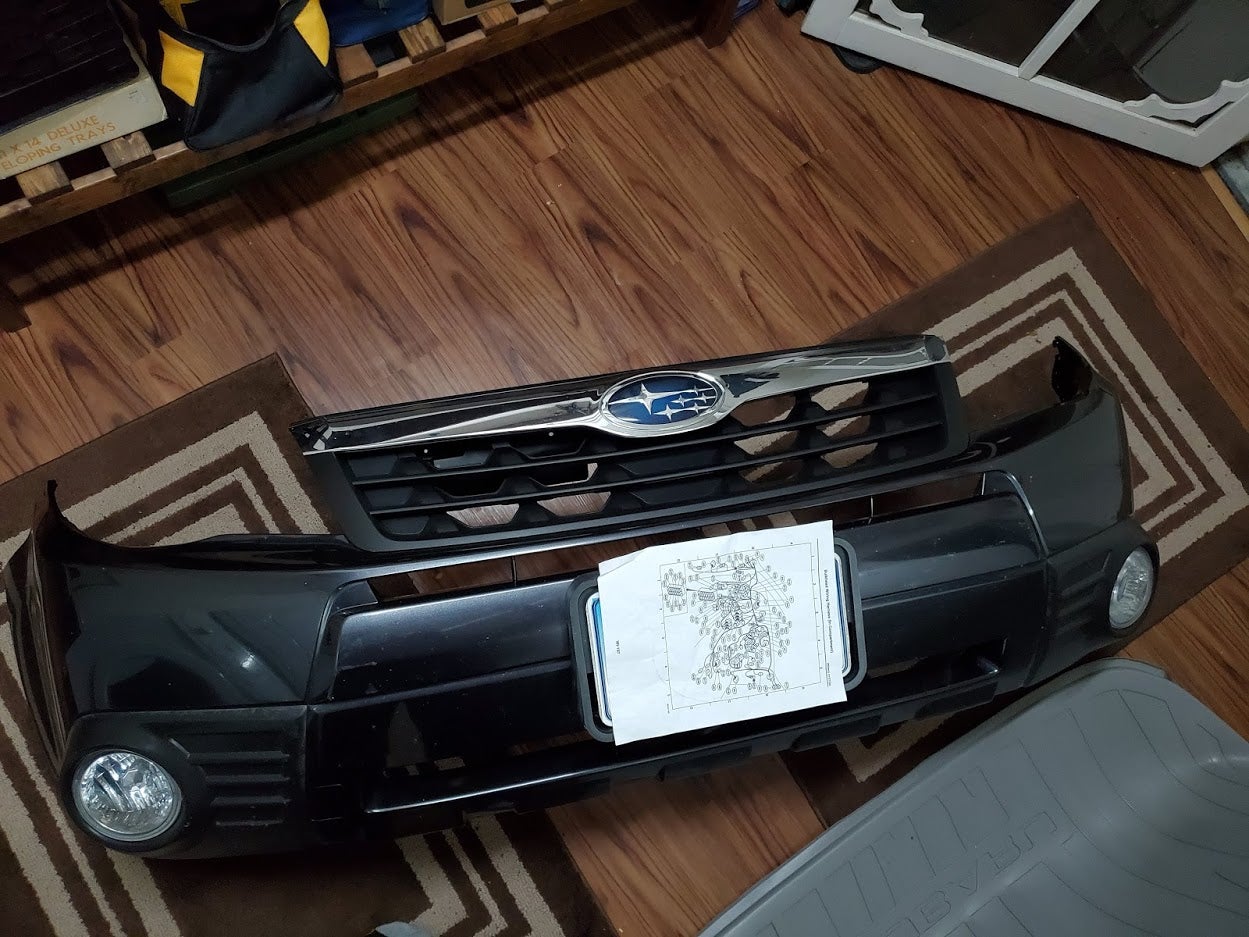 First thing I had to do was take off the bumper and cut off the stock bracket mount. I left about 3/8 inch of the original bracket to mount the Outback bracket too. This was my working area for the project.
Then I had to trim the Outback mounting bracket. Left is trimmed and right is marked for cutting. Essentially I had to make the front of the bracket flat instead of tapered.
Test fitting the clearance on the light.
Test fitting the bracket.
I used JB Weld Plastic Bond and aluminum pop-rivets to join the bumper and bracket.
Pop Rivets in place and ready to go.
Inside the new bracket mount. here you can see the rivets and were I sanded the edges of the original mount smooth. The Outback fogs are a tight fit and every millimetre counts.
I also put weather sealing around the edge of the Outback fogs to ensure a tight fit.