Discussion Starter
•
#1
•
I recently purchased this 2009 Forester. Subio is the name. It is the first vehicle I have owned that has so much potential for customization. Many of which are factory upgrades. My previous two vehicles have been the Land Rover Discovery and a Freelander. LR pisses me off with expensive repairs, and depreciation value of their vehicles. I'm done with Rovers.
While the 2009 Forester has a new beefy body style, many performance mods are not yet available for this ride.
Here is a brief list of the recent upgrades from base model 2.5x:
PERFORMANCE:
Cosmo Cold Air Intake
MagnaFlow Mufflers with Stainless Steel 4" Double Wall Tips
Volo Performance VP12chip with Fuel Saver chip too
TSW Snetterton 19" Alloy Wheels
Nexen N3000 235/35R19 Performance Tires
Kakumei Blue Alloy Battery Holder
Kakumei Blue Alloy Oil Cap
Kakumei Blue Alloy Brake Fluid Cap
INTERIOR:
NRG Carbon Fiber Shift Knob
NRG Carbon Fiber Hand Brake
Carbon Fiber Dash Paneling Kit
Subaru Tweeter and Woofer Upgrade
Subaru Ipod adapter kit
Subaru Rear Cargo Rubber Floor Mat
Subaru Rear Cargo Side Nets
Blue LEDs in footwells
Racing Silver Alloy Pedals and Foot Rest plate
EXTERIOR:
Carbon Fiber Mesh Grill
Carbon Fiber License Plate Frame
Curt Class III Trailer Hitch and Wiring Kit
Yakima SwingDaddy Bike Rack
Subaru Fog Light Kit
HID Conversion Kit for Lo Beam, H11, Blue 10k color
HID Conversion Kit for Hi Beam, HB3-9005, Blue 10k color
HID Conversion Kit for Fog Beam, 9006, Yellow 3k color
PERFORMANCE:
The CAI from Cosmo Racing is the very first performance aftermarket part that I have seen available. I was at a local performance shop and they could custom build an intake for me for about $350. The Cosmo Racing Intake is complete for $200. Two notable points here. Improved performance with acceleration, especially in the non-sport mode. Subio is an automatic. The second is sound quality. When mashing on the gas, you can hear a deep, throaty throttle response as you would expect from a performance car. It sounds totally cool. Also, it only sounds this way when you need it. The car is quiet when driving normally. Estimated HP increase of 5HP. See my comments in the engine and exhaust forum. The install was a bit tricky. There are some spots where the intake rubs against metal parts and during idle, you would hear an annoy vibration chatter from metal parts smacking one another. This was fixed with some strips of rubber and cable ties.
In this photo you can see the HID ballasts too. They are very slim and easy to install.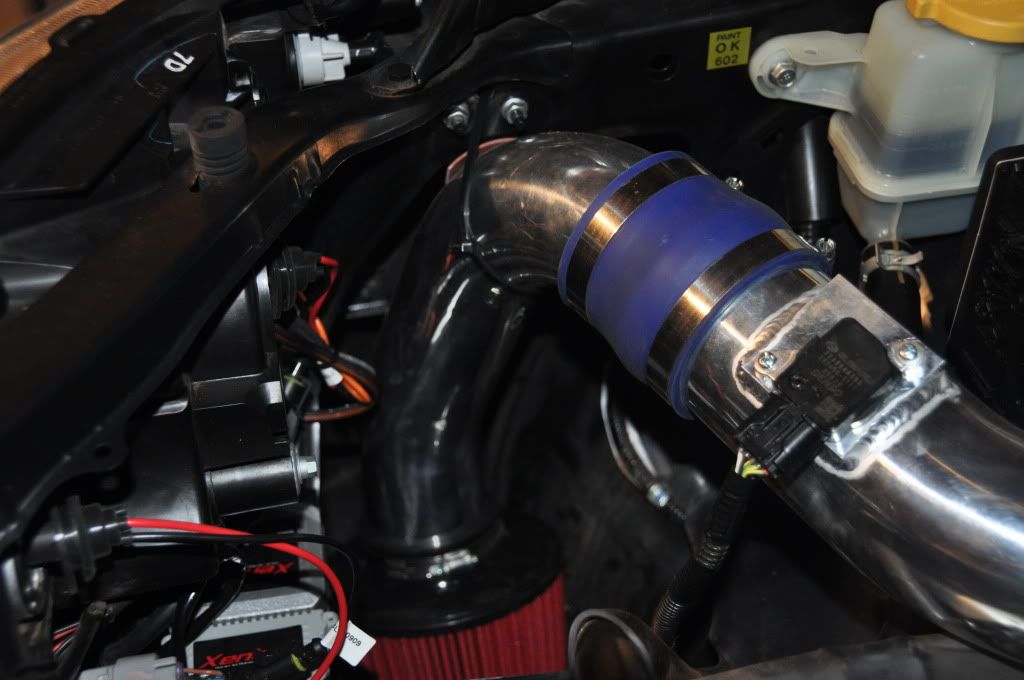 Magnaflow mufflers and tips will be installed tomorrow. Estimated HP increase of 5HP.
Volo Performance VP12 chip. Again, I noticed a dramatic improvement in throttle response and acceleration, especially from stop and during high speed passing while cruising at 75mph. I loose about 2mpg in fuel efficiency with these two pieces. I get 24mpg. Stock got about 25.7mpg. I also have the fuel saver chip for the Volo, but I have not used it yet. Estimated HP increase of 10HP.
TSW 19" Snetteron wheels and Nexen Tires add class and Performance to this ride. I picked these up used on craigslist for $450. Great deal and the tires had less than 1000 miles on them. The overall tire height was slightly less than the stock 16" base wheels with hubcaps. Therefore, the speedometer reading is of by 3mph. When speedo reads 60mph, actual speed by GPS is 57mph. Wife likes that.
Kakumei blue alloy caps and battery hold down accessories complete the blue accent color to the engine compartment. It is a nice compliment to the Cosmo blue intake system. The Kakumei kit comes with three oil caps (2 different kinds), and one battery hold down. The standard oil cap is on the oil fill reservoir. The other two are identical round caps with allen screws. One is not used. The other fits nicely over the brake fluid reservoir cap. I had to modify the stock cap to slide the Kakumei over the top and secure it with the allen screws. Worked great.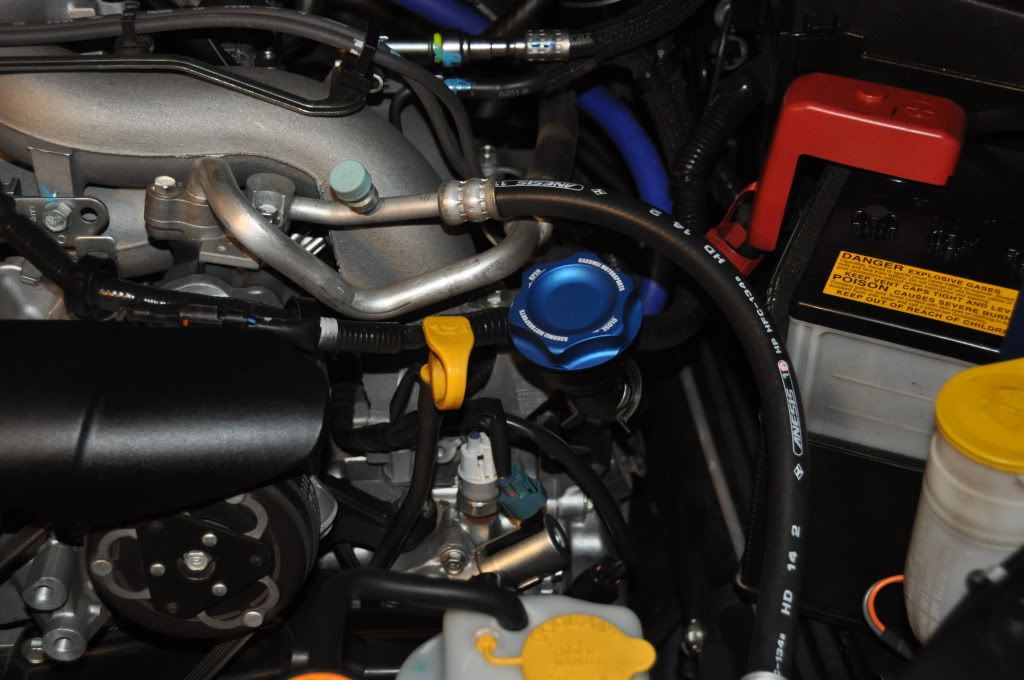 INTERIOR:
The stock sound system lacked stereo separation and low frequency sound production. I immediately added the Subaru tweeters and under-seat subwoofer. It was all that Subio needed. For road trips, we like to use an ipod. The Subaru ipod kit makes a seamless operation. Way better than any other aftermarket input device. It is great to use the factory stereo for controlling the ipod. The stock stero gets excellent FM and AM signals. Way better than the head units in most aftermarket head units and definitely better than the Land Rovers. For example, I can pull my favorite sports radio station from Phoenix 120 miles north of Tucson. A bit of static comes through, but good enough to catch the Suns game.
Carbon Fiber blends well with the platinum interior and dark gray exterior. I am also a fan of ultra light carbon fiber racing bicycles. Yes, I'm a weight-weenie. Therefore, my love for CF extends into car parts. Subio has an NRG Semi-ball shift knob and a CF hand brake handle. NRG does not make a knob that threads directly onto the AT stick. I purchased the knob that has various sizes of plastic inserts. It comes with three allen bolts. Slide on insert and knob, then torque the allen bolts to hold secure. The NRG ring seals up the allen screws and completes the cool looking accessory. The CF brake handle and CF dash kit has not yet arrived for install. Arrgh!
Subaru cargo nets and rear plastic floor matt add some practical storage and protection for the trunk area. Subio came with a top cover, which I really like.
It took me quite a while to locate racing pedals for this car. I stumbled across these, which required removing the rubber brake pad and drilling into the gas and brake pedals. These pedals deliver a solid feel and performance. These work much better than clip on pedals. Avoid those. This kit also included the foot rest plate, which was very difficult to find. I don't like the pink rubber that comes with the STI pedals, so this kit was a nice option. All for $85. I opted not to drill the holes for the footrest plate. The stock plastic fasteners fit in the upper and lower holes of the plate without any mods or drilling. Aftermarket $15 three lamp blue LEDs were installed in each footwell. These add great color and effects. They are much brighter than the stock LEDs found in the overhead console or the center console cubby hole.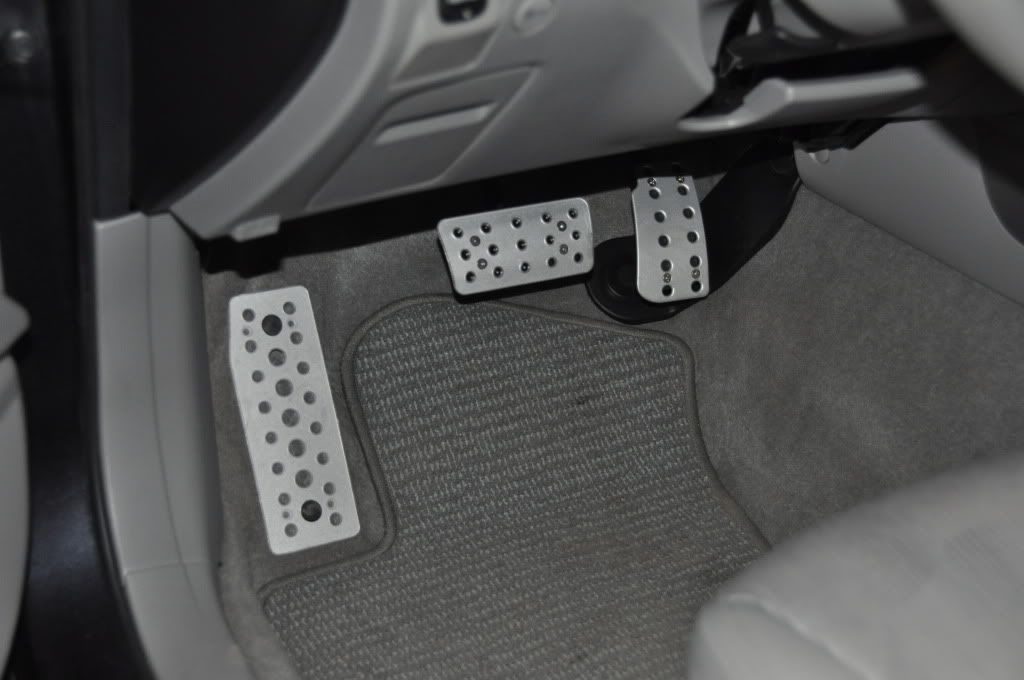 EXTERIOR:
The Carbon Fiber Mesh Grill has not yet arrived. I am very excited to install this product. The stock grill is lame. The Subaru mesh grill is very cool, but everyone has one. This custom made CF grill is sporty and very different from all the others. A CF license plate holder adds more carbon to the sporty-gray Subio exterior.
I don't really plan to do any towing, but I do need to haul my bike/bikes around. Therefore, I opted for the less expensive Curt class III hitch over the Subaru Class II hitch. I do admit that the Subaru hitch looks more stylish, because it replaces the metal rear bumper and the hitch hole just pokes out from the plastic bumper cover. The Curt hitch bolts to the frame and can be seen hanging below the bumper cover. It is stronger, but there were trade-offs. The SwingDaddy bike rack totally swings away from the car to allow full access into the rear trunk area. Works great!
Subaru fog light kit was installed. This was another painless operation. It looks much harder than it was. Pop off the front bumper cover, slide in the lamps, hook up the wiring harness that is just waiting to be used, snap in bezel rings, then pop out old light switch and slide in the new one. Done in 3 hours (and I work slow). I could do another one in less than an hour now.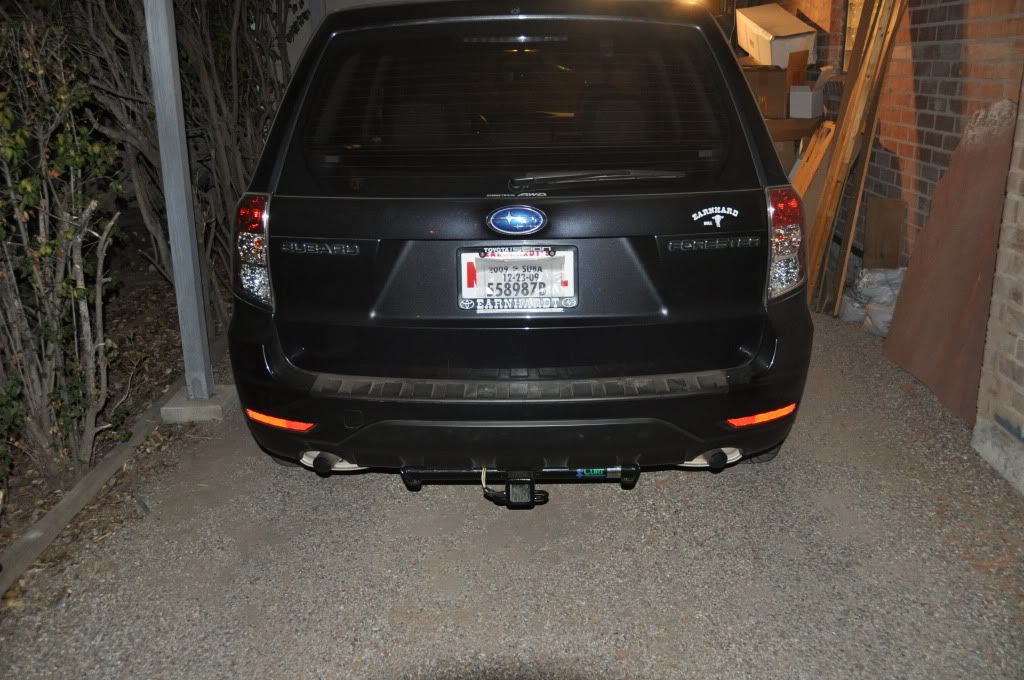 Another one of my favorite installs was adding HID conversion kits to all three lamps: Hi beam, Lo beam, and Fog beams. The light intensity of a true HID lamp is amazing. I bought each kit from xenonwholesale (ebay store) for $45 each delivered. 3 kits totaled $135. The price of HID conversions have really come down the past couple years. I considered buying the Phillips Silverstar HID-like lamps at Autozone for $50 each set. I thought I should explore true HIDs first. I'm glad I did. The install was super easy, It is all plug and play. There is no mods necessary. Just clip all the connectors together, find a spot to stick the super skinny ballast, and you are done. I had the first set installed in about 30 minutes. The other two sets were popped in within 10 minutes. The hardest part was finding a spot for the ballasts. I recommend sticky them to a surface that is parallel to the ground. Mounting perpendicular will cause them to unstuck and bounce around the engine compartment; not a good idea.
Only Lo Beams are on here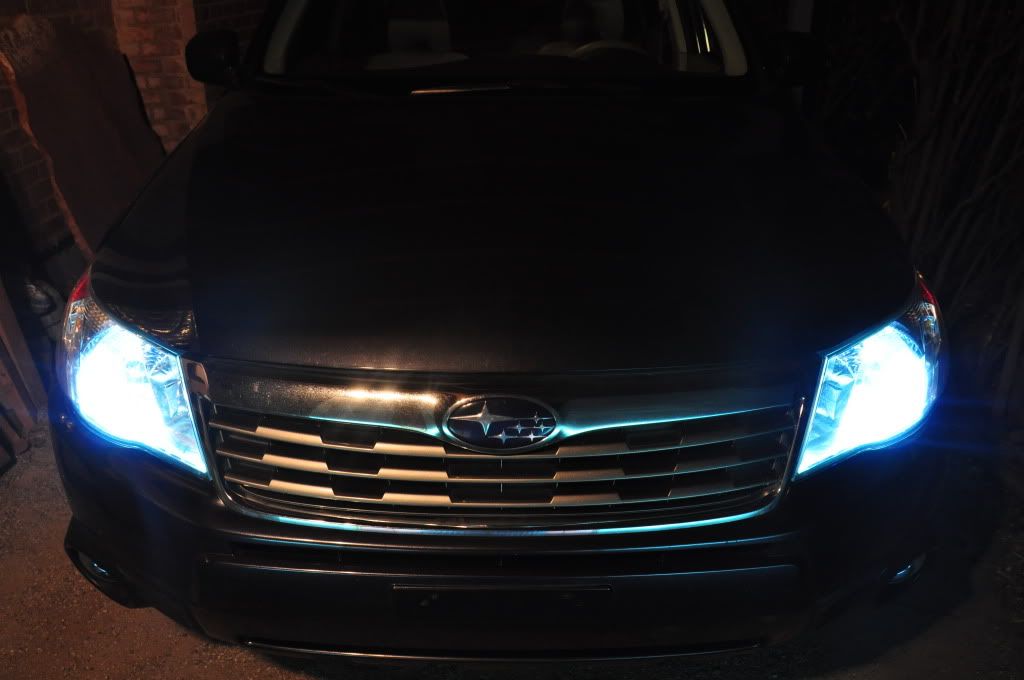 Cheers,
Scott