Subaru Forester Paint Codes
Subaru made it pretty easy to find the color code for your car. There is a plate on the top left strut tower in the engine bay of every model.
On this plate there is a three digit code comprised of numbers and letters.
Shown below is an image of what the plate looks like and which spot shows you the color code for your particular vehicle.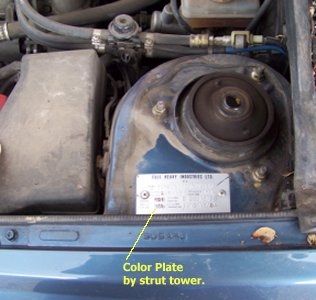 All paint information has been taken from Automotive Touchup and Subaru. Please confirm your vehicle's paint code before painting.
SF-chassis (98-02)
01G - Platinum Silver Metallic
07V - Savanna Green Metallic
09V - Graystone Metallic
17K - Platinum Silver Metallic
47A - Black Diamond Pearl
49B - Slate Metallic
51E - Aspen White
64C - Acadia Green Metallic
82F - Canyon Red Pearl
89N - Titanium Pearl
93H - Sierra Gold Metallic
94H - Sedona Red Pearl
95H - Blue Ridge Pearl
230 - Glacier White
792 - Silverthorn Metallic
Two-Toned Combinations
*G1 - Glacier White(230) & UNFINISHED
*G2 - Acadia Green Metallic(64C) & UNFINISHED
*G6 - Black Diamond Pearl(47A) & UNFINISHED
*G7 - Canyon Red Pearl(82F) & Slate Metallic(49B)
*J1 - Aspen White(51E) & Slate Metallic(49B)
*J2 - Silverthorn Metallic(792) & Slate Metallic(49B)
*W2 - Acadia Green Metallic(64C) & Slate Metallic(49B)
*W6 - Black Diamond Pearl(47A) & Slate Metallic(49B)
*W7 - Canyon Red Pearl(82F) & Slate Metallic(49B)
*Y1 - Glacier White(230) & Slate Metallic(49B)
0A6 - Savanna Green Metallic(07V) & Graystone Metallic(09V)
0G5 - Aspen White(51E) & UNFINISHED
0J3 - Platinum Silver Metallic(01G, 17K) & UNFINISHED
0J7 - Savanna Green Metallic(07V) & UNFINISHED
0L1 - Sedona Red Pearl(94H) & Graystone Metallic(09V)
0L3 - Blue Ridge Pearl(95H) & Graystone Metallic(09V)
0V1 - Sierra Gold Metallic(93H) & Graystone Metallic(09V)
6W2 - Acadia Green Metallic(64C) & Slate Metallic(49B)
8G1 - Glacier White(230) & UNFINISHED
8G2 - Acadia Green Metallic(64C) & UNFINISHED
8G6 -Black Diamond Pearl(47A) & UNFINISHED
8G7 - Canyon Red Pearl(82F) & Slate Metallic(49B)
8J1 - Aspen White(51E) & Slate Metallic(49B)
8J2 - Silverthorn Metallic(792) & Slate Metallic(49B)
8J5 - Aspen White(51E) & UNFINISHED
8J6 - Silverthorn Metallic(792) & UNFINISHED
8K2 - Aspen White(51E) & Titanium Pearl(89N)
8K9 - Black Diamond Pearl(47A) & Titanium Pearl(89N)
8W2 - Acadia Green Metallic(64C) & Slate Metallic(49B)
8W6 - Black Diamond Pearl(47A) & Slate Metallic(49B)
8W7 - Canyon Red Pearl(82F) & Slate Metallic(49B)
8Y1 - Glacier White(230) & Slate Metallic(49B)
9R1 - Acadia Green Metallic(64C) & Titanium Pearl(89N)
9R2 - Sierra Gold Metallic(93H) & Titanium Pearl(89N)
9R3 - Sedona Red Pearl(94H) & Titanium Pearl(89N)
9R4 - Blue Ridge Pearl(65H) & Titanium Pearl(89N)
9R5 - Sierra Gold Metallic(93H) & UNFINISHED
9R6 - Sedona Red Pearl(94H) & UNFINISHED
9R7 - Blue Ridge Pearl(65H) & UNFINISHED
​
SG-chassis (03-08)
01G - Platinum Silver Metallic
02C - World Rally Blue Pearl
17K - Platinum Silver Metallic
18L - Java Black Pearl
21J - Lapis Blue Metallic
22W - Cayenne Red Pearl
23W - Pacifica Blue Metallic/Pearl
26D - Steel Gray Metallic
29W - Dark Green Mica
(aka. Woodland Green Pearl)
31L - Regal Blue Pearl
32J - Obsidian Black Pearl
33F - Woodland Green Pearl
(aka Dark Green Metallic)
33J - Garnet Red Pearl
33L - Champagne Gold Metallic
35J - Regal Blue Pearl
37J - Satin White Pearl
38F - Obsidian Black Pearl
39K - Garnet Red Pearl
39J - Champagne Gold Metallic
42C - World Rally Blue Pearl
45A - Urban Gray Metallic
47W - Aqua Blue Metallic
48W - Crystal Gray Metallic
51E - Aspen White/Pure White
55M - Evergreen Metallic
61F - Green Gray Metallic
61K - Dark Gray Metallic
64Z - Newport Blue Pearl
93H - Sierra Gold Metallic
921 - Champagne Gold Metallic
925 - Satin White Pearl
926 - Satin White Pearl
C1F - Sage Green Metallic
C6P - Topaz Gold Metallic
C6Z - Steel Silver Metallic
C7P - San Remo Red
GK1 - Gold Metallic
Two-Tone combinations
0J3 - Platinum Silver Metallic(01G, 17K) & UNFINISHED
2C2 - Cayenne Red Pearl(22W) & Steel Gray Metallic(26D)
2C3 - Pacifica Blue Pearl(23W) & Steel Gray Metallic(26D)
2C6 - Woodland Green Pearl(29W, 33F) & Steel Gray Metallic(26D)
2G1 - Java Black Pearl(18L) & Steel Gray Metallic(26D)
2J1 - Cayenne Red Pearl(22W) & UNFINISHED
2J2 - Pacifica Blue Pearl(23W) & UNFINISHED
2J4 - Woodland Green Pearl(29W, 33F) & UNFINISHED
2L6 - Aspen White(51E) & Steel Gray Metallic(26D)
2L7 - Platinum Silver Metallic(01G, 17K) & Steel Gray Metallic(26D)
2L8 - Aspen White(51E) & Platinum Silver Metallic(01G, 17K)
2N5 - Sierra Gold Metallic(93H) & Steel Gray Metallic(26D)
4C5 - Obsidian Black Pearl(32J, 38F) & UNFINISHED
4C7 - Regal Blue Pearl(31L, 35J) & UNFINISHED
4J8 - Crystal Gray Metallic(48W) & UNFINISHED
4L4 - Crystal Gray Metallic(48W) & Steel Gray Metallic(26D)
4L8 - Aspen White(51E) & Platinum Silver Metallic(01G, 17K)
4L9 - Champagne Gold Metallic(33L, 39J, 921) & Platinum Silver Metallic(01G, 17K)
4N7 - Obsidian Black Pearl(32J, 38F) & Steel Gray Metallic(26D)
4N8 - Regal Blue Pearl(31L, 35J) & Steel Gray Metallic(26D)
4N9 - Champagne Gold Metallic(33L, 39J, 921) & Steel Gray Metallic(26D)
5F2 - Evergreen Metallic(55M) & Steel Gray Metallic(26D)
5R8 - Garnet Red Pearl(33J, 39K) & Steel Gray Metallic(26D)
6B4 - Evergreen Metallic(55M) & Urban Gray Metallic(45A)
6B6 - Obsidian Black Pearl(32J, 38F) & Urban Gray Metallic(45A)
6B7 - Garnet Red Pearl(33J, 39K) & Urban Gray Metallic(45A)
6H1 - Newport Blue Pearl(64Z) & Urban Gray Metallic(45A)
8J5 - Aspen White(51E) & UNFINISHED
9R5 - Sierra Gold Metallic(93H) & UNFINISHED
BE1 - Evergreen Metallic(55M) & Steel Silver Metallic(C6Z)
BE3 - Topaz Gold Metallic(C6P) & Steel Silver Metallic(C6Z)
BE4 - Newport Blue Pearl(64Z) & Steel Silver Metallic(C6Z)
BH6 - Garnet Red Pearl(33J, 39K) & Steel Silver Metallic(C6Z)
BH7 - Satin White Pearl(37J, 925, 926) & Steel Silver Metallic(C6Z)
BR1 - Crystal Gray Metallic(48W) & Urban Gray Metallic(45A)
BS1 - Newport Blue Pearl(64Z) & UNFINISHED
BS2 - Platinum Silver Metallic(01G, 17K) & Satin White Pearl(37J, 925, 926)
CS4 - Dark Grey Metallic(61K) & Steel Silver Metallic(C6Z)​
SH-chassis (09-13)
32J - Obsidian Black Pearl
37J - Satin White Pearl
38F - Obsidian Black Pearl
61F - Green Gray Metallic
61K - Dark Gray Metallic
64Z - Newport Blue Pearl
69Z - Camellia Red Pearl
925 - Satin White Pearl
926 - Satin White Pearl
C1F - Sage Green Metallic
C3S - Spark Silver Metallic
C6P - Topaz Gold Metallic
C6Z - Steel Silver Metallic
D2T - Paprika Red Pearl
E7F - Sky Blue Metallic
F9H - Marine Blue Pearl
G1U - Ice Silver Metallic
G3U - Deep Cherry Pearl
H2Q - Venetian Red Pearl
H4Q - Burnished Bronze Metallic
H5Q - Jasmine Green Metallic
SJ-chassis (14+)
37J - Satin White Pearl
61K - Dark Gray Metallic
D4S - Crystal Black Silica Pearl
F9H - Marine Blue Pearl
G1U - Ice Silver Metallic
H2Q - Venetian Red Pearl
H4Q - Burnished Bronze Metallic
H5Q - Jasmine Green Metallic
J8U - Quartz Blue Pearl