Discussion Starter
·
#1
·
The Challenge:
Find a turbo back exhaust for the 04 Forester XT (The TransForester) before track days this summer, that's affordable but quality.
The Forester specific and/or $1000+ systems like Cobb were out (not affordable), and I saved the ebay stuff as a last resort (low quality?). So I started looking at used stuff on various forums, it seemed like people had problems matching down pipe (brand X) with cat back (brand Y), so I wanted a full system. But finding a complete system in good shape was tough, and I was trying to watch out for scammers.
Enter Speedtech Exhausts (
Speedtech
). They posted a full TBE w/ Cat for the 02-07 WRX/STI w/ Kart Boy hangers, gaskets, and bolts for $500 shipped (on NASIOC). Too good to be true? I checked out the website, asked all the questions about quality and fitting sedan parts on the Forester (typically hangs low and are a few inches short), but for the price, I figured I could live with the imperfections.
So here's the timeline
:
March 5th – Place the order on a Friday. Chad says,
"I will get this welded up next week for you."
March 11th – I see other folks on the forum having "fitment issues" in the Vendor Review section. So I PM Chad on the quick, he says,
"We're having to modify flanges. Should be back on track by tomorrow. Sorry for the delay, just making sure it is correct before I send it out."
So I'm not worried, I wait patiently.
March 23rd – 2 weeks later, no word, no exhaust, I PM Chad and I get,
"I need to weld your DP up at some point this week. You will have the system next week; I just don't know exactly what day. I'll forward tracking ASAP."
April 5th – 2 weeks later, no word, no exhaust, (this is not a typo). I PM Chad w/ no response, fearing the worst.
April 6th – I send Chad a stern email, the response,
"Your exhaust is here. We do not have stock at the moment so I did not renew my NASIOC vendor account this month. I am not able to see any PM's from the 1st of April. Your exhaust is shipping out and I will send tracking to your email address now. if you need any further information or have any questions reply to this email as i cannot do PM's any longer. I am just waiting on kartboy XL hangers to send this. It will be later this week. Probably Friday."
April 12th – Monday; my exhaust "ships" with a refund for the back ordered hangers. The tracking number shows no updates for days.
April 15th – Through various phone calls and emails Chad and I discover that my box got somebody else's label. (Shipped to the wrong person) He says,
"I'll get it out today or tomorrow."
I said, "Ship it today or cancel the order." I got the UPS tracking number showing "picked up" that night and the refund for the hangers via PayPal the next day. Chad's last words were,
"Keep in touch once received and installed and sorry for all the stupid delays...looking forward to your thoughts."
April 19th – I ordered my own Kart Boy XL hangers online
April 22nd – I got the two exhaust boxes, one week from ship date. They were thick cardboard boxes, but the tiny bubble wrap popped in my hand just from picking it up, and several hangers were poking out of the box but undamaged. Kart Boy hangers arrived the next day. It took one day short of 7 weeks to get this system "in hand."
Install
:
3:00pm - I park the car in the garage, get the car on four jack stands, pull the intercooler and turbo heat shields to spray (liberally) every single bolt on the exhaust with PB (liquid wrench).
11:00pm – Myself and the Nate's pull the old exhaust out. We took the axel back off and then unbolted the rest of it from the turbo. Thankfully the turbo bolts came off easily since some are studs and I didn't have replacements for these. Once it was all off, we gently removed the sensor from the middle section.
The new parts go in easily. Speedtech included some nice step by step photo instructions, but the most helpful tip was using Windex to lube the hangers to get them on easier. We had to bend the mounting tab on the DP just slightly (no biggie). We hung all the pipes and put the gaskets in with all bolts just finger tight. Even with the Kart Boy XL hangers, the exit pipe was tightly jammed against the bumper and the joints were bound up under pressure. We zip tied the old hangers to the new hangers to get the right clearances. The third hanger on the axel back was useless; it's on the wrong side for a forester. And it's a good thing too, since part of it broke off while trying to put the hanger on. Lastly, we tighten all the bolts as tight as reasonably possible and put the sensor back in. We put the intercooler and SPT heat shield back in, fire it up and check for leaks. No leaks, so we get it off stands and go for a drive!
The Drive
:
2:30am – The start up sound is great foreshadowing. The idle sound is almost non existent from in the car. Once the engine is warm, we get after it. Throttle response was greatly improved and the exhaust lets you and the world, know when you're hard on it (loud but not annoyingly). It ran great, even on the stock tune. Max boost was 12lbs. Turbo whine was a little more noticeable but not even close to annoying. There wasn't even a hint of highway drone either. After shut down the tail pipe was HOT! And the bumper was warm, so it's a good thing we got that extra clearance or it would've been melted plastic!
Short Term Impressions
:
The parts were exactly what I expected. Nice fit and finish. It went together pretty well except for the forester specific issues and the hangers not being long enough. Performance wise, this is awesome! I should've done this way sooner. It feels, sounds, looks like a race car now. It's really transformed the car from a lowered, quick SUV to a fully legit tuner car. It was installed with ½ tank of gas, and even with my foot in it, I've already got 30 more miles on this tank than I normally get in town as the tank reaches empty. I'll post more info after a full tank goes through. Plus I think this is the gateway for a bigger turbo, intercooler, or just a tune that allows for more boost. This is my wife's daily driver so it has to stay somewhat reasonable and respectable. And it definitely still is that. However, I'm a little worried about the low clearance pipes dragging over speed bumps. The stock system didn't drag even on the biggest speed bumps even though the car is lowered. I'm afraid this will. Every day driving bumps and dips have been fine so far.
Long Term Impresions
:
I'll try to get some sound clips/vids up soon, and other impressions later.
Thoughts on SpeedTech & Chad
:
For the price and the product it was worth the long wait. It did take way too long, but Chad was always easy to get in touch with except for when he didn't renew his vendor status. Once I started emailing and calling him, he was quick to respond and cordial then too. If Speedtech made a Forester specific exhaust I'd probably upgrade to that, so I would do business with them again, but I'd defiantly be less patient about delays and probably wouldn't wait 7 weeks.
Pictures & Notes:
Notice the hangers poking out of the box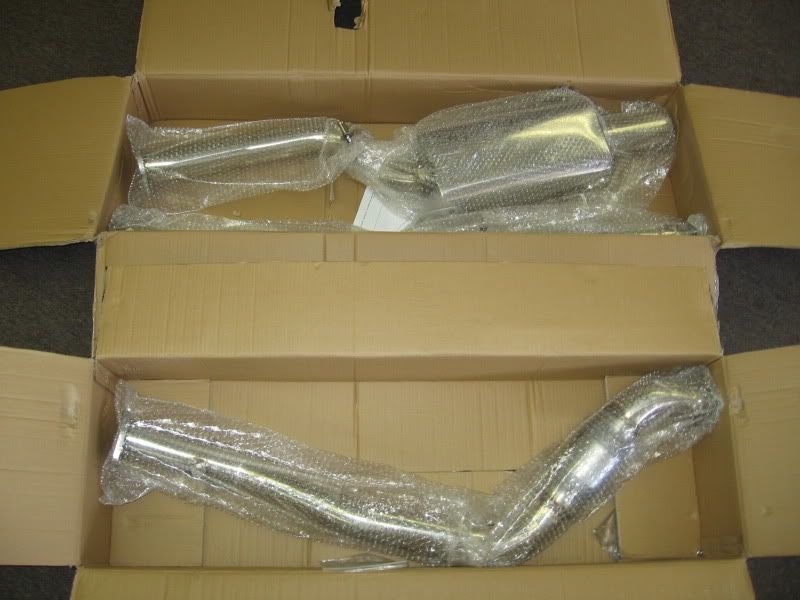 Strange black powder residue. I wiped it all out.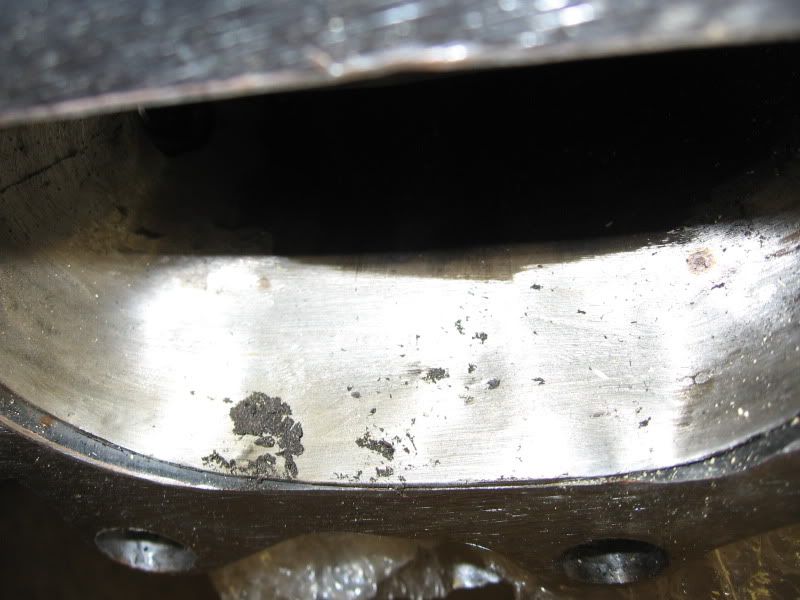 Complete System w/ instructions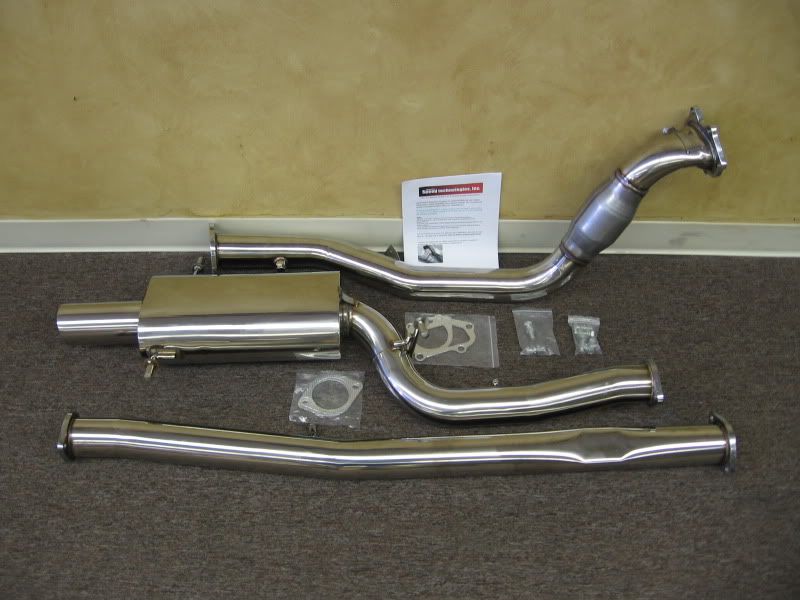 Corrosion on hangers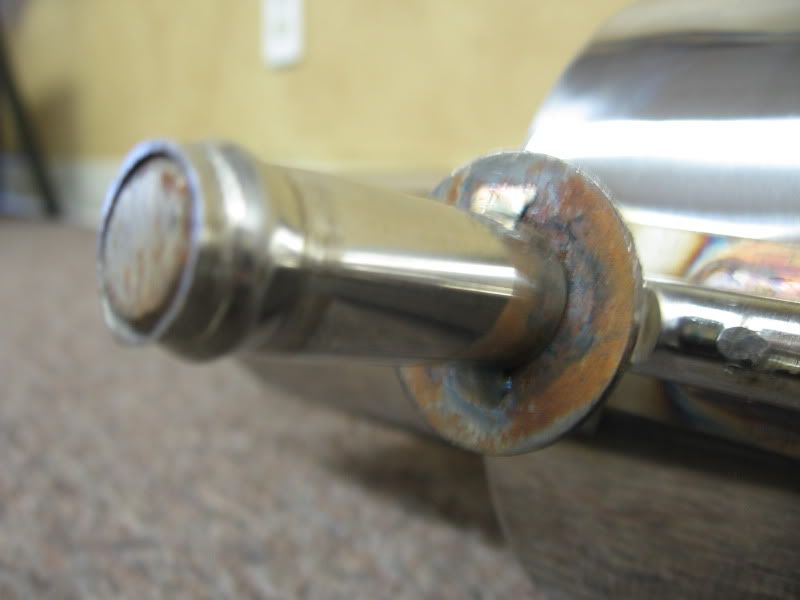 Downpipe Hanger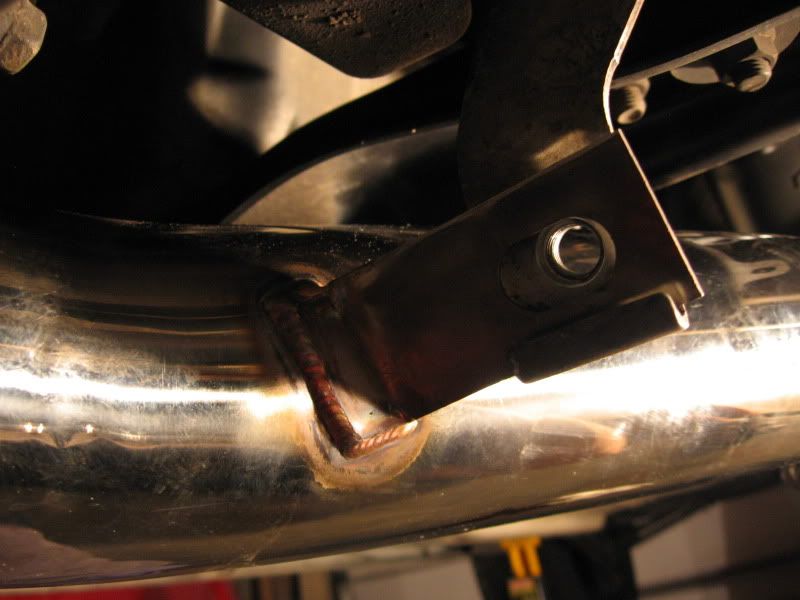 Downpipe from below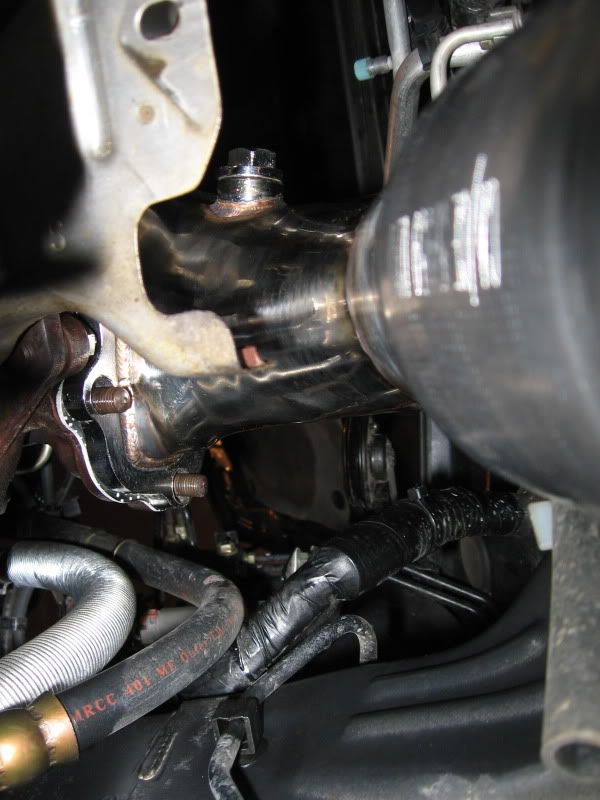 Downpipe from above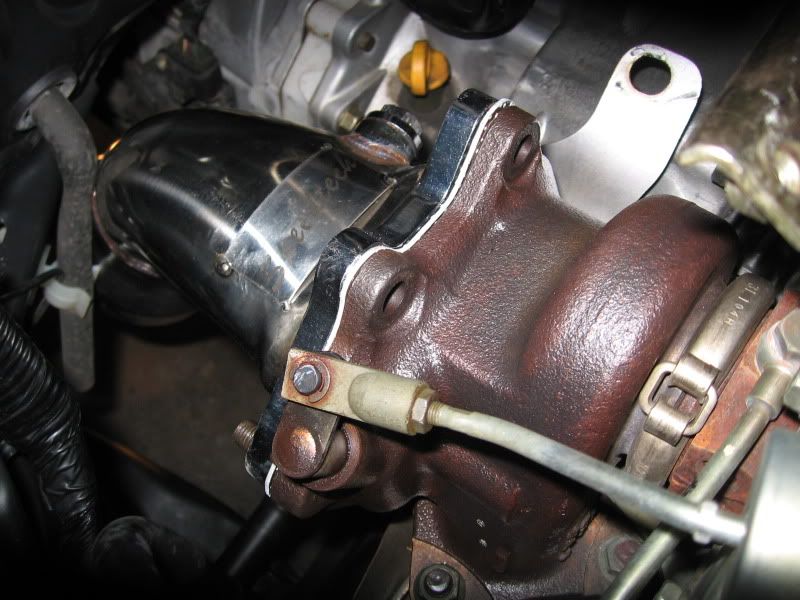 Broken hanger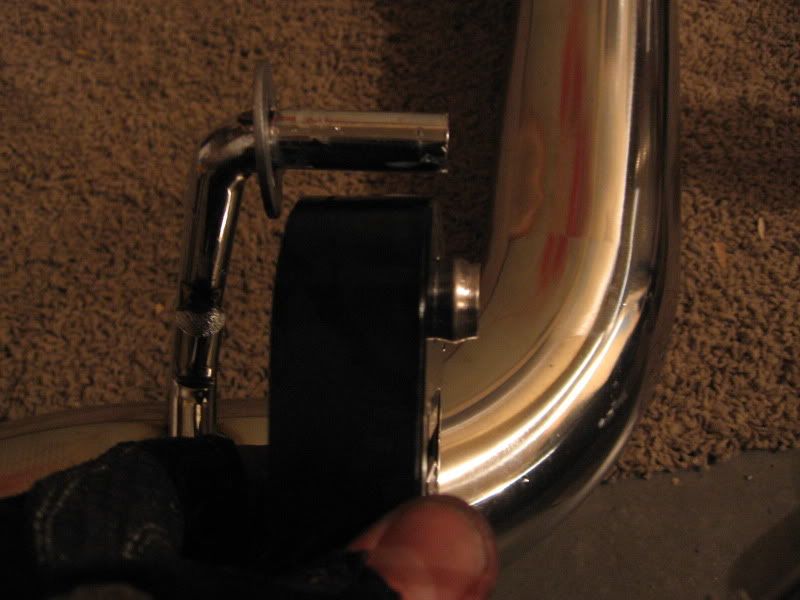 Jammed on bumper even with XL Hangers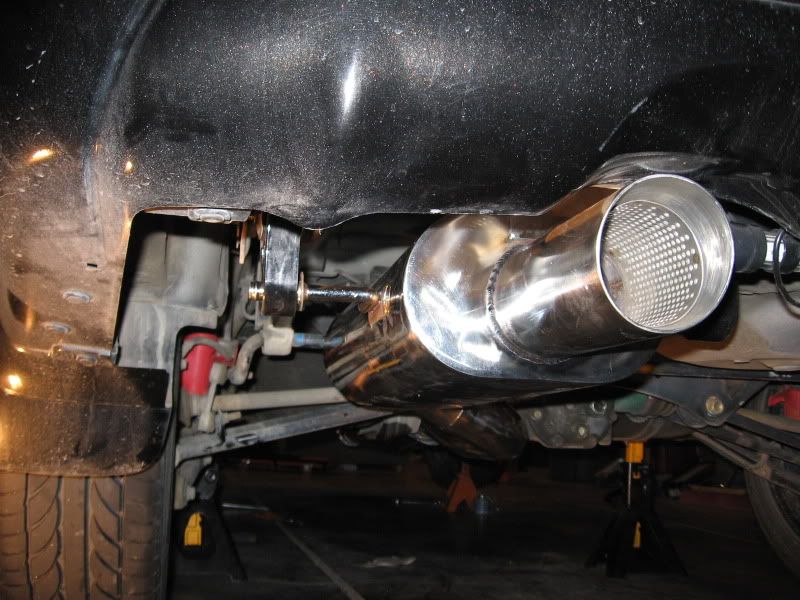 Coming up short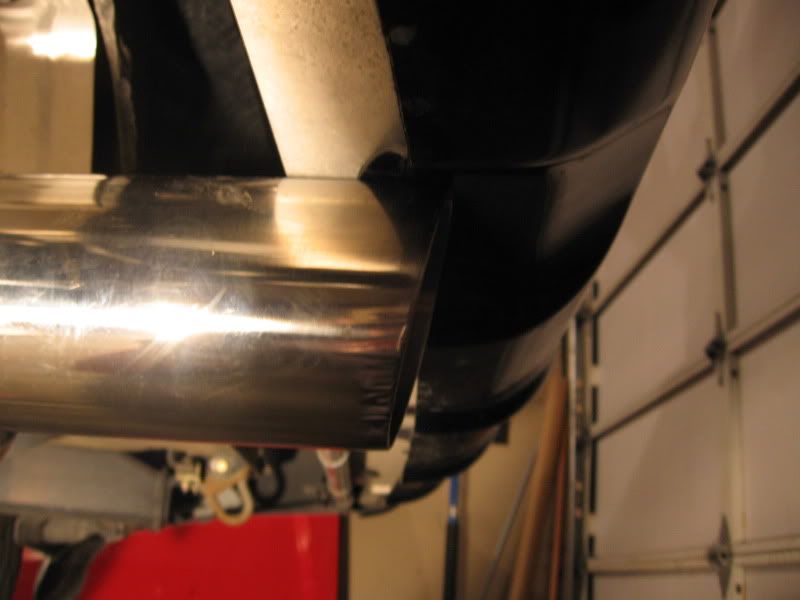 Double hangers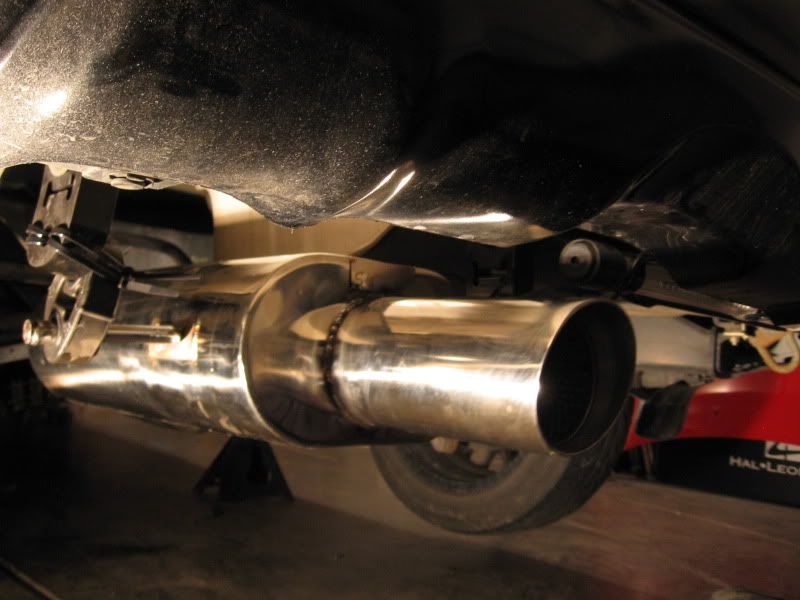 Hanging low. You can the the green sensor wire towards the front.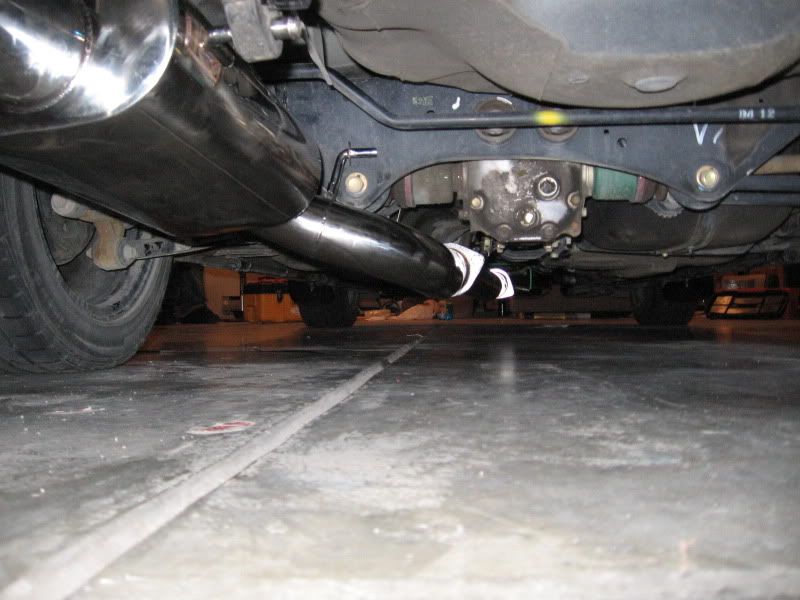 As it sits now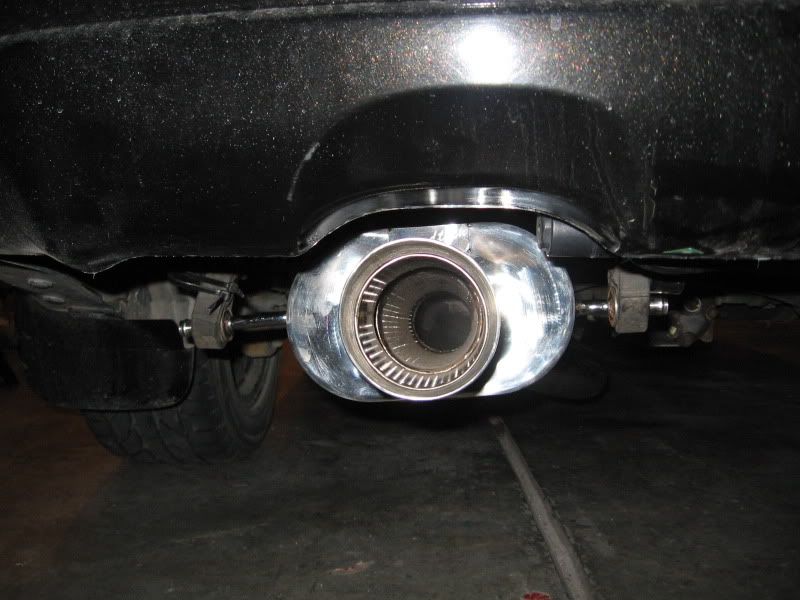 The old stuff, destination....round file! Notice the Downpipe restriction