Discussion Starter
•
#1
•
I have an '01 Forester S, and the remote size bugs me, I much prefer the key of my '09 Legacy: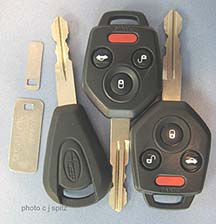 Well as it turns out, those are the same key blank, the remote buttons work too!
I was skeptical since in the newer cars, to program the remote you do some additional funny steps with the lock button, compared to the simpler programming of the older cars, but as it turns out, you can take the key in the above picture, and use your instructions in the older car's manual, and it works perfectly, except the trunk button doesn't work, but who cares.
So all you do is go into a dealer and buy a key for an '09 Tribeca/Legacy/Outback (not '10 since those are laser cut), and don't have them program the PATS chip inside it, so it should run you like $79 if you program the keyless entry yourself, which takes 10 seconds.
Is it worth $79? Probably not, but if you find yourself needing to replace a remote and key, this may be worthwhile for you. I was bored at work today so I took one of the pre-owned Tribeca's keys to experiment with, and was happy