Discussion Starter
•
#1
•
Been awhile since I posted, but here's some pretty golden stuff. If this belongs in the DIY section, I apologize. Everything in there seemed more legit than this project so I put it here.
Situation: Ever since I purchased my 2000 Forester L, I've noticed that the shift lever was pretty far forward for someone of my stature. I'm 6'1" and most of that height came from the legs. To sit comfortably, I need the seat all the way back on the last notch of the rails. 1st, 2nd, and 4th gear did not bother me much, but 3rd and 5th required me to lean forward slightly to shift; doing this many times in a day gave my lower back a weird tweaking soreness. I got a Kartboy GC8 Impreza series shifter in hopes that it would greatly reduce the travel necessary in those trouble gears, but there was no change. After looking around for shifter relocation kits online and asking at Pep Boys (didn't hurt to ask), I decided to rig up my own.
Problem: Shifter too far forward
Solution: Place shifter further back for less than dinner for two at Applebee's. (or less if you have bolts/drill bits laying around)
If you also suffer from longlegilitis, this small mod/writeup will save you from the sourcing headache of hardware needed. This country needs to switch to metric fasteners already. Keep the standard measurements if you only want to meet halfway, sheesh.
Materials:
1 M12x1.25 50mm bolt (45mm might work) - I found this at Lowes
3 M12x1.25 Nuts - Found these at Pep Boys hardware drawers
# 1/2" (or M12) Steel Washers (For spacing/shimming if desired) - Also purchased at Lowes
1/4" steel bar (Or a piece/pieces of hardware shaped like what I made, I could not find anything that was similar to what I needed)
Tools:
1/2" (12.7mm) drill bit (Preferably Cobalt, destroyed a Titanium DeWalt bit) - Picked these two up at Home Depot, you guys might have them already
Some kind of drill or drill press (I resorted to a 3/8" Ryobi corded drill)
A steel cutting tool of some sort (I used a hacksaw. Wish I had access to a well equipped garage here)
2 Wrenches used to tighten the nuts/bolts. (I just used adjustables I had)
As you can see from the pictures below, it's relatively simple. Grab your steel bar, drill a 1/2" hole in it about 1/2" away from the edge. Then, measure out how far you want your shifter relocated from the origin and drill your second hole. After that, cut the piece off the remaining steel bar that you won't need. At this point, if you have a grinder available, I would recommend you round off the edges of your steel bracket to prevent any shift boot punctures. (I did not have a grinder so I just left them. My boot's beat up anyway)
Once you have your bracket, remove the shift boot section of your vehicle's interior. Spin an M12 nut onto your shift lever's threads. (with a washer if desired) Your bracket should fall into place easily above the nut/washer, allowing you to complete your nut/bracket/nut sandwich. Once you have it at the desired height, tighten both nuts. Torque both to you'regonnaneedabreakerbar lb-ft (just kidding). If the bracket may move when you're tightening the nuts; if this happens, just put it back to the right angle by tightening the proper nut that tightens in that direction... You read that right. The hole on the other end of your bracket should have an M12x1.25 bolt through it with a nut, both torqued down enough so they never move again without tools. Finally, thread your new threads on your Franken-shifter's through the hole in your boot while.
NOTE:
My stock boot only fits because I use a shorter length GC8 Impreza short shifter, people who are using Forester specific short shifters
MIGHT NOT FIT THE BOOT.
Below is "finished" bracket and all hardware necessary (except washers)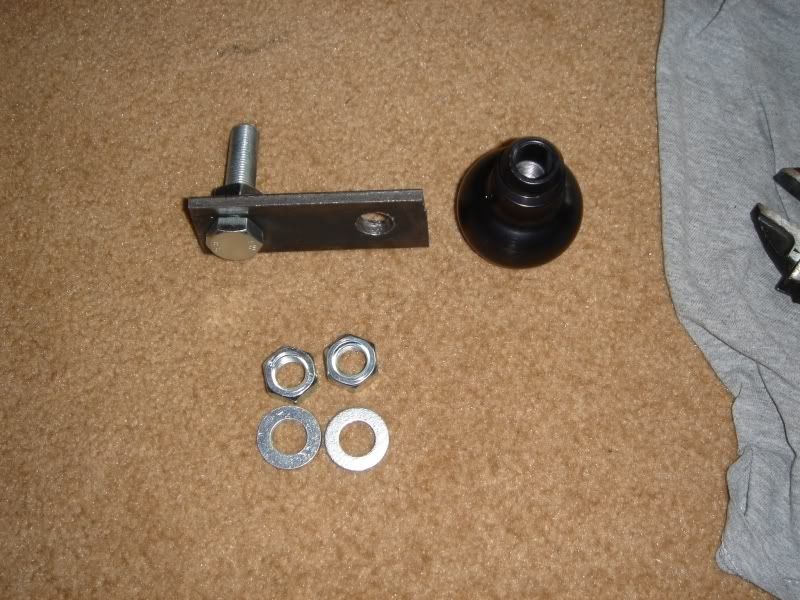 Photo of mechanical components installed/tightened.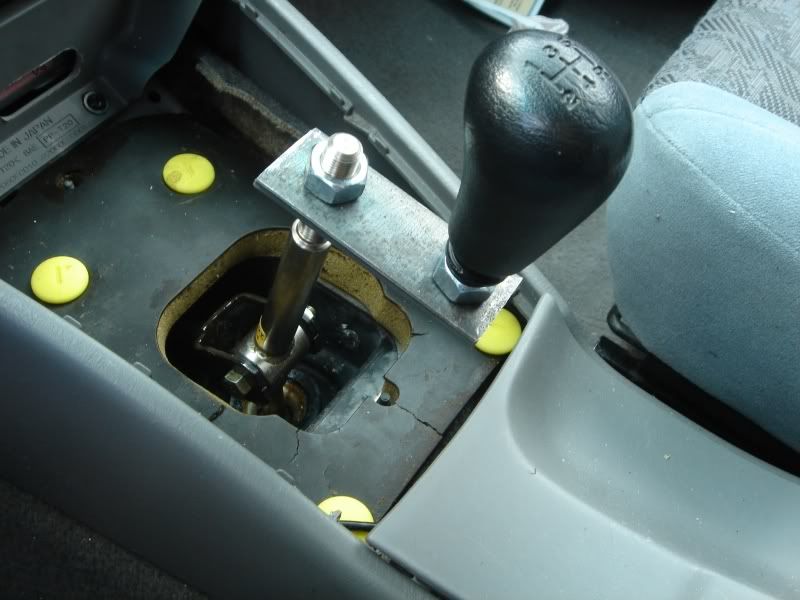 Side view showing the nut/bracket/nut sandwich that can be adjusted for height. Wouldn't put it very low since the original rod might bump your knuckles.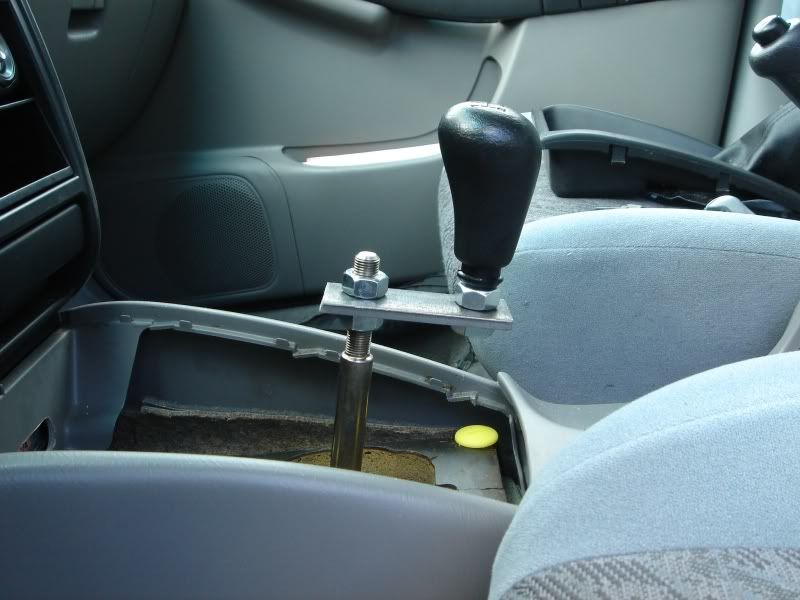 Another thing, I removed the armrest/storage bin since it kept bumping my elbow during shifts; this might be necessary if you do this "mod." I Plan on making a low profile cover to make it look less broken.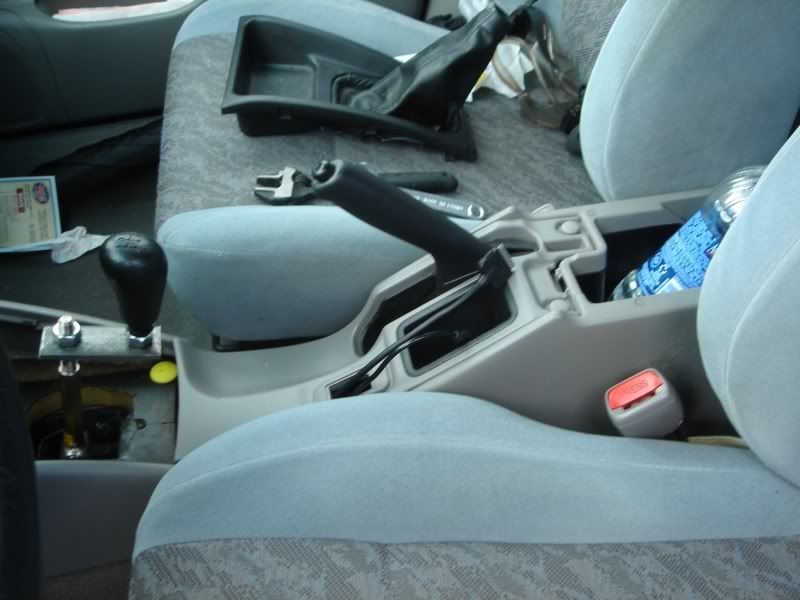 Final picture with boot on and proper shift knob installed. Your project might look less lumpy since my bracket has corners.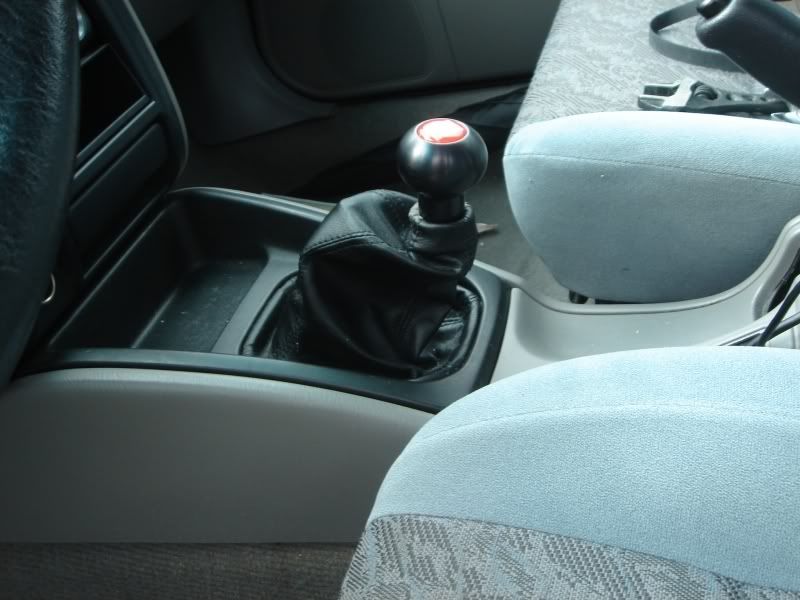 On hindsight,
this may put more stress on your shifter/short shifter.
I can't be certain nor do I care. Pretty confident the Kartboy shifter I'm using is robust enough to take more abuse anyway.
Is this a pretty ghetto mod? Sure, why not.
Was there a pre-made alternative? Not that I found
Was this worth it? I'd say so!
Hope this will help at least ONE other member here!