So, I figured I'd start my member journal now that I have my car back from the shop.
Purchased on 12/26/09 with moderate modifications and serious center differential issues, which is no coincidence.
As-purchased mods:
-APS S/R 30 turbo
-Big Perrin TMIC
-Perrin Recirc BOV
-performance header
-Cobb TBE
-Snow Methanol injection
-Turbosmart e-Boost control
-Cobb AP v1
-Cobb rear sway bar
-Some other misc. items consistent with this state of tune - injectors, etc.
-In addition, I'm finding new things all the time (the original owner passed away, I purchased the car from his son, who didn't know what was really done to the car, so it's been a hide-and-seek operation with mods).
Made the earliest possible appointment at MSPT in Huntington and dropped it off 1/6/10 to have the drivetrain issues addressed and to have the car tuned for straight pump gas (courtesy of a new Cobb AP v2) rather than the pump gas with methanol injection tune I purchased it with.
Picked up the car on 1/21/10 and drove it for the
very first time
.
Installed my kartboy short shifter the same night as well as my knuckleball shift knob. The short shifter is for a 97-01 RS and lowers the shift height and throw significantly. The knuckleball brings it down even further, too.
Installed my JDM STi hood scoop (purchased pre-painted from J-spec tuning) on 1/24/10.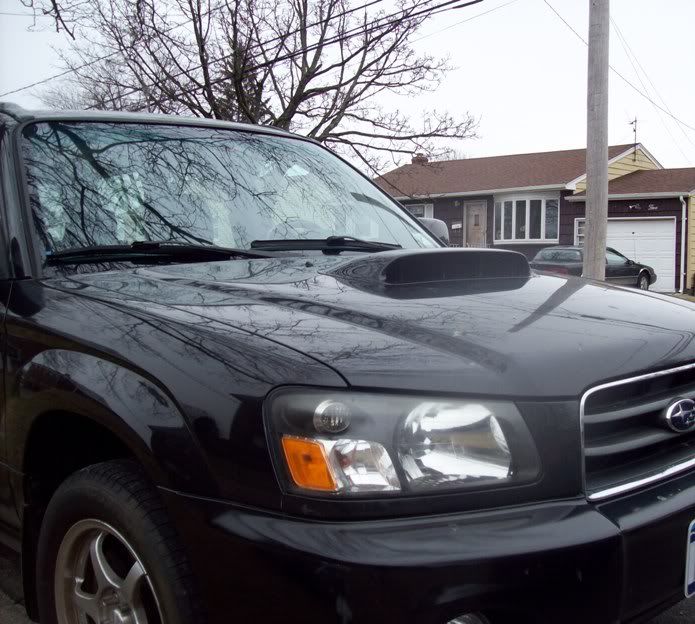 I have waiting the following:
-Swift Sports (Done)
-KYB GR2s (Done)
-Pre-painted rear spoiler (Done)
-Subtle solutions ashtray blank*
-Kartboy shifter bushings (Done)
-Dash compartment / clock (purchased from Stealthy-Scooby)*
* The original owner has the e-Boost controller / gauge mounted on the existing dash compartment /clock lid, but it looks pretty rough. My plan is to relocate the controller / gauge in the ashtray location, where the knock sensor light currently is.
Anyway, I'll post pics after the various installs and keep anyone who's interested updated.
I'm appreciative of the vast information I've been able to obtain from SF.org so far and I look forward to learning more in the future.
2.23.10
I realized I hadn't updated this in a while. Since my last update, I installed my Swifts / KYBs, my rear spoiler, and some other stuff I'm sure I'm forgetting. Anyway, here are some updated pics. I can't wait to take pictures when the sun is out - every time I snap pictures it looks like the apocalypse is approaching.
Before spoiler
After spoiler
Current profile
New mods waiting for install:
-OEM gauge pack housing*
-OZ 17"x7" wheels
*I'd like to find the OEM XT performance gauge pack for cheap, but I haven't had any luck.