Discussion Starter
•
#1
•
Here's some pics & video from last weekend's autox event held locally in Ottawa. This was my first autox of the season, first time with moar power, first time with the 07 STI steering rack and first time running on R888's (235/40/17). I did ok, not great but not lousy either so for a first event not bad. I had the fastest Subaru in my class but there were only 2 and the other guy is a newb so that wasn't hard. Overall 11th out of 18 in my class with a mix of S2000's , Miata's etc.
The big test for me was the STI steering rack. Last couple of years I always felt I had to hand over hand in quite a few turns including the slalom which always drove me nuts. This time I didn't really notice any steering issues which is a good thing, that means its where it should be and no longer an issue. A very good mod for the money that goes unoticed daily driving.
Not loving the R888's, while they are used they have nowhere near as much grip as last year's V710's and they slide around everywhere. Guys say I have to get used to how to drive them. I suppose I will but next season I"ll have a new set of V710's regardless.
Overall an excellent day, I had fun, it was hot 'n sunny and the pretty girls were out in full force. How does one complain about that ? Now to the pics & HD videos, the one to watch in the video is the 07 STI, light grey. That's a good friend and wicked driver. He pulled FTD from the start and just got better every run. He was about 7 seconds faster than me, both he and the car worked very well.
Me on the left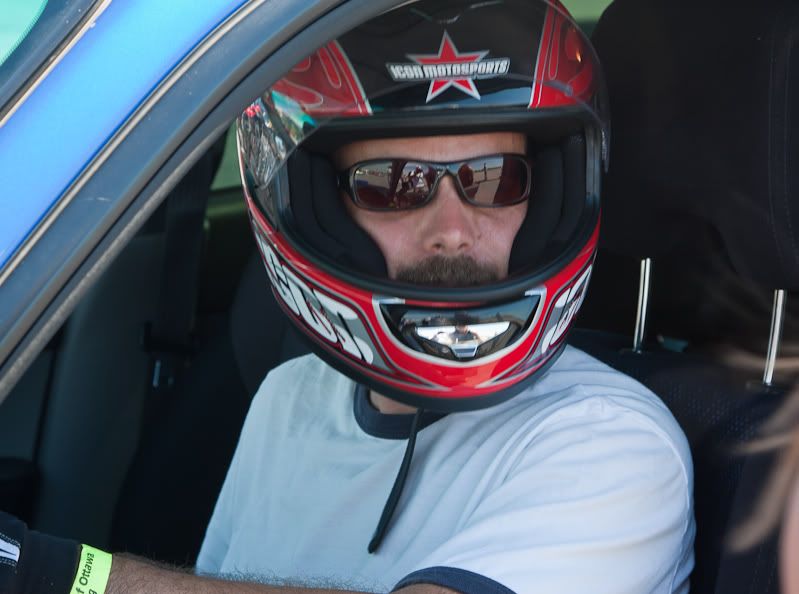 All the girls wanted to ride. Forester got them curious and they wanted to try it at least once...