If you're engine's consuming more oil then you'd like, I've come across a bit of a helper fix to at least reduce the amount of consumption. Now I say, this is a helper fix, as it's not a cure-all; nor is it a substitute for physical mechanical issues like worn rings, head gasket issues, etc.
Some of you may appreciate this, other will think that those who do this are foolish. Doing this may also be illegal in your area/territory, so you might want to check up on that for yourself.
It's fairly basic; opening up the crankcase/block. This helper fix isn't based on anything calculated or engineered, just real-world experience and a bit of common sense (or at least my ego would like to think so). I did this to my Impreza almost 5 years ago and up until about 2 months ago was my only car/daily driver. Doing this never added any issues to her and things ran normally. (I never experienced any "dangerously lean conditions" as touted on the other forum.)
Here's the link:
EJ251-3 PCV Setup
Between oil changes every 3-4 months I'd put 4L in and about 3.8L would come out consistently every time, and I'm guessing this is due to a bit of evaporation and not engine consumption. Before this mod on my Impreza only 3L would come out.
I've done this to my Forester now as I may be consuming a bit of oil I'd like to correct. I've only done one oil change so far (putting my own oil in for the first time) and I did a healthy road trip to Seattle and back a few weeks ago.
The EJ251 in my Impreza had by my count 3 hoses going from the engine block to the intake, and on the EJ253 in my Forester, I count 7! Why? Might be one of those things Subaru 'over-engineered', like the finickyness of the secondary O2 sensor. Subaru REALLY wanted to meet emission standards it seems. There's so much vacuum created by all this more then just fumes get sucked into the intake; but liquid oil as well. By eliminating a few of these hoses, you reduce the vacuum created within the engine block. Less vacuum, makes it a bit harder to suck up liquid oil.
Because this is an emissions thing, check the earlier legal disclaimer. I can get away with this in my neck of the woods as the emissions testing program was scraped at the start of the year, and even when it was in place, it was just a connection to your OBDII port to check for codes. Before the 80's essentially, vehicles vented the internal engine fumes to the atmosphere anyway.
So I wonder what's worse for the environment:
- Venting directly to the atmosphere, or having it go through the combustion chamber, burned a bit, and then the atmosphere?
- Adding ___ litres of oil between oil changes, or venting only a few hundred ml instead?
It all kinda ends up in the air anyway. If you're really concerned, you can run an oil catch can setup (which most are also vented anyway).
So, tools you'll need:
- Pair of pliers
Parts you'll need:
- 1cm or 3/8" vacuum caps
- Breather filters for the valve covers. I went with K&N p/n RU-3230. They're a perfect fit on the valve cover outlets and the filter itself clears everything around it.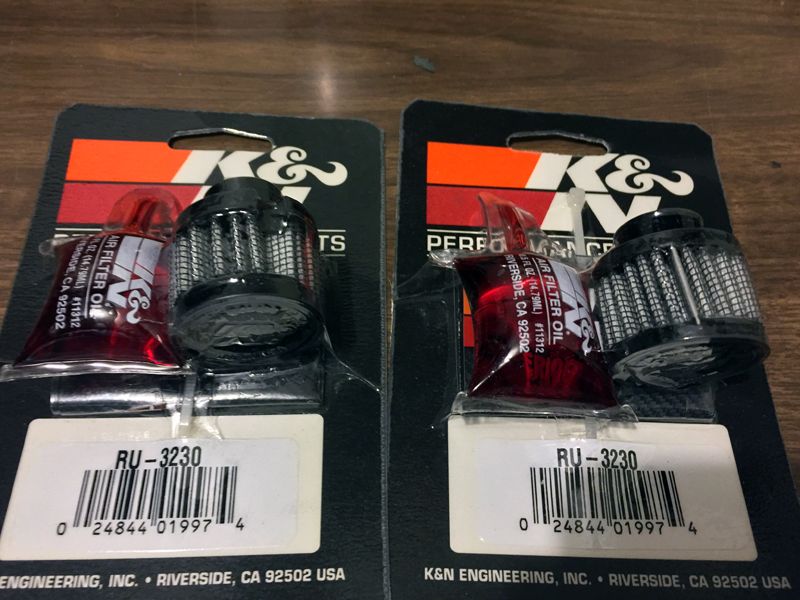 Simply pull off the hoses that go from the valve covers to the intake box. Then cap the intake box outlets (so you don't have a vacuum leak) and mount the filters on the valve cover outlets. The whole process only takes 15-30 minutes. You may want to consider just these hoses, as other hoses may be needed for sensors. So far I haven't personally seen these hoses hooked up to a sensor.
With vacuum occurring at other hoses now, the valve cover vents act as little 'intakes', so this setup doesn't leak oil. If it does, you're building up pressure and have a more serious issue then what this is meant to help with. Looking online, it appears pretty much all Subaru valve covers are baffled quite well.
These filters have the potential of getting a bit dirty but no more or less then the engine's air filter. I pop em off when I remove my cone filter during tune ups and clean em all at the same time.
Anyway, hopes this helps in your reduction…