If you have noticed those round factory holes in your front bumper you may be wondering why dealerships don't use them to attach your front license plate. This is because the holes are designed to line up with the mounting points of Japanese plates, which are spaced further apart than ours. As such, the default solution for American dealerships for front plate installation is to drill self-tapping sheet metal screws into your pristine bumper. Ouch!! Not only are these drilled holes unsightly, but in many cases they eventually strip out and let go because no anchoring hardware or support is used behind the bumper cover aside from a little flimsy flashing.
Our billet aluminum adapter bracket mounts to the existing round holes with JDM plate spacing, and provides a secure and durable mounting solution for your US or Canadian plate - no drilling required! In addition, it allows you to add a customized plate frame, holder, or cover of your choice.
Even if your bumper has already been drilled by the dealer, our adapter brackets offer a much sturdier and more dependable way of mounting your front plate. The bracket features a low-profile design and is covered by the license plate and any plate frame or holder you wish to use. New and improved rubber fasteners for the current models create a buffer with additional clearance between the bracket and the bumper to insure your paint remains pristine.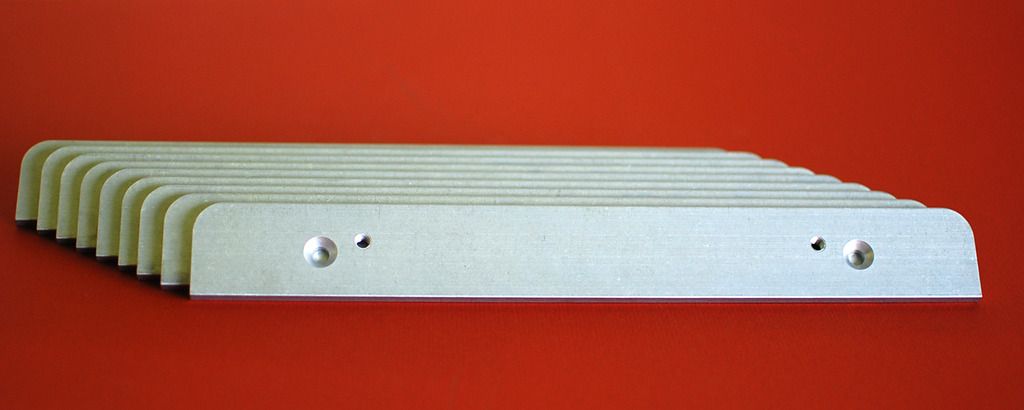 Fitment Guide
'98-'08 & '14+ Forester
'93-'07 & '12+ Impreza
'02-'07 & '15+ WRX & STI
'13+ XV Crosstrek
Features & Benefits
No Drilling
Low Profile
Sturdy, Secure, and Durable
Accommodates additional Plate Frame or Holder
Quick and Easy Installation
Made in the USA
Materials
Bracket: 6061-T6 Billet Aluminum
Screws: Stainless Steel
Bumper Fasteners: Neoprene w/Brass Insert (current models); Nylon (up to MY08)
Dimensions & Weight
Bracket: 12.125" x 1.5" x 0.25"; 7 oz.
AVAILABLE OPTIONS:
Option 1) satin/hand-brushed finish - SOLD OUT

Option 2) unfinished (de-burred and tumbled only) - apply your own finish (e.g. paint, plast-dip, powdercoat, anodize, etc.), or use as-is - SOLD OUT

Prices include all necessary mounting hardware.


All orders ship via USPS Priority Mail at the following rates:

US (incl. AK & HI) - $6.75
Canada - $23.95
HOW TO ORDER
Please
send a PM to Forester Developers
and include the following information:
Year and model of your Subaru
Your choice of finish for the bracket - option 1 (hand-brushed) or option 2 (tumbled)
Your Paypal email address - you will receive a PP invoice (if you don't have a Paypal account, your preferred email address will work - the invoice can be securely paid with a credit or debit card as well)
Installation Guide for current models
:
http://www.subaruforester.org/vbull...o-drill-license-plate-adapter-bracket-260058/
Important information if you are waiting to take delivery of a brand-new Forester and want the front bumper to remain undrilled:
Attaching a front license plate or dealer advertising plate is part of Subaru's pre-delivery inspection (PDI). As mentioned above, this is done by drilling sheet metal screws directly into your front bumper cover (Subaru provides a couple of dimples in between the existing holes that show where to drill for North American plates). Communicate your wish to keep the bumper intact to your salesperson early on - get it in writing when the sales contract is drawn up, if possible. Don't be afraid to remind them of your request as the arrival date of your car approaches! The PDI is performed by service and detailing staff - that means your salesperson should be responsible for letting them know that drilling to mount a front plate is a no-no. It's a good idea to have the salesperson
attach a note or a piece of tape in the middle of the front bumper
that clearly reads "NO DRILL" as soon as the car comes off the delivery truck to avoid any and all confusion during the PDI process.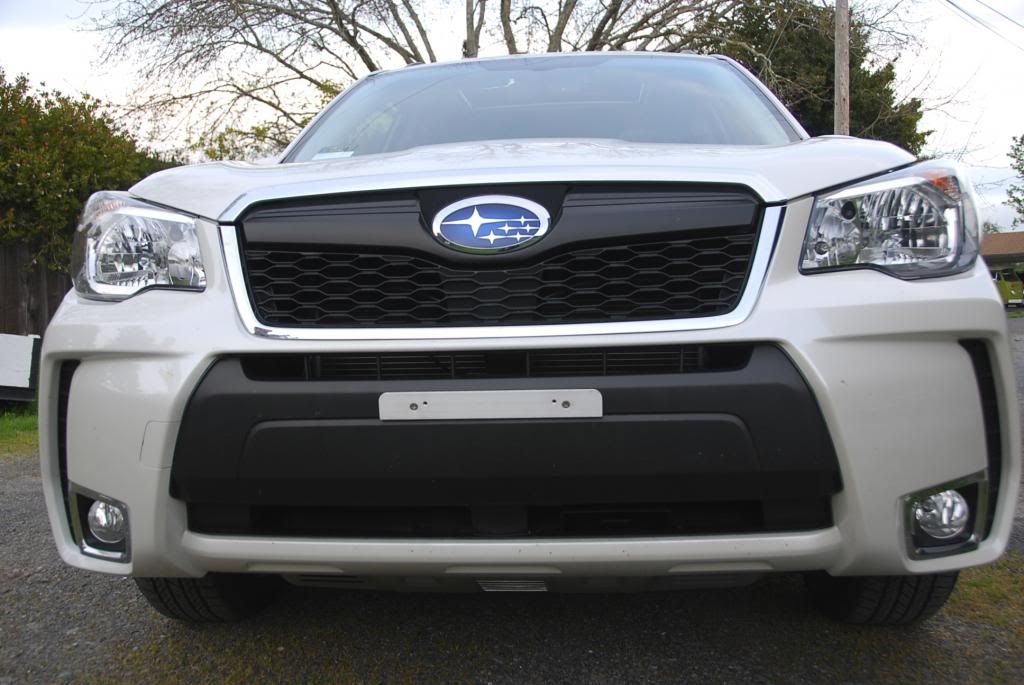 Customer Testimonials
Received the license plate mount today. I just opened it, and.... behold! A thing of beauty

Thank you so much. This is not just going to attach to the car, it's going to *grace* the car
- Sky Blue
Picked up my limited last Saturday. Installed the plate adapter while dealer finished up with another customer. Installation was easy peasy and looks great! Very happy with product.
- FozzyLTD
I installed it right there in their lot , the sales guys were impressed , I gave them your contact info . Teriffic product ! Thanks again !
- corvetterjk
Mounting your bracket only took me a couple minutes!
Everything fit great!!! Instructions were very straight forward!
I even installed my front license plate with a clear plastic cover over top of it and still, everything bolted on perfectly!
- L23Tan
I ended up with one of these after Deal's Gap Meet (Thanks Tom) and I am extremely impressed with the quality. Everything is included down to the fasteners!
- Tuned200
I've had this product for several months now and it's very good. It makes my license plate bumper guard sit more flush than my previous front plate mounting solution.
- yuephoria