Discussion Starter
•
#1
•
Hey everyone! This is the build of my 2004 Forester XT!
I have never really been big on forums and had actually forgot I made an account here a few months ago but figured since I've decided to dive into my Foz I might aswell start my first ever build thread. So here we go!
Car was purchased a couple years ago and I really didnt start messing with it until this past year. Here's a pic of how it looked when purchased aswell as engine bay shot :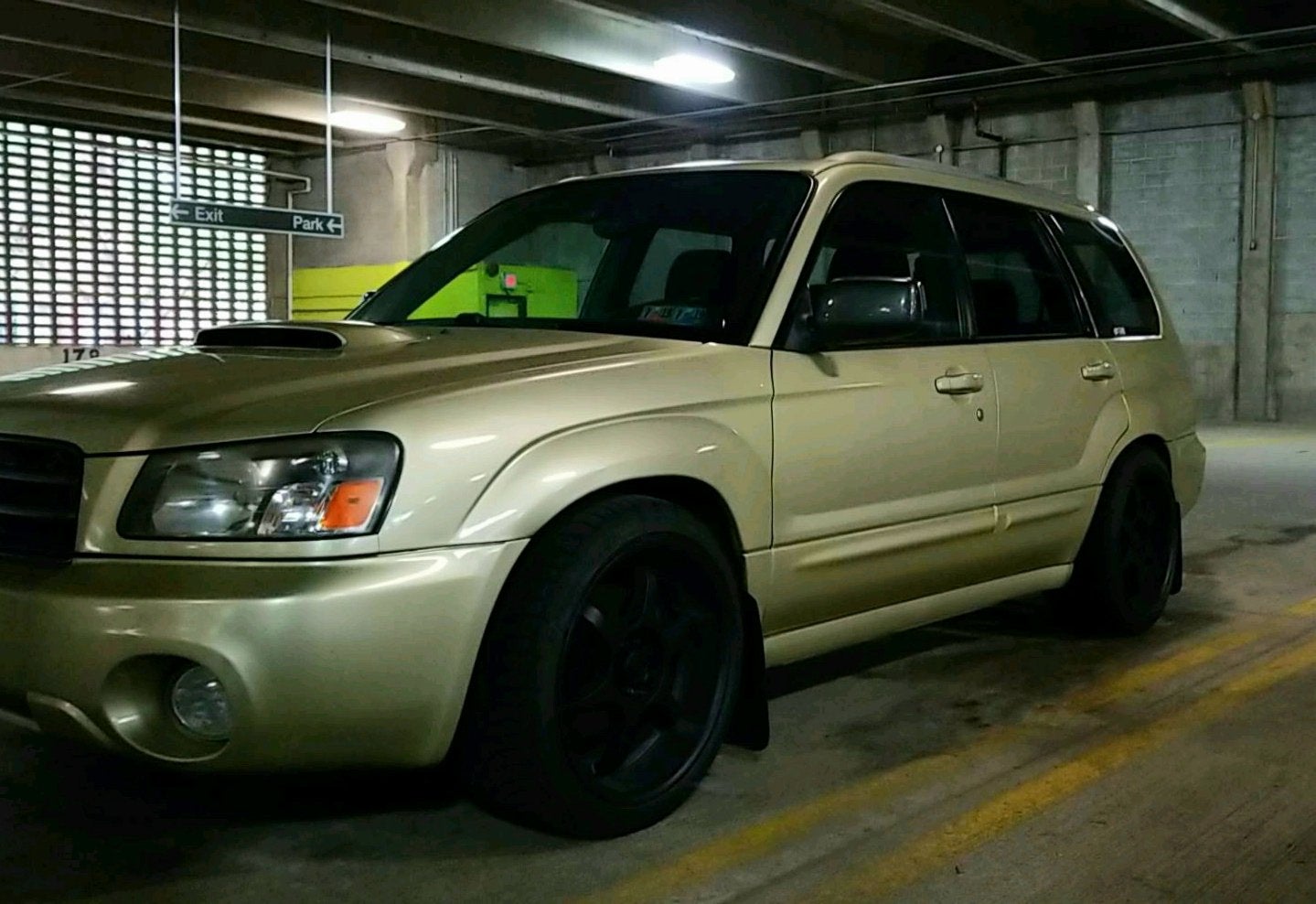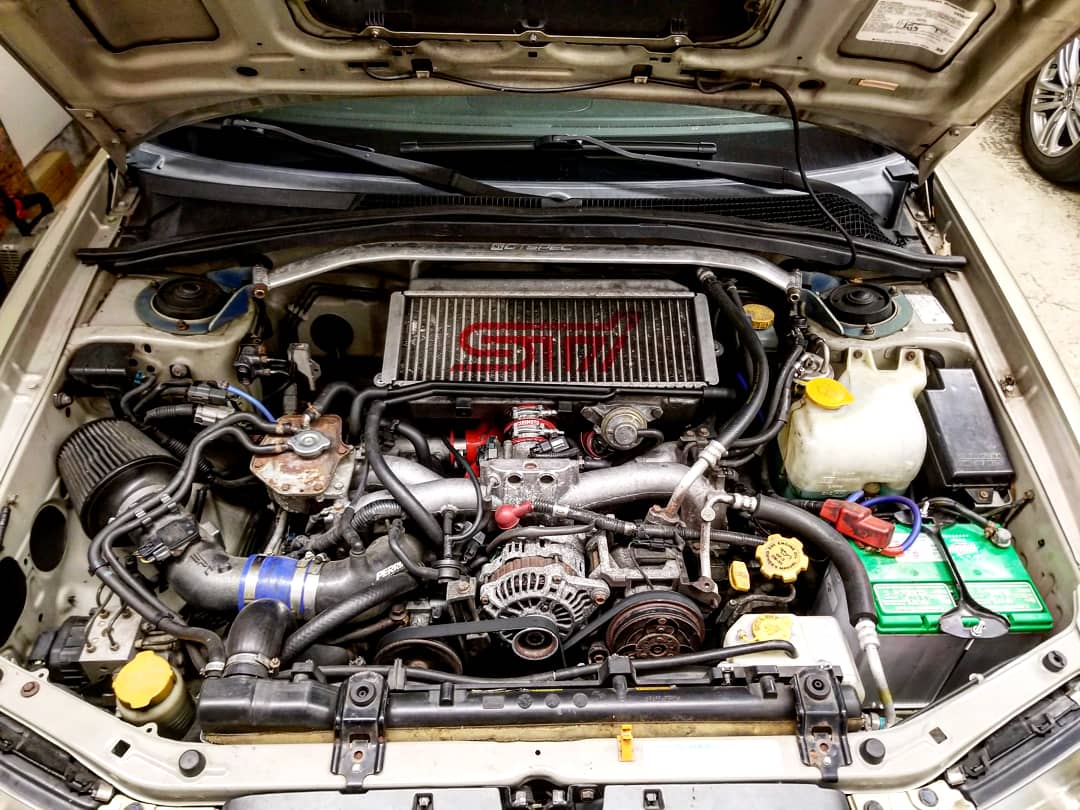 List of mods on car when purchased:
Cobb accessport with stage 2 OTS tune
Sti tmic (actually looking to sell this)
Unknown brand 3" catless downpipe
3" custom catless exhaust from dp back
Vf39 turbo
Perrin inlet
Sti struts/springs
Perrin rear swaybar (unknown diam)
Unknown brand endlinks for rear swaybar
Pretty sure stock front sway but havent gotten really good look at it..
Cold air intake
Gt spec front strut bar (actually looking to sell this)
Unknown aftermarket wheels with unknown specs
Sti Gnome defi boost guage and controler
Think that's everything that was on the car..
As I mentioned earlier I have had car a few years now but wasnt until this past year I really started messing with it at all. Here is a list, in no particular order, of parts I have purchased since owning the foz (items with a * have been installed):
Rockford fosgate p3 single sub.*
Rockford fosgate amp (cant remember model)*
Kenwood ddx3 double din headunit*
Mounting bracket for accessport onto the defroster vent to the left of steering wheel (by far my favorite and imo cleanest mounting spot for the access port)*
Led taillights/reverse lights/lisence plate lights/all interior lights*
Weathertech front floor mats*
Kartboy pitch stop mount (my oem one snapped in half)*
IAG transmission mount*
Grimmspeed tmic wrapped in gold dei heat wrap*
Grimmspeed hood scoop splitter*
Turbo blanket*
Cusco engine room brace*
Cusco front member power brace
Koyo radiator
Moroso aluminum coolant expansion tank
Gt spec gen2 EL header with EWG set up from IAG. (Currently waiting to get swain tech white lighting coating)
Purple tial 38mm EWG
Cobb 3 port BCS
AEM wideband sensor/guage
Defi blue oil pressure and temp guage
Perrin 3" inlet (my other one is pretty worn and will be replaced when get new turbo)
Perrin wheel spacers that convert 5x100 to 5x114 bolt pattern (I have some white desmond regamaster I dont feel like waiting till I sort out my 6speed swap to put on, usually not a fan of spacers).
DW300 fuel pump
Subtle solutions alternator cover
Well, I think that's everything!
I've got lots more planned for the future yet. I plan to have it professionally tuned, hopefully by summertime but we will see how that goes. Before then I plan to add all the parts I have but havent been installed yet aswell as these other goodies I have yet to purchase:
IAG motor mounts
Killerb oil pan, pickup, and baffle kit.
Skid plate (not sure which one yet)
Retrofit headlights (currently communicating with kaizen lighting about those)
Then, as for the long term future of the car I have plans for:
6speed tranny swap
Sti steering rack
Air ride suspension and other suspension upgrades like lateral links and such needed with lowered vehicles
Larger injectors/tgv deletes
Larger turbo (currently thinking 20g)
IAG longblock
My longterm goal is a reliable high 300whp to low 4s on pump gas or low to mid 400s on e85 or meth. This is just my current goal, I think 20g turbo is what I want to go with for the kind of driving I plan to do (daily driving with occasional spirited drive. Probably some autox or rallyx once in awhile too) but time will tell.
I guess I'll throw in something I fixed the other week aswell, not a performance mod but my gas tank had not been filling up properly and the pump would shut off every like .5gal, super PITA especially when its freezing out. I checked the hoses by the charcoal canister and sure enough one was filled with charcoal. Pulled the canister and emptied all the charcoal from it and the hose, put back on, car fills up fine now! I did order a new canister that will have charcoal I will be putting on sometime soon.
Hope yall enjoy my build and stick around to see its progression over the next couple years! And I'll try my best to keep on top of updating it!