·
K.I.T.T. meet A.L.I.C.E.
Discussion Starter
·
#1
·
Firstly, Horary for the new home!
Now on to the good stuff. This year the
MNSubaru
guys planned out an ice racing event way up north on the state. One of our members owns a nice little resort place up about 1.5 hours north-west of Duluth, MN on a very large lake.
I was the only Forester going (mods: STI RSB: Snorkus delete: Hakkaplettiia RSI tires). There were a couple of RS's, and a bunch of WRX's and STI's. All toll, probably about 20 or so cars. 12 of us caravanned up there from Minneapolis, and of course had a fun time doing that. Watching all the people look over funny because they were being passed by hood scoop after hood scoop.
When we got up there it was about 11:30pm, but we went out to the track anyway just to have some fun runs in the dark. The real fun started the next day. We got up, and did more fun runs for a couple of hours. There were two tracks. One large oval for some drifting fun, and the actual track. Spent a lot of time on both, but on the real track I had my "incident." I was a bit overzealous going into a turn, and ended up plowing diagonally into a frozen snow bank at about 20-30mph. The snow did give way, so no major damage, but it was hard enough to misalign one of my factory fogs, rip off 3 of my four accessory fogs (somehow though, they all survived just fine), Ripped off both of those little mud flap things in front of the front tires, broke/ripped about 80% of the front right wheel well splash guard thing off, about 40% of the front left one, and put a nice big crack on the right side of my bumper cover.
That whole part sucked, but if you want to play, you gotta pay. So I kept on going (albeit a little more carefully). The track was getting super slick from everyone polishing it up, which made it more and more fun. After a while we got around to timing everyone's runs. My first was a 1:17:50 or so. (I know this means nothing since you haven't seen the track). After some more runs I started to get stuff figured out, and got down to the 1:13 area, then started to push a bit harder, and got down to the 1:10, and by the end of the day was running consistent 1:08's. As of that day, The FXT was the fastest thing out there (aside from a rally prepped 2.5RS with studded tires, which was only 2 seconds faster). As best as I could tell the median time for the track was probably around 1:15 or so.
Of course, the Forester was the center of attention, and we gained a lot more respect in the MN community :twisted:
Pictures and videos should be coming in the next week or so when people get them uploaded, etc... When that happens I'll post em up here for the world to see. Later today I'll try to get pics of my bumper up here. It's not really that bad, and doesn't keep me from driving. Just a major aesthetic annoyance.
UPDATE: Pictures (more on the way as they come in)
Whats left of my 4 accessory fogs after my incident:
My front right wheel well: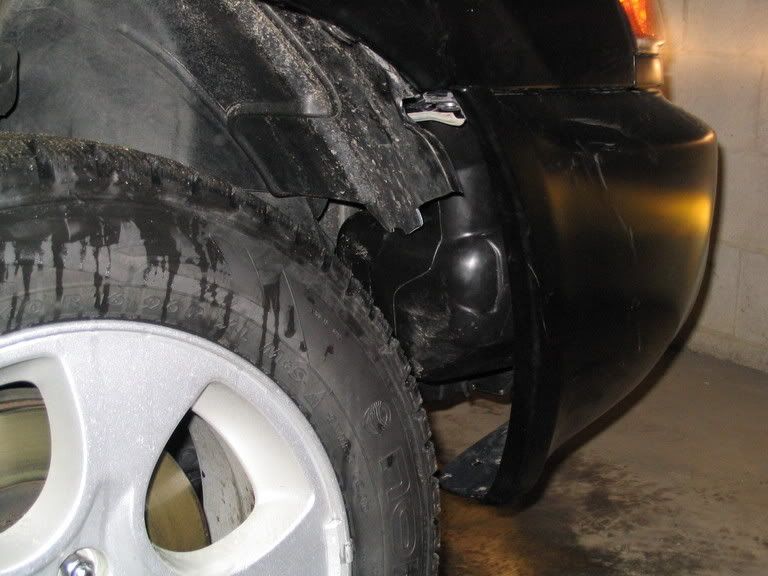 My Front Right bumper cover: