Discussion Starter
•
#1
•
Ok, so I know I don't wheel the Forester anymore, which seems to have a few folks here a little miffed.
Haven't been posting up much because of this, but didn't want to leave this one out.
Karla
did
bring Dash up, so the Forester did make an appearance. J
ust no real offroading. Some dirt roads and a short hilly/rocky stint up to the campsite...
anyways, report on!
What a great weekend!
I was able to get away from work and head out on Thursday afternoon.
The plan was to hit up Hayman Fire area again as we really like it (near Deckers),
but like everything else it fills up early and fast for the holiday weekend.
Got up to Deckers, drove through the entire burn area on 211, all the spots were taken.
No biggie, on the other end near 24 there are tons more options, so just kept going.
Ended up finding a spot off a spur road just before Tarryall Road.
Tons of privacy, even though we did have some neighbors show up on Saturday midday.
We were down in a gully a bit, therefore protected from wind and prying eyes.
Karla likes to tan.........
Karla came up and joined me and the dogs Saturday after work.
She dropped by Outlaw's place for a shower before coming, and of course forgot her boots and his house!
So, she spent all weekend tromping around in sandals with socks, or flip flops.
Freakin hilarious.
I had asked her to come up in Dash (the Forester) as I wasn't sure quite where we would be camping since I was heading up late Thursday.
Glad I did! We would have had to park her car somewhere else, it wouldn't have made it up the spur road.
Anyways, enough yabbering, onto some pictures and video!
The first sunset was the most incredible!
Took this just up the hill from the campsite.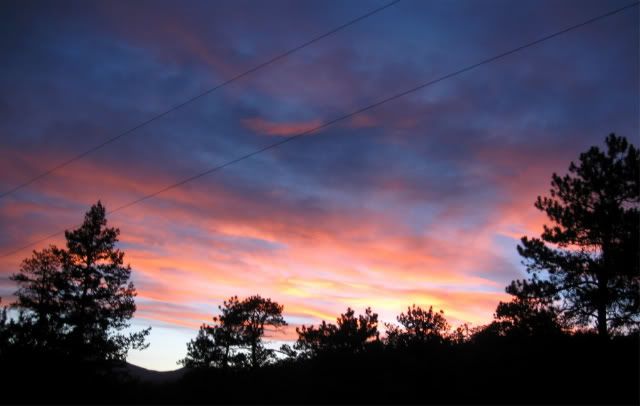 Dinner prep. Man, it's so nice to have so much more room to bring things.
Like this table I picked up for CHEAP at a garage sale.
It's so fantastic, one of life's little luxuries when camping.
Look what Luke found!! Ok, he so didn't find it...
He stole it from his brother!
This got passed back and forth all weekend.
Campsite pics...
Brought my new motorcycle camping tent up with me as I wanted to set it up, see what it is like.
Non-freestanding, which is a first for me.
I actually quite like it!
Definitely dwarfed by our HUGE coleman tent I got for free, the ideal tent in good weather like we had all weekend.
I however do not trust the "palace" in high winds or lots of wet weather, so if the forecast isn't good, it stays at home.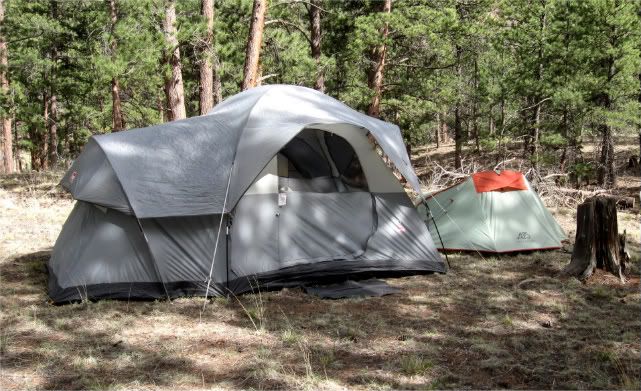 My little slice of heaven...
I always seem to forget something, no matter how many times I've been camping...
This time? The dog food bowls!!
A little improv and we were back on track...

Kodi quickly found his favorite spot for the trip:
While Luke was more flexible, happy anywhere where he could roast himself.
No really, he would pant in his sleep.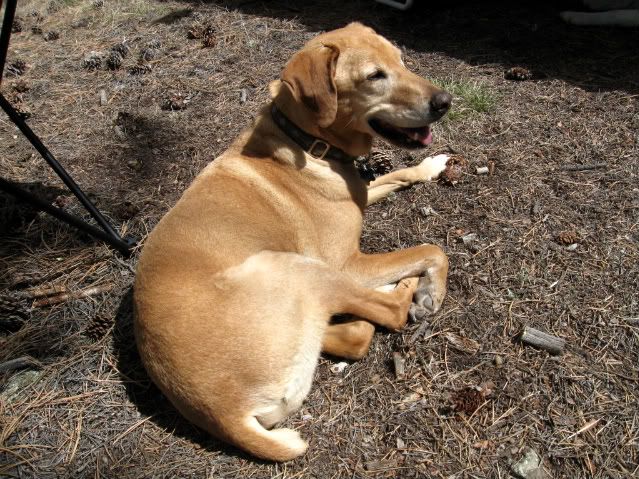 Luke went and watched the sunset with me the second night.
Ok, let's be realistic, he probably thought heard a squirrel....
Sorry for the poor quality and blurriness, it couldn't be helped and it was a shot I wanted to get!
At one point the following day, Luke got a bit chilly.
That Coleman tent is too huge to put under much cover, and acts like an oven when the sun hits it directly.
Karla would be showing up that evening, so I went back in the tent that afternoon to clean up a bit.
Luke followed me in, promptly passing out in the heat of the tent on his bed.
I finished up, he was still sound asleep.
Headed out, leaving him in the tent.
Kodi kept a close eye...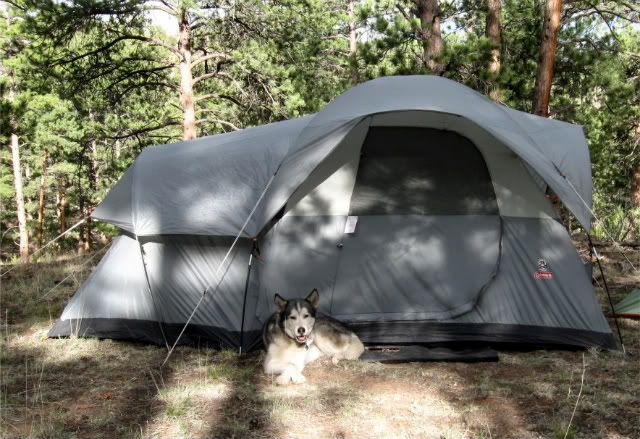 Not but a few minutes later, Luke evidently woke from his sleep.
In a bit of a panic, he realized he was alone in the tent.
Keep in mind, he will follow me room to room in our 2 bedroom place as he hates being very far from me.
So, now he's stuck in the tent all by himself.
He immediately starts nosing the corner of the tent.
Not the door, but the corner.
Yeah, that's right, I pretty much have the smartest dog on the planet....
Met Karla down at Tarryall Road and Highway 24,
after stopping to help a rider that had laid down his old XJ650 and busted his linkage.
A few zipties and he was back on his way, he only had a few miles to go.
No sympathy for him though, he had ZERO safety gear on.
Sigh. I stopped to help out anyway.
They were going to re-attach his linkage with some bailing twine before I got there...
Anyways, Dash and Rhino:
After sleeping in pretty late, it became clear it wasn't gonna warm up enough for Karla to get her tan on.
Chilly wind wasn't helping!
So, we decided to pack a lunch head for the Gulches.
Given timing, we figured we could probably only run one,
we figured we'd run Metberry Gulch, as Longwater could be combined at another time with Hacket for a longer trail.
It was a great day for it!
Time for a really! moment... Can you see the Applebee's banner?
Trailhead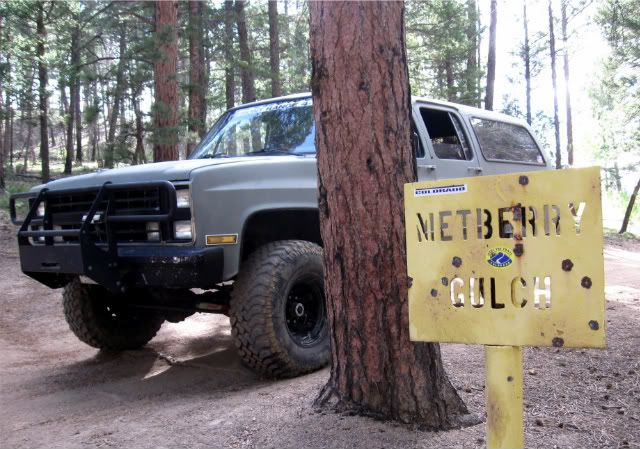 Most of the trail was really easy, with more than a few skinny spots that had me pulling in my mirrors and checking clearances.
There were a few obstacles to make it more fun thankfully.
And the views?
Well....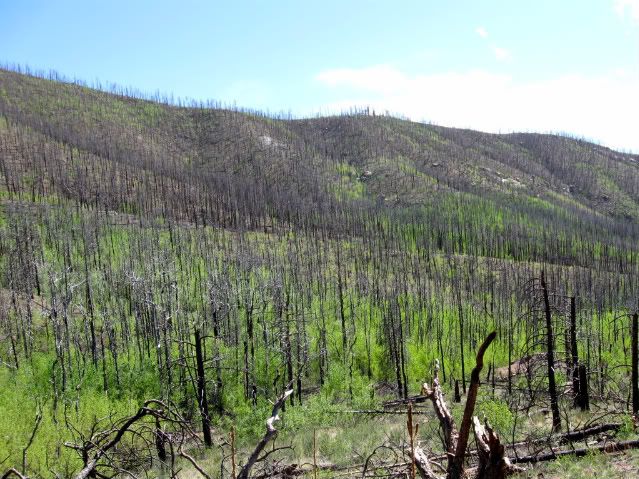 http://www.youtube.com/watch?v=dqFdBU8Zy3w]
http://www.youtube.com/watch?v=C4xg6yNMzOU]
http://www.youtube.com/watch?v=7LThMMP7TBw]
Really can't describe to you how scary this bridge was!
On my side, all I could see next time my tire was this deep black hole....
I think I about wet myself.
http://www.youtube.com/watch?v=qnYVTK1n7dI]
​