Engine:
Tuned by jaz TUNING
Cobb Accessport
Blouch 20G-XT 8cm
08+ STI TMIC
KSTech 73mm CAI
AEM Dryflow filter
Perrin 2.4" turbo inlet
Grimmspeed EBCS
Grimmspeed MBC
Injector Dynamics 1000cc injectors
Aeromotive FPR
Walbro 450 fuel pump
Fuelab fuel filter
E85 fuel
Invidia equal length header
Grimmspeed 38mm EWG uppipe
Tial MVS 38mm wastegate
Invidia bellmouth downpipe
Invidia G200 catback
NGK one step colder plugs
Crawford AOS
Killer B oil pickup
Killer B oil baffle
PTP turbo blanket
Koyo aluminum radiator
Homemade aluminum hood scoop splitter
Shell Rotella T6 5w40 engine oil
Drivetrain:
Stock 5 speed(I believe in you!! :biggrin
Cusco engine mounts
Cusco Transmission mount
Kartboy pitch stop mount
Kartboy front and rear shift bushings
Kartboy short throw shifter
Kartboy crossmember bushings
Kartboy outrigger bushings
TIC shift linkage bushings
Beatrush rear diff mount support bar
Redline shockproof gear lube
Brakes/Suspension:
Stock :|
Wheels and Tires:
2015 Forester 17" wheels
Continental pure contact tires
Interior:
BNA Solutions dash lid triple gauge pod
Subtle Solutions ash tray gauge pod
PLX Wideband AFR gauge
*Prosport premium:
*Boost gauge
*Oil pressure gauge
*Oil temp gauge
*Water temp gauge
Pioneer AVH-X2600BT head unit
Exterior:
OEM rear hatch spoiler
JDM sti hood scoop
Debaged hatch, left 2.5XT emblem
Thule bike rack
First post:
I have been searching for an XT for quite awhile now after getting in an accident in my '98 and I finally found one.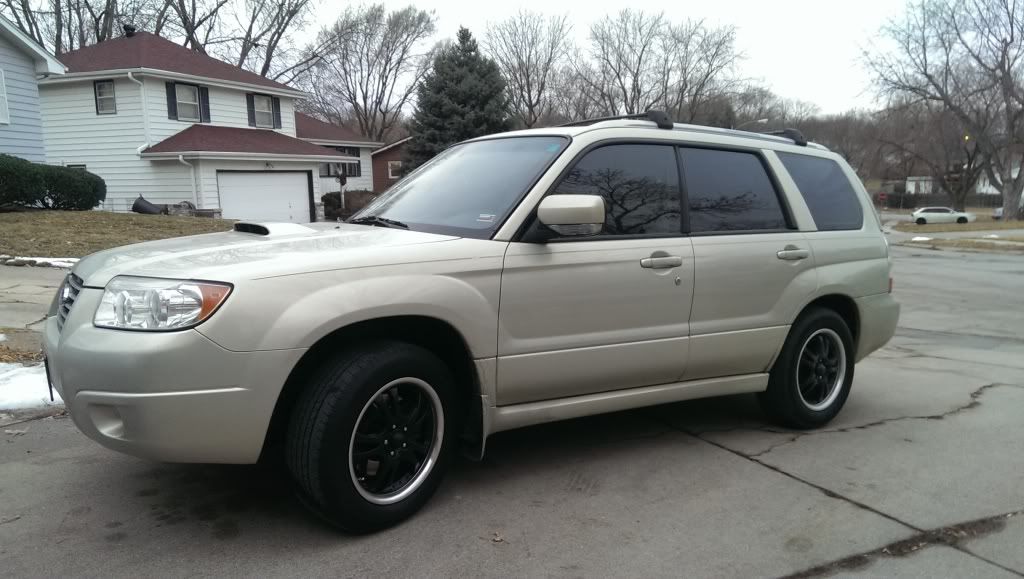 It's an '06 Limited XT, 5mt with 94k on the clock. It feels so good to finally have a turbo.
The plan for it is always as it has been, lower and louder(Edit: and faster! :biggrin
but first I have to get rid of those awful wheels.
uke:
-Matt