I bought my auto Forester GT in 2003, she was 2 years old, stock as, and had done only 12,000 kilometers (7,500 miles).
Then:
Over the next six years I've slowly built the Foz into this:
The Aussie MY01 Forester GT uses a 2 litre (liter :icon_wink
engine and in stock trim develops 130kW (177hp) at the flywheel which equates to around 100kW (136hp) atw.
Latest tune: 183kW (249hp) atw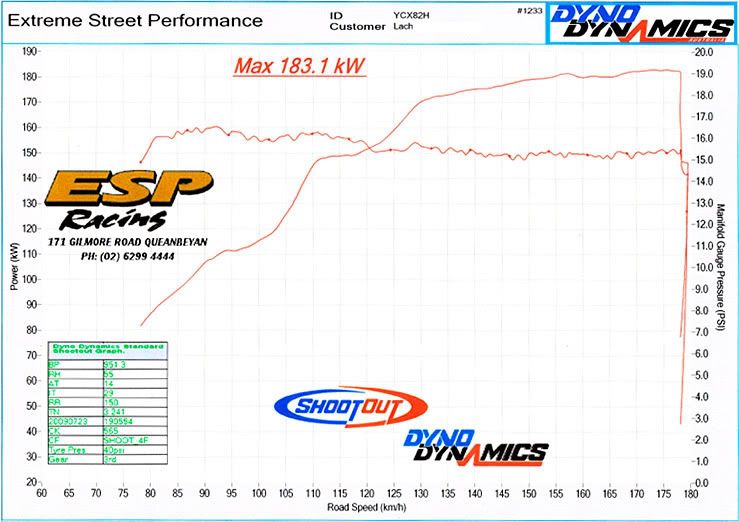 I love a little bit of get up and go, but I didn't want a lag monster, so I focused on early spool up and good power throughout the rev range. I also decided to keep the power around here so as to hopefully avoid breaking 'things'.
Engine
EJ205 running stock internals
IHI VF29 turbo
Power Enterprise Super Strong Timing Belt
Walbro GSS-342 fuel pump
Resonectomy with short CAI pipe
Silicone intake hoses and bov return
PFI dual inlet rising rate fuel pressure regulator
ESP Racing parallel fuel lines
MRT fuel rails
STi pink injectors
Haltech 3 Port Boost Solenoid
Process West 01-07 WRX TMIC
Process West plenum/undertray
MY04 WRX bov
Custom TMIC manual & auto (11psi for 3 secs) waterspray
MY04 JDM XT catless up-pipe
Exhaust Gas Temperature Sensorectomy
Full MRT 3" Forester-specific stainless steel exhaust
Pete_mac silicon radiator hose kit
Custom crankcase oil catch can
PMD stainless steel button head hex bolt kit
Six-point earthing kit
Fumoto oil drain valve
Haltech Interceptor ECU tuned by Glen Kelly of ESP Racing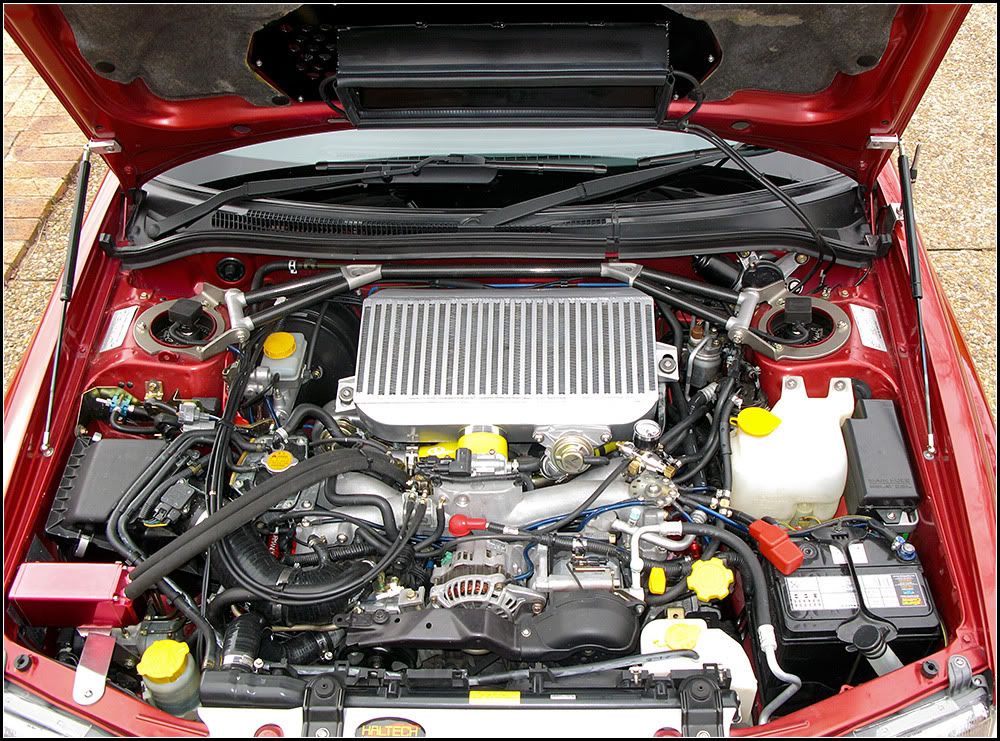 Having increased the power by 83% I felt a bit concerned about the auto transmission so I pulled out the valve body and had the shifts firmed up, and also fitted a ATF cooler and temp guage so I could keep a eye on things unseen.
Transmission
4EAT
MV Automatics modified valve body (shift kit)
Subaru Tow Pack ATF cooler
Torque split controller
Defi ATF temp sensor mounted in the rear of the pan
RalliTEK 4EAT transmission mount insert
Pulling out the valve body to have it modified: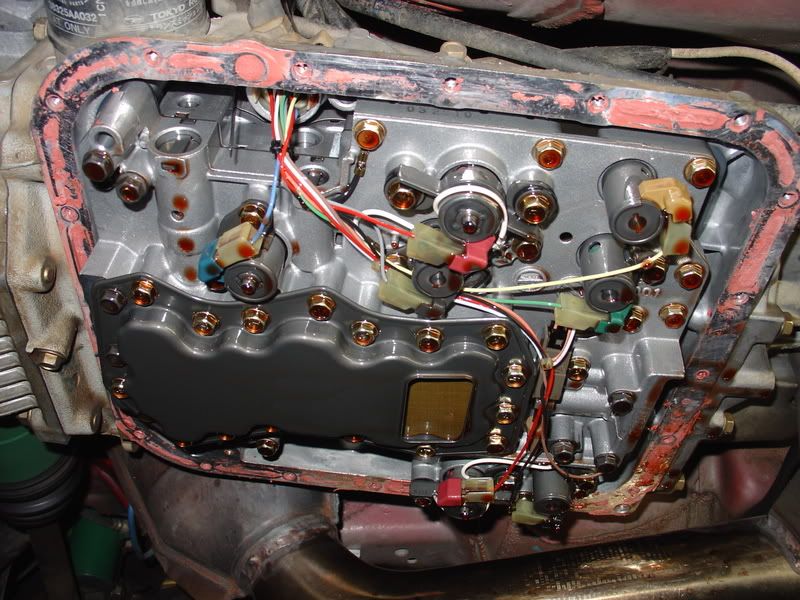 The shifts now are instant and smooth, even at WOT. If I want to launch hard I use the torque split controller to help preserve the front diff and drive shafts.
The Foz lives in Canberra where the temperature can be as low as -8C (17F) in winter to around 40C (104F) in summer. After fitting the ATF gauge I noticed in winter that the ATF didn't even get to operating temps so I've now fitted a little insulated cover over the additional cooler during winter. One day I must get around to fitting a little thermo valve.
I'm currently living in Fiji but until I moved here this was my daily driver, and as such, I've always focused on keeping the Foz a comfortable, easy to drive vehicle. I love my corners though and have had in mind the intention to have a little play at a local track - haven't got there yet. :icon_frown:
Suspension/Handling
Tein SF5 Super Wagon coilovers
Tein EDFC kit
Whiteline Max-C adjustable strut tops
GC STi alloy front control arms
Nolethane front control arm rear bushes
Whiteline roll centre adjust kit
Whiteline spherical bearing front sway bar link kit
Whiteline SF5 H-brace
Custom anti-lift kit
Whiteline h/d steering rack bushes
Whiteline front & rear sway bar bushes
Whiteline h/d alloy rear sway bar links
Whiteline 22mm adjustable rear sway bar
Whiteline h/d rear sway bar mounting bracket kit
Whiteline front of rear diff support lock bush kit
Whiteline rear subframe lock kit
Whiteline adjustable lateral links
Rear subframe/lateral link brace
Sage front & rear carbon-fibre strut braces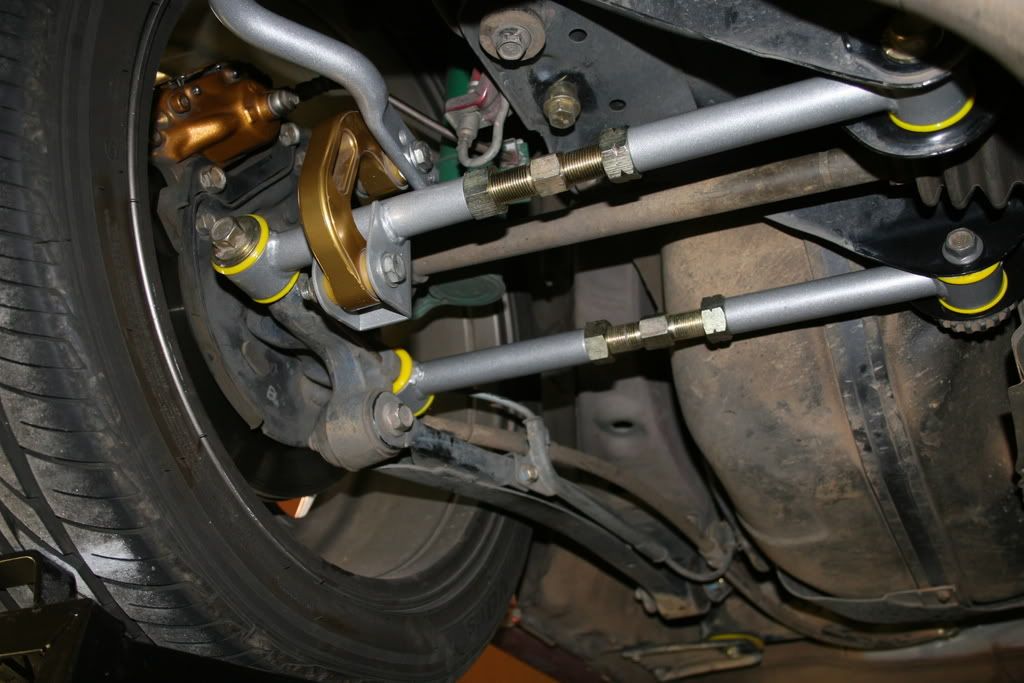 I've only got a shonky moble phone pic taken before I changed the front swaybar links and shortened the H-brace spacer.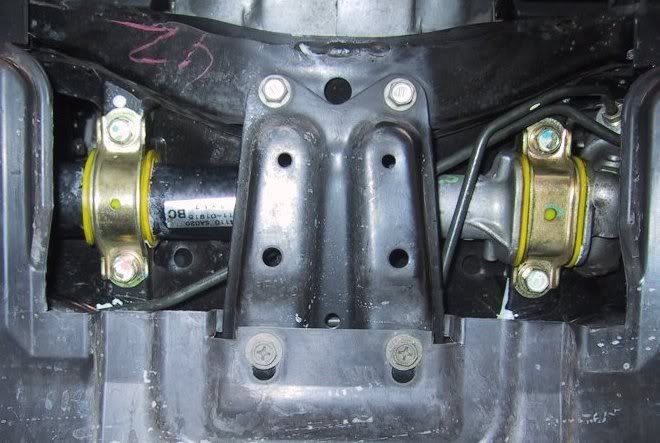 Brakes and wheels
'04 STi Brembo callipers and rotors
EBC Red Stuff pads
ForesterBitz stainless steel braided brake lines
MRT brake master cylinder brace
Rota GR-A (Tarmac II) 18 x 7.5 +48 rims in bronze
Black Rays Dura-Nuts
Hankook Ventus V8 RS 225/45ZR18 95W tyres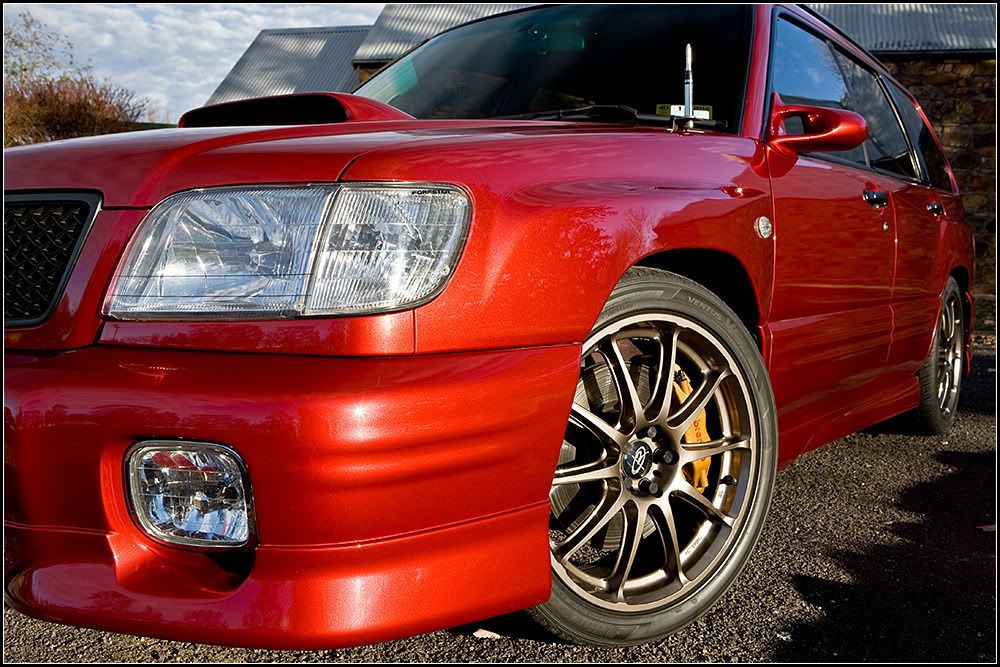 My favourite SF model shape has always been the STi II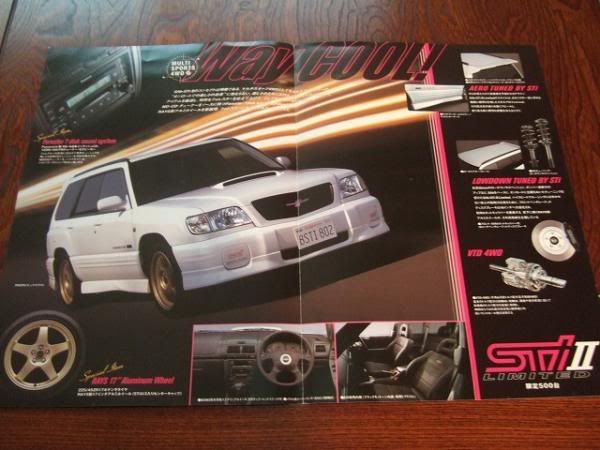 So over time I purchased lots of second hand body parts from Japan and once I had all I needed I had them repaired, painted and fitted.
Exterior
JDM SF5 C STi front bumper
JDM SF5 A STi side skirts
JDM SF5 C STi rear bumper
JDM SF5 C rear spoiler
JDM SF5 STi F badge (in stealth mode)
Rear door brake light delete panel
ForesterBitz 02 STi bonnet scoop
Bonnet gas struts
Ganador SuperMirrors
Aero flat wiper blades
Bosch xenon-filled headlamps
Crystal side indicators
Silver/chrome indicator lamps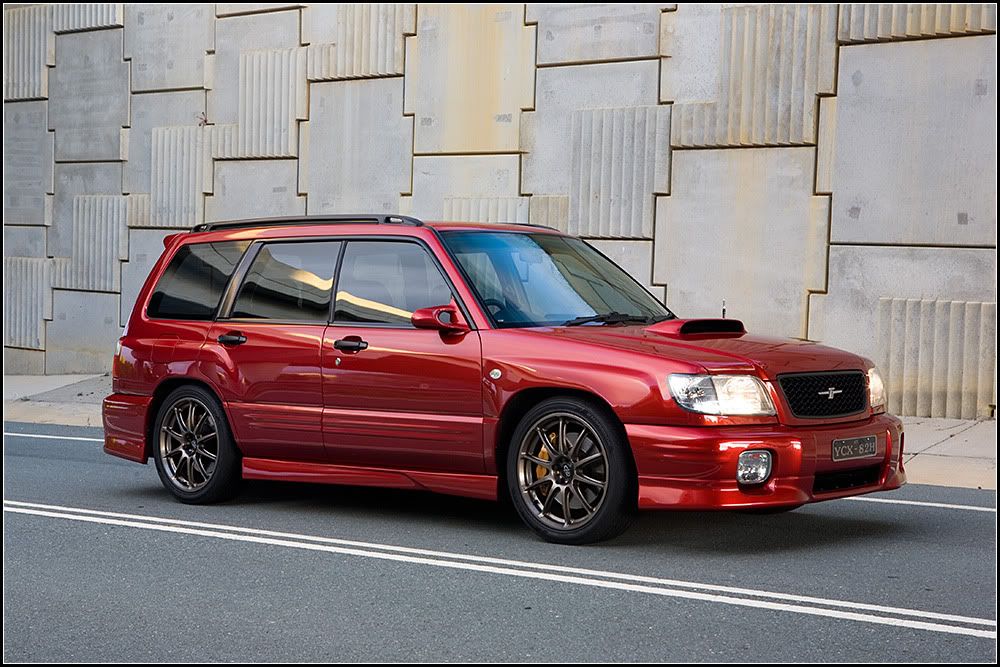 And lastly, the interior. I've tried to keep it fairly bling-free.
Interior
Subaru Gauge Housing
Defi DIN-Gauge reading ATF temp and engine oil pressure and temp
Defi Racer Gauge reading boost
EDFC controller in glovebox
STI auto and manual switching for TMIC waterspray
Manual switching for torque split controller
Alpine CDE-9880Ri CD receiver, iPod and USB controller
Precision Response CS-2329 6.5" Kevlar splits
Uniden GPS transceiver and integrated UHF radio
Legacy B4 Sport Shift Momo steering wheel
STi pedal set
Fire extinguisher
Tinted windows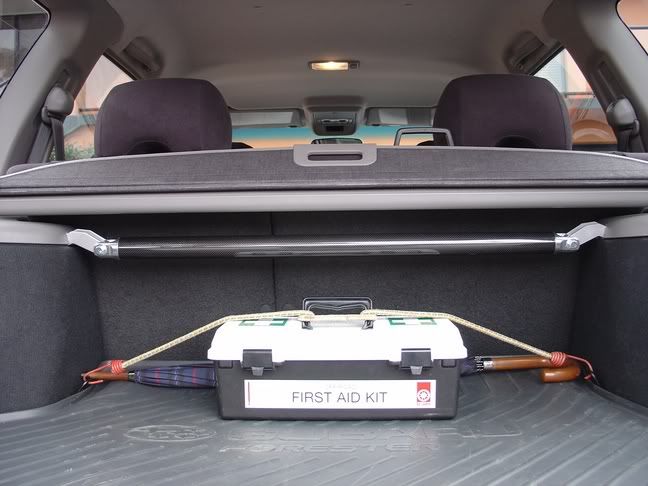 Thanks for looking :icon_biggrin: