2004 Forester XT Premium 4EAT
Discussion Starter
·
#1
·
I have a limited number of URL stickers left over from the old site. They say ".com" rather than ".org" but it doesn't exactly render them outdated since both URLs are in use and point to this site.
The stickers are available in two sizes:
-small (approx. 4.5" x .25"); lettering says "WWW.SUBARUFORESTER.COM" as seen here: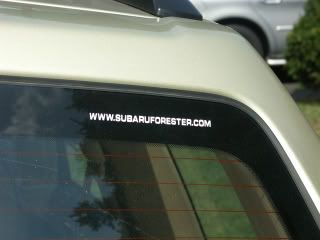 (credit goes to psklenar for the pic)
Available in white and STi pink; $1 per sticker plus applicable postage/paypal fees.
-large (approx. 12"x1"); lettering says "SUBARUFORESTER.COM" (sorry, no pic).
Available in white only; $2 per sticker plus postage/paypal fees.
Quantities are limited, so this is a while-supplies-last kind of thing. Please pm me for payment and shipping details. :smile: