Step 5:
I got my spoiler painted so had my scoop done at the same time at a bodyshop.
* Before dropping off the scoop at the bodyshop, I painted the underside of it with bumper black as it had faded a bit grey over the years.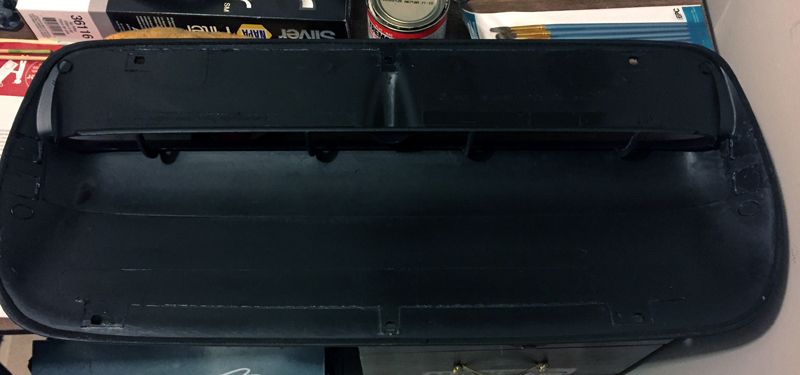 Step 6:
Mounted the cardboard template to the hood with the painter's tape. I wanted it in the factory location (or as close to it), which from photos and my Impreza, looks like it lands the scoop about an inch from the washer nozzles. Hood scoop on the Impreza is about 6" from the back edge of the hood, went with that
I used painter's tape rather than masking tape, it won't wreck your paint or leave glue behind. Lined up your template where the scoop is going to land, not where the edges of your template lands.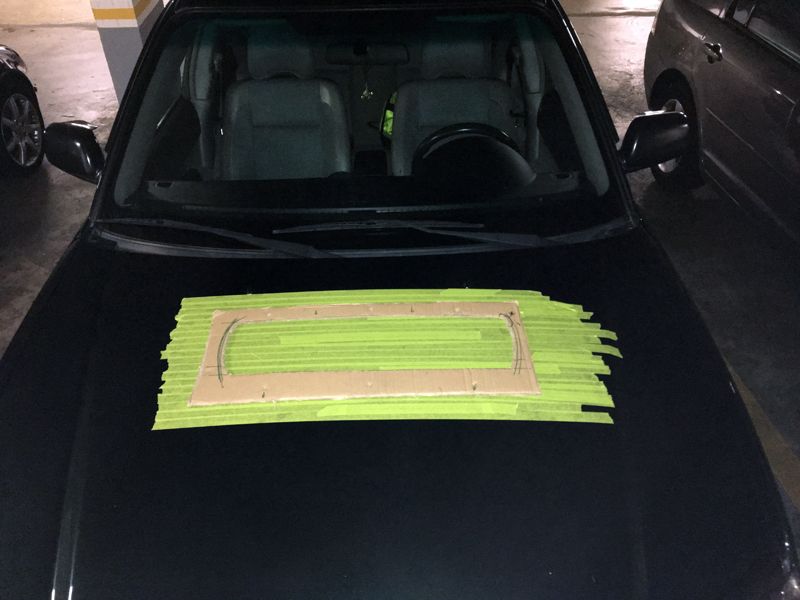 Step 7:
Here's where I didn't get to take many 'during' photos.
@AusCan
came by to lend a hand, and there may or may not have been beer involved.
I decided to completely remove the under-hood insulation the night before and covered the engine in a garbage bag. I drilled the bolt holes with a regular drill, but only used the weight of the drill and not push down. Didn't want to put dimples in the hood. First small pilot holes then the final bit for the bolts.
First we cust the topsheet out; took about an hour. We managed to pry the topsheet off the skeleton, it was only held together with that black tack/glue stuff. And thankfully
@AusCan
came with extra tools! My Dremel tool seized from the heat after cutting the topsheet and couldn't change the cutting disk.
@AusCan
brought his angle grinder with thin cutting wheels and made short work of the skeleton bars in the way!