Updated: 4/4/10

So i bought my car in september of 2009. it hasnt been long, but i love the car more and more each day. the day i bought my xt i went right home and ordered a kartboy short throw shifter and bushings. the next week i picked up an spt intake and a magnaflow muffler off of someone on nasioc. the intake went on right away, and the muffler didnt get welded up until this past week :crazy:. i didnt buy anything for a little while until the beginning of january. i got some used 04 sti struts and springs, with brand new oem sti strut mounts. also in january, on our voyage up for the 48 hours we stopped in yonkers, ny and i picked up some gold enkei rpf1's 17x8, with 255/40/17 dunlop dz101's. the car ended up sitting around mad at me for not modding it for a little bit, so when i got my tax return in the middle of february i went a little overboard. whiteline swaybars front and back, new sti takeoff lateral links, kartboy endlinks, the rear wing (finally), kartboy rear bushings, and a kartboy light weight crank pully. when everything gets here ill post pictures of it all on the car. also my friend bought me an sti tmic as a thank you for being the one to drive for the 48hrs :rock: so thats sitting in my box at work waiting for a bigger turbo.
Posts
stage 2 opensource
lateral links
kartboy lightweight crank pulley
first track day 14.7, retune to 16psi
whiteline swaybars installed
sullivan racing pedals
sti TMIC, NGK plugs, subtle heat shield, xti badge *PICS*
MODZ:
Go-fast modz
3" erz bellmouth downpipe with wideband
3" custom catback to a magnaflow muffler
2005 STi spt intake and heat shield
opensource 16psi stage 2 tune
kartboy lightweight crank pulley
kartboy sts with all bushings
STi exhaust hangers
2006 STi TMIC
Subtle heat shield and chimney
NGK +1 plugs
Suspension/Handling
2004 STi struts
2004 STi springs
2004 STi top hats
2005 STi lateral links
kartboy endlinks
kartboy rear diff/outrigger bushings
gold enkei rpf1 17x8, 255/40/17 dunlop dz101
Whiteline 24mm front swaybar
Whiteline 22mm rear swaybar, with STi mounts
kartboy botox subframe lock bolts
Interior
prosport boost gauge
Sullivan Racing pyramid pedal set
momo shift knob, minus the momo symbol (free after someone bought a new one at work)
Exterior
stock grill painted black
hella supertones
rally armor mud flaps
25% tint front two windows. 5% tint rear five windows
full debadge
subaru/yakima two bike bike rack
Garage XTI badge
future mods are going to be STi aluminum lower control arms, 04 STi steering rack, brakes will be either brembos or legacy gt brakes if i can find some. and of course, by mid summer i want to be protuned on a vf43, STi tmic, and a walbro 255 pump.
9/23/09: about a week after i bought the car. tags came in, i was debadged as of the second day i had the car. bought some STi decals for the front doors, and a tuned by STi badge to cover the holes from "forester" also, put in hella supertones, mudflaps, and painted the grill black. the intake and short throw were also on by here.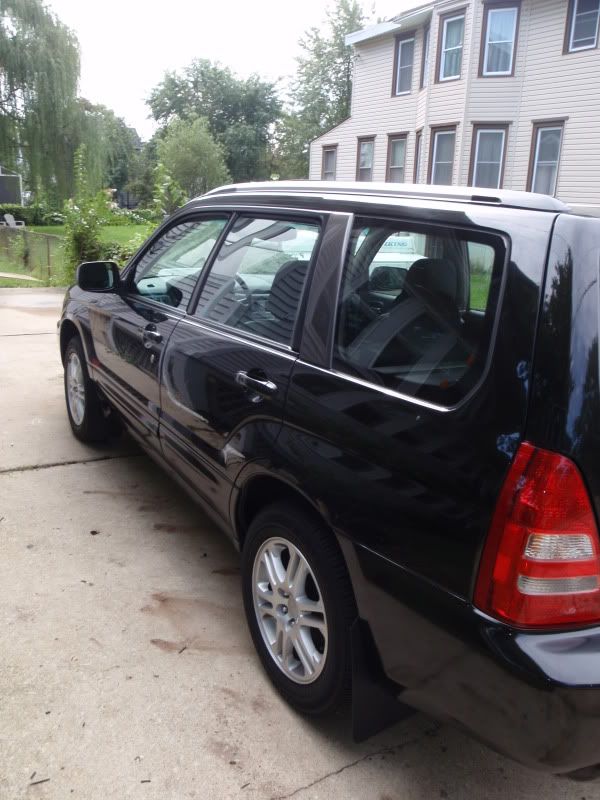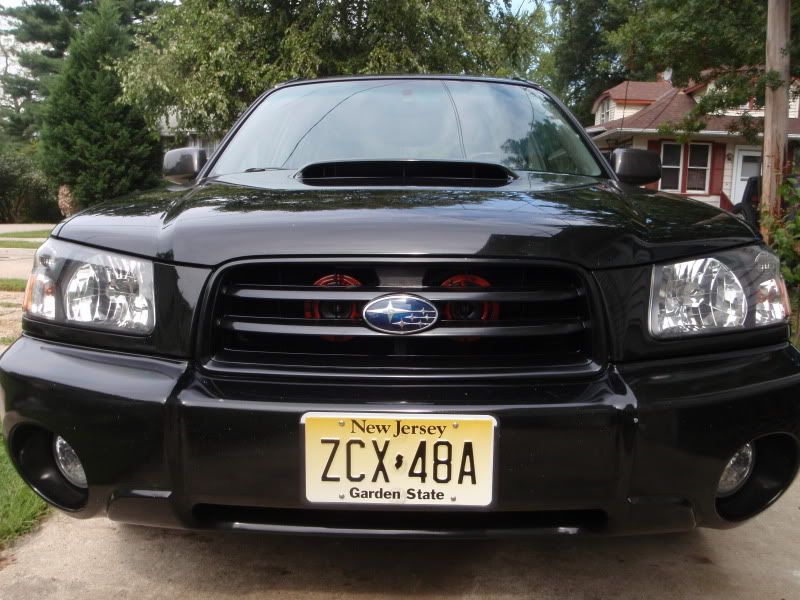 1/3/10: boost gauge bought and installed. its a prosport. white when the lights are off and green when they go on.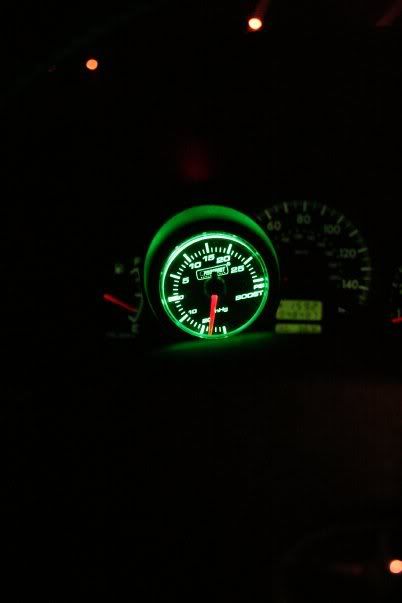 2/27/10: the car as of late. with all of the snow we've been getting here in jersey, i took off the enkei's and put my stockers and all seasons back on. painted black though. ill get a picture soon. p.s. this is with the sti struts and springs and 1/4" saggy butt shims.