Discussion Starter
·
#1
·
OK, this topic started in the transmission section,(thanks for the help guys!) but my problem has expanded!
I have a 1998 forester w 170K that had the dreaded HG problem. I got a great deal on a JDM engine on eBay. I am aware that is the same motor that will likely fail however all things considered I went this route. If anyone can help me with the following questions it would be greatly appreciated.
1. Can I use the fuel injectors/FPR from the JDM engine? I want to use them because my current ones have 170k+ on them. What about the alternator power steering pump and AC compressor? Can I use them and/or save them for spares?
2. This is a pic of the old (original) engine. This setup goes from the t-stat housing to the oil filter adapter then out the other side of the filter adapter into the bottom of the block. Does this piece need to go on the JDM engine I am putting in the Foz? The JDM engine does not have the oil filter adapter nor a line to the engine block and t-stat housing. Would need to be taken off the original engine and swapped over...looks like a pain.... There are no sensors attached to any of it as far as I can tell and I honestly dont know what this is for...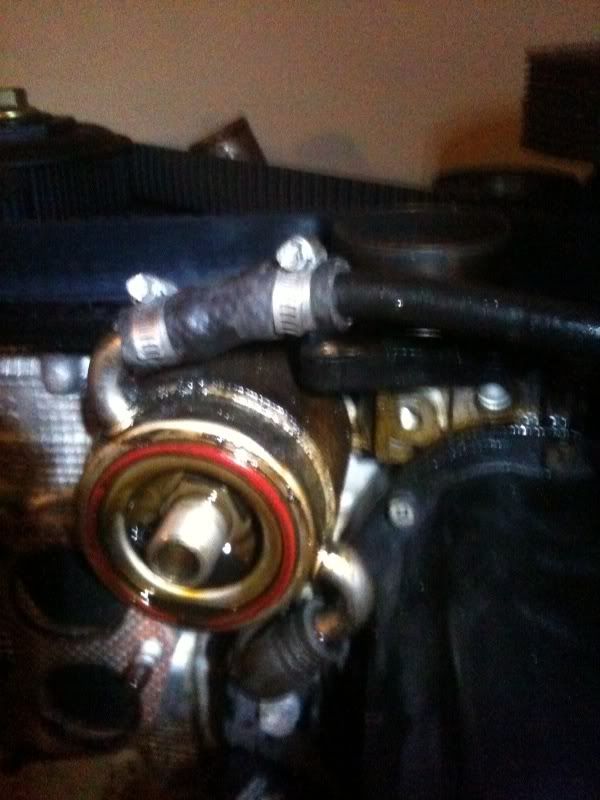 3. I think this is a knock sensor, there are two. Do I use the ones that came on the JDM engine or the ones that WERE with my original engine?
4.I know you are supposed to swap over the intake manifold, however there are various other sensors etc attached to the JDM block...again, JDM or from the original. I have the EGR tapped and sorted out so thats not an issue.
5. The timing belt looks fine, however what is your take on replacing it along with the idler/tensioners? (remember its still out of the car) It has 55k miles on it, according to the sticker that was on it....if I get 3 years or 40k miles out of this car I think Ill be good.
Anything else? I know that seems like a lot but I honestly thought it was as easy as swapping over the intake mani. I wasn't ready for this and have a royal mess in the garage and a hell of a headache!
also if there is anything I left out or any tips PLEASE chip in....