I though I would make my own Member Journal. :biggrin: I have already done a few mods, so I will try to list them all for now; then get Pictures, links and more information up later. I was upgrading from a loaded 2001 Mazda Protege LX 2.0L, which I had the dealer order in the VERY FIRST 2.0L engine Protege in BC specially for me in Jan of 2001. I thought, now that I am married and thinking of starting a Family and having house maintenance, I needed something bigger, and something that can Tow with.
After shopping around at New and Used SUV's for months, I bought my
Evergreen Metallic, 2007 Forester 2.5X EAT Special Edition
on December 12, 2007 from the Dealer. It was an Off Lease, with 13,000Km (~8,000miles) but I got about $5,000 off, 0.9% Financing for 5 years and FULL warranty.
Here is a Picture of the Old Protege and the New Forester.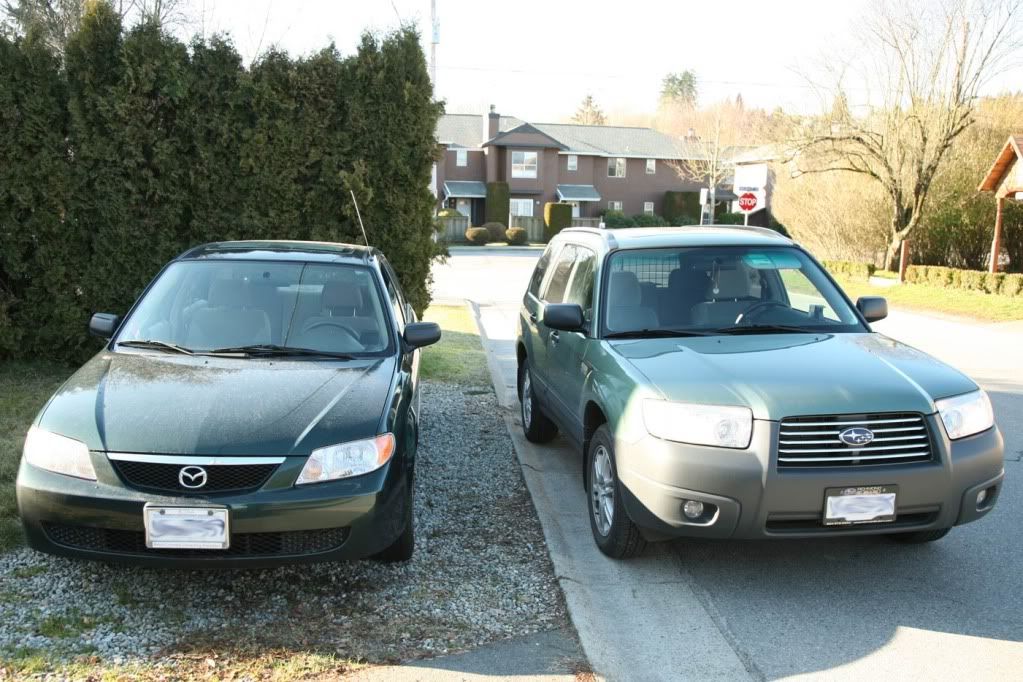 My Mods
that I bought and/or made (not in order). I did all them myself, except the Alarm, Hitch and Window Tint
Engine
DIY Grounding Kit
Group A
Throttle Body Space
r
Grimmspeed Intake Manifold Spacer
Subtle Solutions
Engine Dressup bolts
OEM
Intake Manifold painted Red
Auto Meter Transmission Temperature Sender
Transmission Cooler (Class II)
K&N
High Flow Air Filter
Spray Painted the
Hood Fire Blanket Black
120 Amp 12 Aux Power Relay
Interior
Alarm: 2 Way Paging
(1500ft range), Passive Immobilizer with Shock sensor
OEM Sunroof Dog Gate (with Mod'ed permanent quick Release)
OEM Cargo Cover
OEM Cargo Mat
OEM Rear Cargo Net
OEM All Weather Mat Set
Tekonsha
Prodigy Trailer Brake Controller
(with my own Custom Made Mount)
40 Amp Aux Circuit Breaker (to Power the Trailer AUX 12V)
30 Amp Aux Circuit Breaker (to Power the Electric Brakes)
20 Amp Aux Circuit Breaker (for Accessory power in the Cabin eg. Temp Gauge, GPS, ScanGauge)
Under Dash 12 Vdc Triple outlet
300 Watt Inverter with 2 outlets (DC to AC)
Auto Meter
Transmission Temperature Gauge and Pod
Automatic A/C control
Linkage removal
Garmin NUVI 360
Hard wired Install
ScanGauge II
Hard wired Install
OEM
Tweeter Kit
LED Map/Dome/Hatch Interior Lights
Map Light Brightener Mod (
Lens Shade Removal
)
Map Lights Door Mod
with an override
Micro Rocker Switch (here is info on this VERY TINY switch)
Sony BT stereo (
MEX-BT3700U
) with the
mod'ed Garmin Mic
for Handsfree Calling
Seat Belt Chime disable Mod
Exterior
Trailer Hitch
(Canadian OEM, aka Drawtite, which the Dealer throw in for free)
Tinted Rear and Hatch Windows (I had the Dealer throw this in for free too)
4 Pin Trailer (Converter) Harness
4 and 7 Pin Trailer Harness adapter Custom Mounted
Front Fender Tow Mirror
Door Mount Tow Mirror
Modified the front Grill
Debadged the Dealer Sticker
Added Decals "Subaruforester.com" and Canadian Flag
2" Hitch Ball
3/4" and 2" rise Ball-mount
Receiver and Coupling Lock Set
OEM Cross Bar Set
OEM Rear Bumper Guard
OEM Rear Wind Deflector
OEM Moon Roof wind Deflector
Mod'ed the Moon Roof Deflector (cut it down)
OEM Hood Bug/Rock Deflector
JDM Side Window Wind Deflector (
the Driver side is broken Now
)
LED Eyebrow Lights
LED
Top Mount Stop Light
General Altimax Arctic Winter Tires
(Mounted on OEM 16" Enkei Alloy Rims)
Light weight 16"
Alloy Enkei Racing RS+M rims
(14 lbs each)
Painted Front OEM Brake Calipers and Brackets Red

Other Accessories
Mobicool 12V Hot/Cold Cooler
, 24L
Thule "Mountaineer" Car Top Box
2003
Colman (Fleetwood) Santa Fe
(Tent Trailer)
Stealth H3 Hitch Mount Bike Rack
Snow Chains
Thule SC10
I haven't done much modding lately, on account that I have been laid off for some time now...