I was driving a Turbo miata at the time. I had been EXTREMELY happy with it, but some things had started to wear on my nerves. It got old getting in and out of the race seat, the 6pt harness was a pain when the weather got wet, the extra time to get in and out, I got soaked.
Then one day I bought a 24" LCD monitor, and I had to take it out of the box to get it home, and had to cut the box up a bit to even get it home. Then I spun it into a hedge on a icy evening on the way home from the dealership where I worked. (I sold Subbies)
I never knew that the FXT sport even existed here in the US, I knew about the FSTI, so when I saw the WRB FXT sport in our back lot, I was instantly in love, and having seen the SOA FXTSTI Sema car, I knew as the "performance specialist" salesman, I wanted this done up and in our showroom. So I had an SPT catback modified to fit, had an SPT strut brace, STI lower arm bar, SPT intake/box, SPT heatsheild, Forester SPT/STI pink springs, and 17" Rota Tarmac IIs with Goodyear Eagle F1 in 235/50/17.
I ordered the front lip and rubber skirt (the 07 didnt come with the lip and none ever came with the rubber skirt, its a JDM part, but doubles the effects of the lip according to Subaru aero data. It was to be the showroom centerpiece.
The night before it was finished was the night I crashed the miata. The next day I picked up the FXT and drove it to my house on my lunch. The minute I backed it into my garage (to keep it clean for the showroom when I got back) and heard that rumble that I sorely missed, I was in love. The handling was decidedly un-foresterlike. Power was good, and actually having room to move around and carry things seemed great.
So I bought it. Got a SMOKING deal because I worked there. 26k out the door with all the extras included. I later went on to sell the miata for 17k, which was about $175 or so more than I owed. Maybe $500, I dont remember, it was close. Sold it to a buddy so I told him what I thought I owed, wanted the car gone, and just wanted it paid off. Well, I DIDNT want it gone, I loved it, but needed the payment gone.
Here is what it looked like, the second day I owned it, at a local car show. The lip hadnt come in yet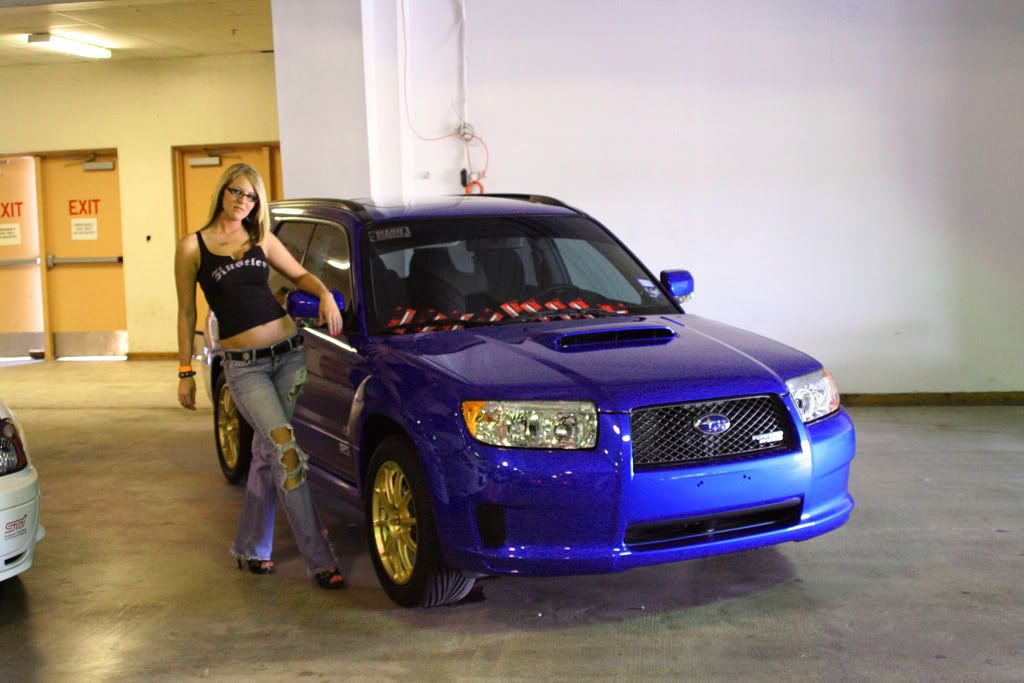 A few days later, the lip came in and I took it out for some pics.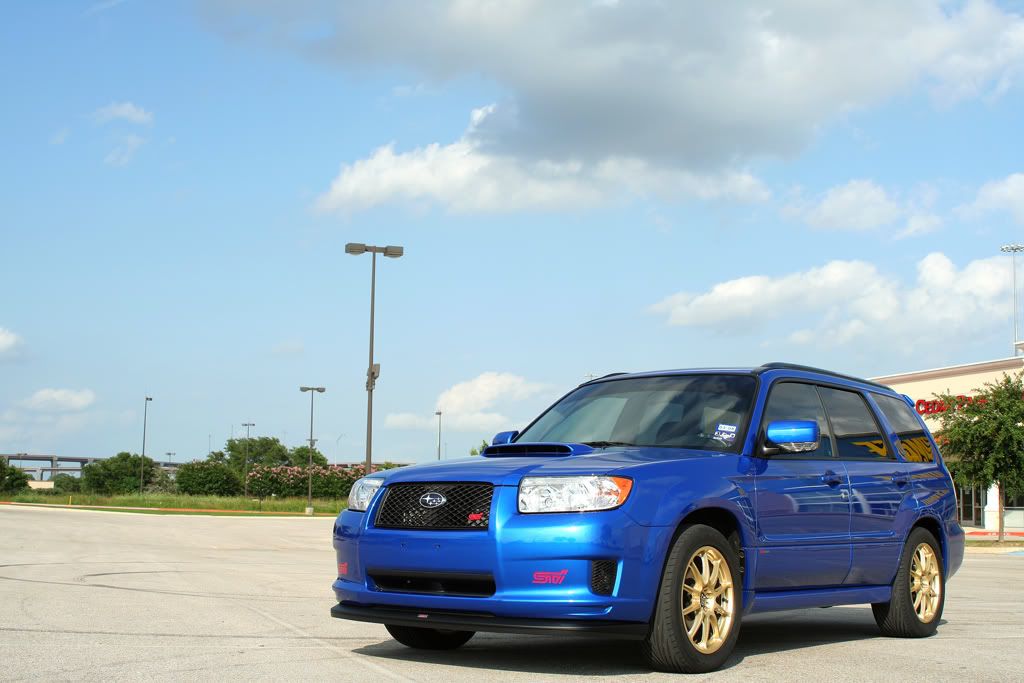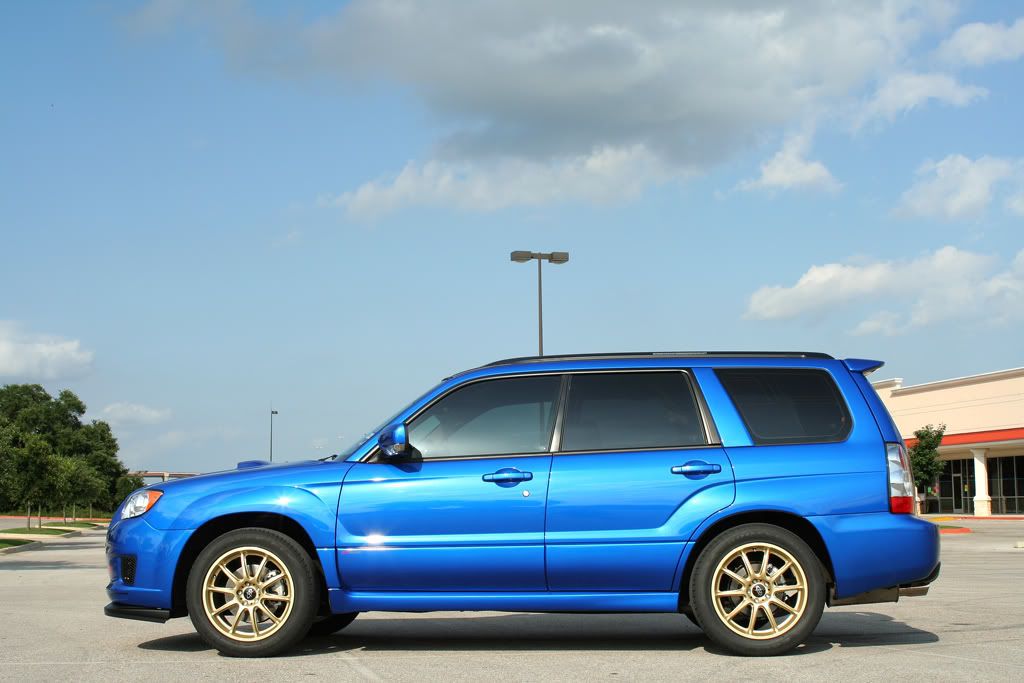 I also installed an STI tmic that day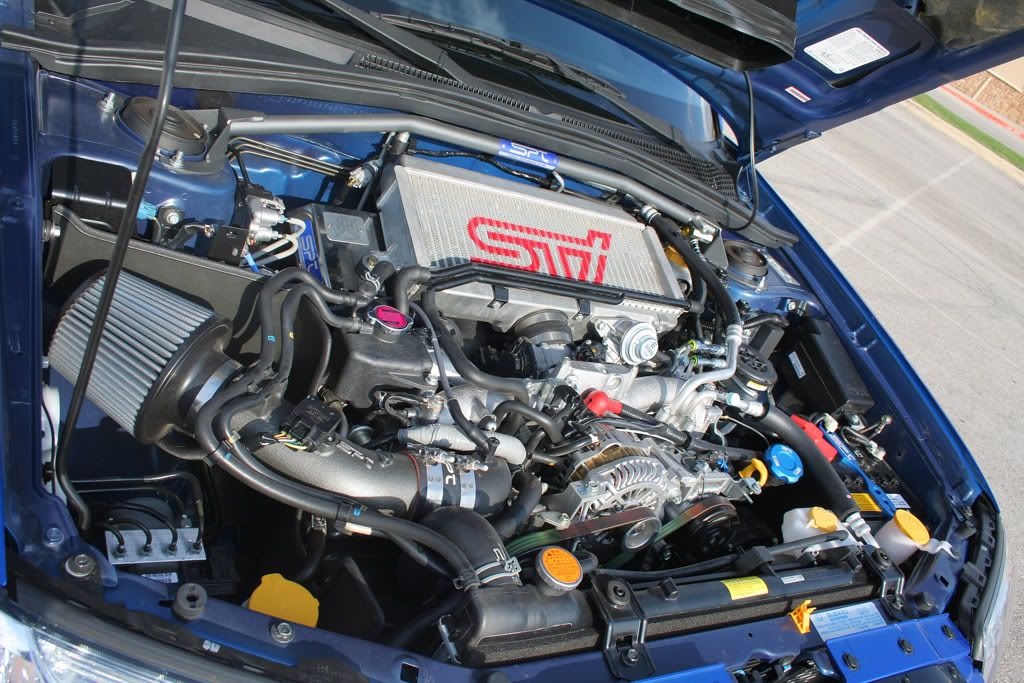 Drove it around, I P&P'd a set of STI exh manifolds, that made a nice little difference, picked up a used HKS DP for $50, and drove with no EM for 3-4 days. Then came the UTEC Delta, TurboXS Tuner wideband and a cheap Autometer boost gauge.
A couple weeks later, I added a TurboXS TMIC, TurboXS RBV 50/50 bov, and an APS 65mm cai as well as a couple trim pieces like the JDM fsti badge on the alternator cover.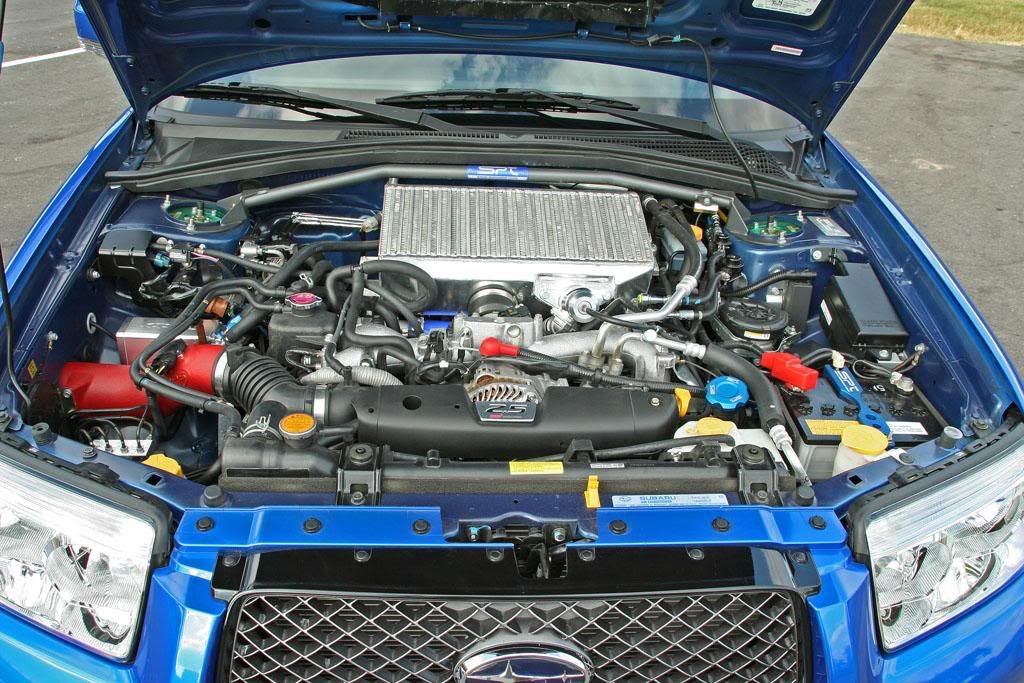 For those wondering how these mods effected the performance
SPT exh/Intake
---Mostly noise. I didnt drive it much before these were done though, maybe 5 miles. Seemed like it did a LITTLE. Remember it was bone stock otherwise.
SPT strut brace (front) and lower arm bar
---Definitely gave a "tighter" feeling to the FXT. Not massive change, but definitely noticeable in a good way. Well worth the money spent.
SPT/STI pink springs
---HUGE night and day difference. Dropped the car a little over an inch. Handling changes were massive. It handled closer to a WRX than an FXT at this point.
Wheels/tires
---Unbelievable difference. Sports car handling. Other than the slower steering response from the soft stock rack, it outhandled a WRX no problem.
APS CAI, STI TMIC
---Intake made next to no difference from the SPT short ram, datalogs back that up. Largely wasted effort. TMIC suprisingly added a bit of throttle response, and felt like a little more power overall.
HKS DP no EM
---Now we are starting to talk about fun. Talk about it, go ahead. Didnt want to rag on it hard, since I know its bad for it, but it definitely made a difference.
UTEC/Tuner/Gauge
---Ok now we have some power. Several stage 2 WRX owners and a couple stock STIs got put down like a sick dog much to their suprise.
Next up came a VF39, I borrowed this for a couple days while I waited on a TD05-16G 7cm I had bought used.
VF39
--- A good bit more power. But not nice power. Came on HARD, uncontrollably hard unless I really pulled timing down low. Very "boy racer" immature power delivery. Fell on its face HARD really not much later than the TD04. Maybe 600-700rpm. I am a bit of a harsh judge though, most people would have felt that the powerband was wider than I did. IMO, it was useless by 5200.
TD05-16G 7cm
--- Pretty close to the VF39 in terms of the characteristcs of the power delivery and peak power. It held top end a little better, and made a bit more peak power because I ran it at a little higher boost (its a more efficient turbo) Still an unsmooth, unrefined powerband.
Then came the ultimate in day to day street turbos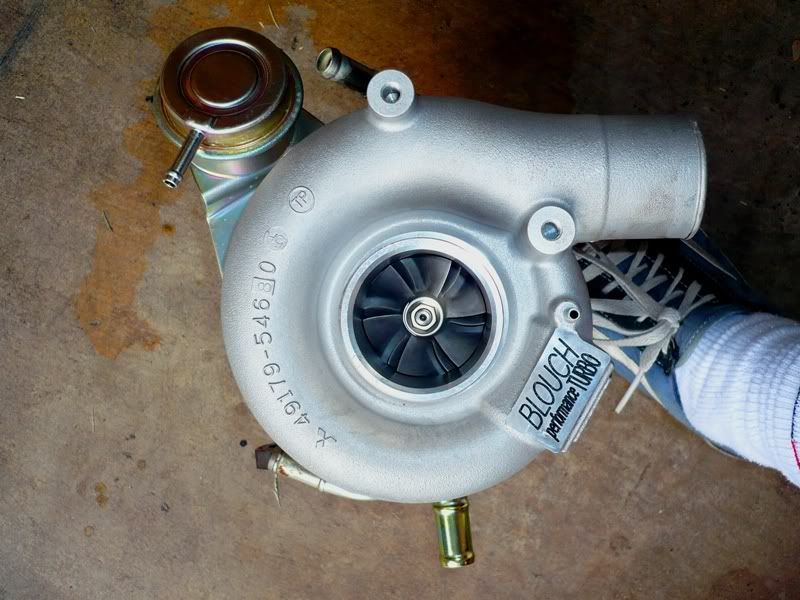 Blouch TD05-18G 8cm
---VERY smooth powerband. Felt almost naturally aspirated. Low end power didnt SLAM you back at 2500rpm like the smaller turbos, but dont mistake that for lack of power. It just ramped in SO much smoother. Comparatively it pulled all the way out to redline. In my extra harsh opinion, it was useable till about 6200rpm.
Incredible drivability. Much more refined and mature. My wife LOVED it, so much easier to drive smoothly. Compared to the 39/16G, power was incredible. Rolling on the gas in 5th gear. Just for testing, I ran this on the STI tmic for a while, to see how it performed. VERY well. When I put the TurboXS tmic on it, the low end and throttle response became dramatically sharper. At 18PSI, on either of the TMICs, this was an amazing performer. This was on a completely stock fuel system.
After maybe 3-4 weeks tops, I decided I wanted more, I am one of those guys who too much is never enough. I want AWESOME power. So I picked up
Blouch TD05-20G 8cm
TurboXS EWG up pipe w/44mm Tial EWG.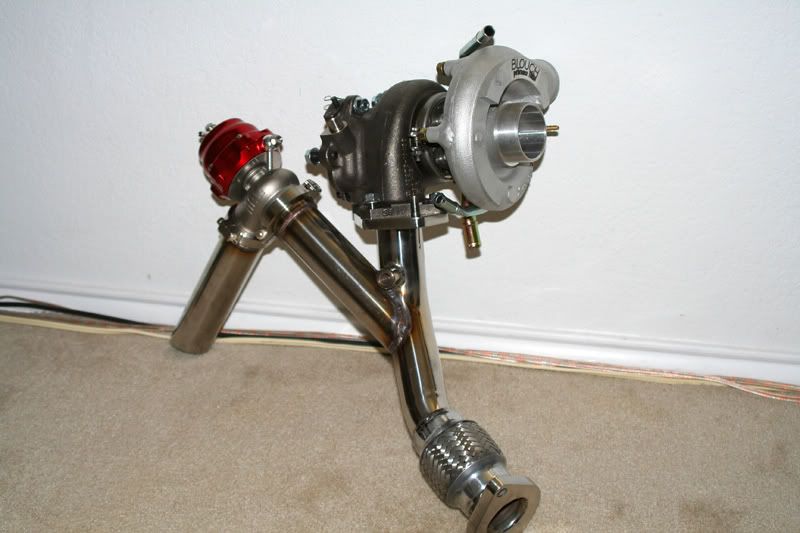 This was awesome. The power from 3500 or so to redline was almost violent, even at 19PSI. The EWG sounded like pure music to me
But day to day, around town, driving normally, it was silent. EWGs are only loud when open, and they dont open till whatever you set WG boost to, in my case, 12.5PSI.
Low end power and throttle response was definitely "softened" I wouldnt consider it laggy at all, but whereas the 18G felt like what you could imagine to be stock power delivery (just MORE), the 20G, you definitely knew you had a larger turbo under the hood. FAR from laggy, and VERY streetable, but not as great around town as the 18G was. That said, no one that rode in my FXT considered it laggy, and were generally suprised at the low end power. I ran this on the TXS TMIC the entire time (well, I did try the STI tmic for a week or so, just to see how it worked, and it worked ok).
Then I added an SMC alcohol injection kit. VERY nice, in retrospect I would now go with an AEM kit.
I set this to come in at 13PSI, just after wg pressure, and peak spray at 18PSI, so it would hold power all the way, at full spray to redline.
Power got stupid. Wheelspin from a roll in 2nd gear when it came into boost, by about 3800rpm, the tires lost it. Fairly violently.
So I upped the boost to 21-22PSI. This is where I hit the wall on the stock fuel system, despite what I did, the AFR was climbing into the 14-1 area past 6krpm at that boost level. I went to a walbro GSS342 fuel pump, and it solved the fueling issue. Keep in mind, I was still on the OEM 565cc dark blue top feed injectors. My car was a bit of a freak in that aspect, I was able to hold an 11.5-1 AFR at 24PSI, with nothing more than a pump and alcohol injection. In fact, in the area past 6krpm, where I had added all the fuel, the AFR went CRAZY rich. Into the mid 9-1s range. This was all on the way to the drag strip, I was doing pulls, pulling over and tuning the whole way there. When I got to the strip, I was breaking up over 6krpm, and despite getting better each run, even by the end of the night, I was still having to shift at 6500 at the highest. Despite my poor drag racing skills, and the problems with the tune, I managed a 12.7 at esentially 110mph. Not too shabby all things considered.
I started pushing the motor harder and harder, making more and more power, knowing what the ultimate result would be. At just under 7k miles, the inevitable happened, and I lost cyl 1 and 4. SO I pulled the motor, ordered a set of 100mm forged CP pistons, with the special lubricative (is that a word?) coating on the skirts, and the ceramic heat shedding coating on the top.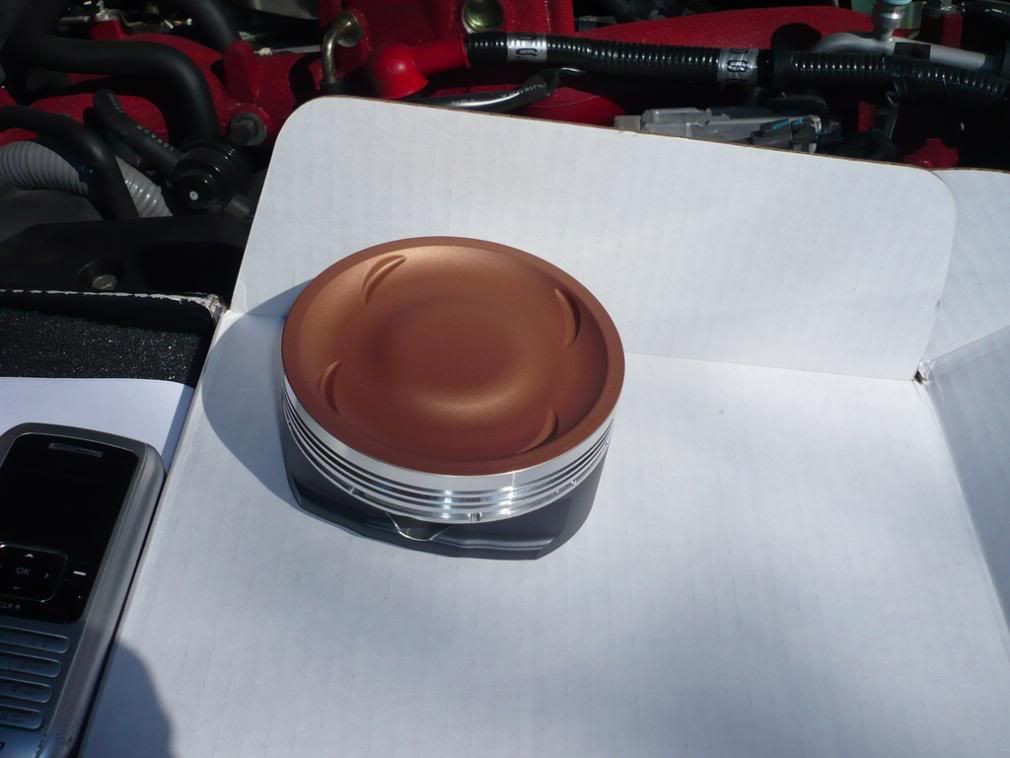 The reason for going with the 100mm pistons was that I could get them, send them with the block to the machine shop, and have the block machined to the exact size of the pistons, down to matching each piston with a specific cyl. This would not only ensure a better seal for less blowby and more compression, but it would keep the motor quieter, which can be an issue with forged pistons.
While I was in there, I did an 08 STI 11mm oil pump (stock is 10mm), an STI/Group-N timing belt, but left the original bearings in place, as they were only 6600 miles old, and looking at them, they were JUST broken in, in fact, a small amount of the break in material was still present on the bearings. The rods never came off the crank, so no reason to replace those bearings regardless.
While it was apart, I decided it was a good time to work the heads over. I had originally planned on a light cleanup and some mild BC cams. What I ended up with was
Full on port and polish
5 angle valve job
Ferea stainless intake valves
Manlet inconel exh valves
Brian Crower valvesprings and titanium retainers
Cosworth 278/274 cams
I figured I was going to be spending 2k, which I didnt really HAVE at the time, so I may as well spend @3800 that I didnt have :lol: Visa was going to LOVE me.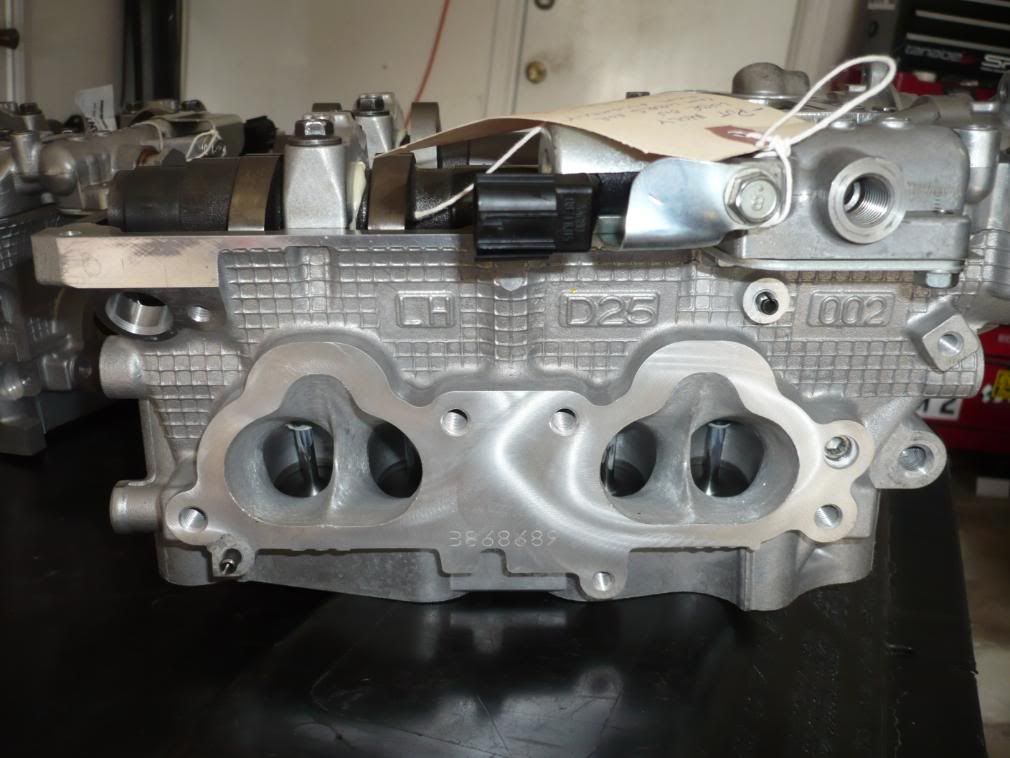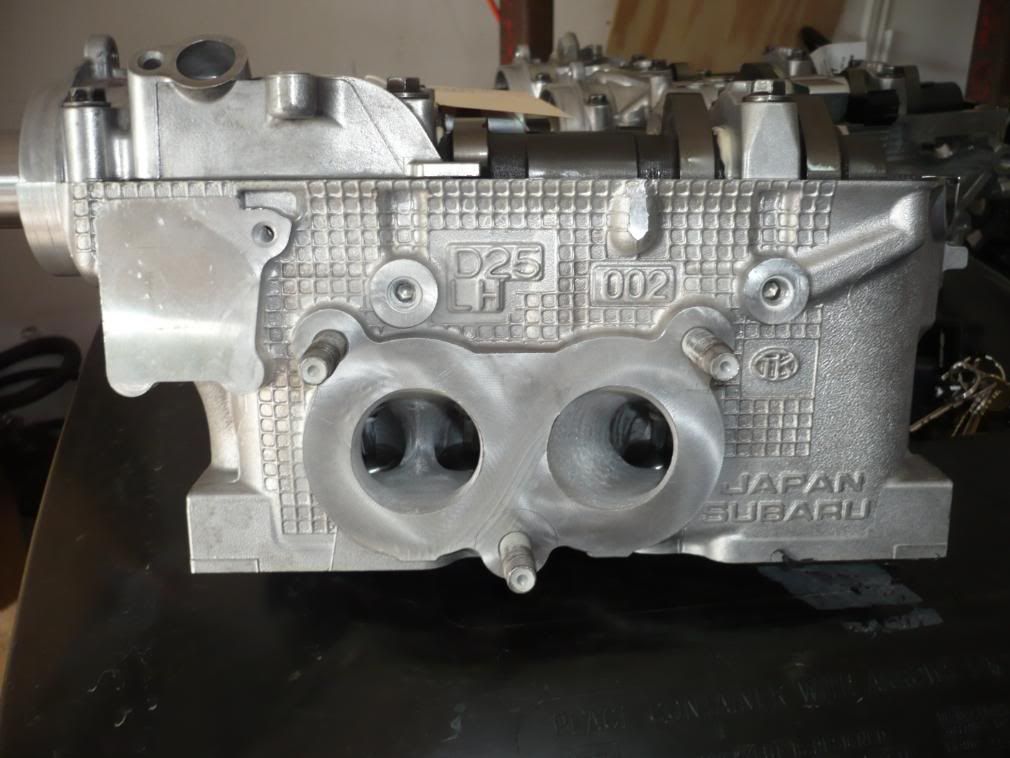 Well with this much motor, There is no reason to stay "small" on the turbo. SO I bought a Blouch Dominator 3.0 turbo, which is essentially a stock location GT30R, and some supporting mods.
This sat in my office for a good month, and after selling a TurboXS rotated kit to a customer, I did some math, and found that I could sell off all my stock location pieces, and go rotated and come out ahead. So I went with a TurboXS rotated kit, FMIC, 3" blowthrough MAF, and a GT30R .82.
The GT30R sat in my office for about a month, and I sent it back, to get a GT35R .82. After receiving TWO defective turbos (casting problems), I went with an ATP GT35R .82, with a polished compressor housing, and anti surge ports machined into the housing, to both widen the efficiency island, and make the turbo louder