I installed the single din head unit released by Kenwood this year. It has a TON of DSP features and can really make your compressed media come alive with its on-board 24-bit DAC.
Here is the link to ProductWiki:
Kenwood eXcelon KDC-X794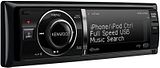 My left front voice coil died and I replaced it with
Infinity Kappa Perfect 6.1 Components
I was using line level adapters to feed the signal from the factory double-din head unit to a
Kicker-KX650-4
to drive the front components.
It never sounded 'right'. The Infinity's were missing their mid range and were too harsh up top. The front image was stretched out from the floor to the window sill. So when the OEM head unit started to act up, I jumped on a good deal for the KDC-X794.
Imaging and sound quality is superb. But, you should expect to spend half an hour to an hour making adjustments. I love the iPod control and 5 line display. The nano now stays hidden (possibly forever) in the glove box.
I would recommend any of the three units in this family (X494,X794,X994).
In the dash: