JDM WRX VF47 Turbo on a FXT completed!!!
Guys my setup is complete.
Previous setup was as below
My current setup on my MY03 FXT
TD04
WRX TMIC
aftermarket upipe
stock downpipe
Curent:
JDM VF47 Twinscroll
JDM up and down pipe
WRX TMIC
My previous problem
Hi, I wanted lowend drivability of the fxt. I got a VF47 twinscroll turbo from a JDM WRX (known as SGT in Singapore). I know that the fitment is different to a single scroll setup. Hence, I managed to get all the necessary uppipe, DP, oil sump, dipstick and extractor.
The problem I face now is fitting the 47's intake portion to my wrx tmic as the inlet of the 47 is pointing upwards while the normal single scroll TD04 is facing a 90 degree to fit the wrx tmic.
Anyone has any experience in this or any idea how I can go about doing it? Thanks in advance.
After much discussion completed.
Okie guys, here are the installation pics of the VF47, I was at the workshop for 12hrs today! Finally got it done up, need to tune it to make it better.
The old TD04 setup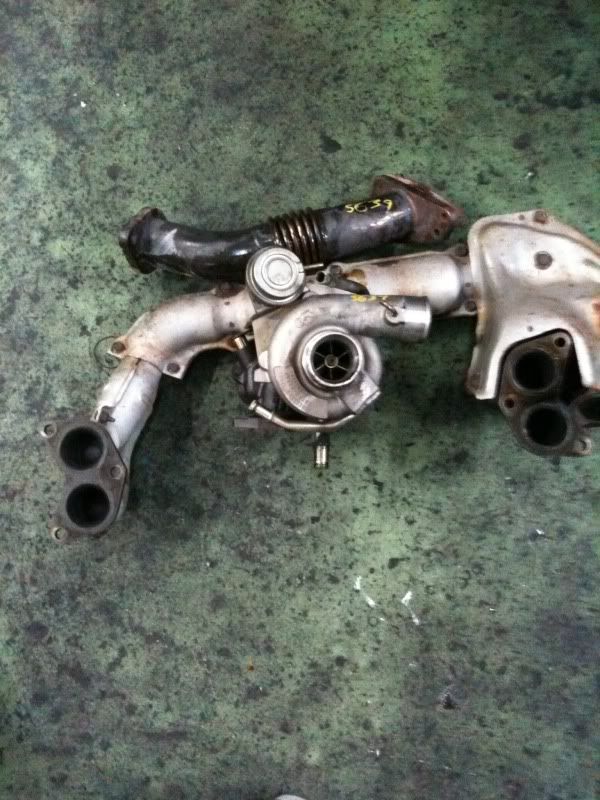 The rotated VF47 turbo with HKS actuator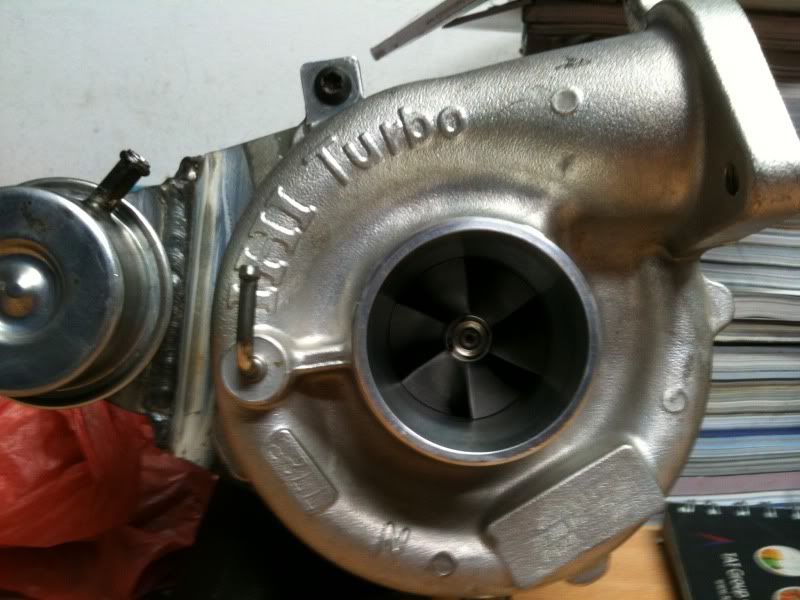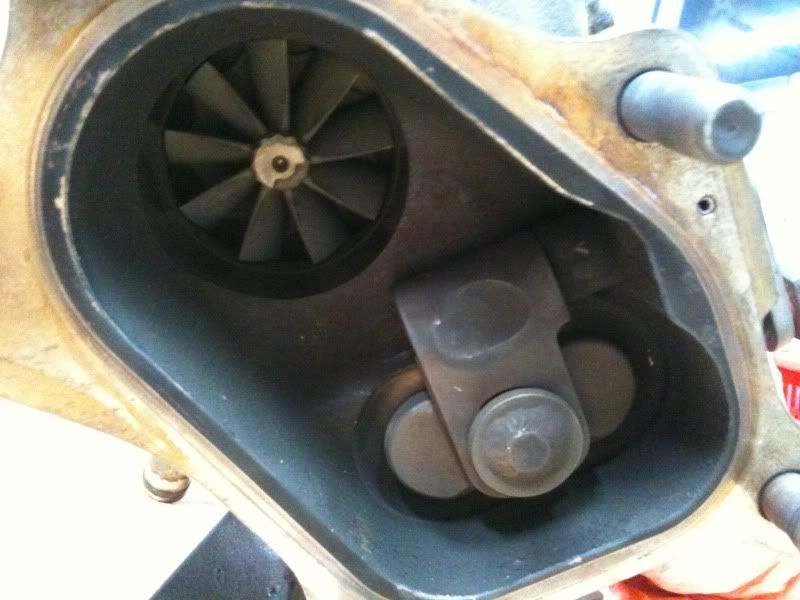 The JDM twinscroll up-pipe, downpipe and extractor manifold
JDM oil sump pan
VF47 installed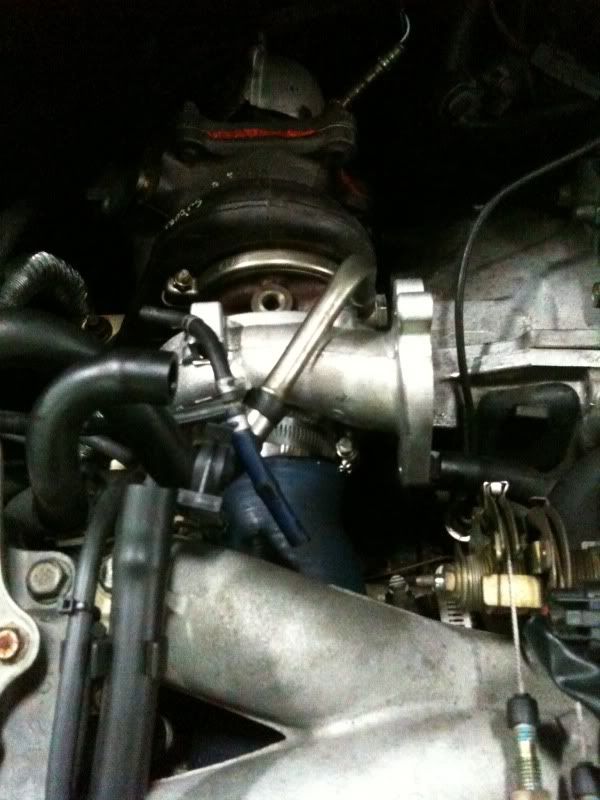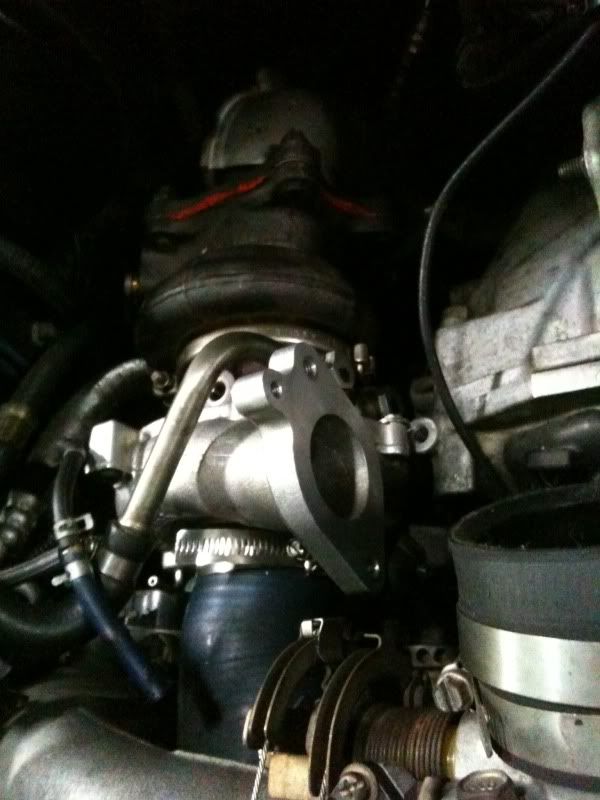 That's all for the moment, I'll take another pic of the engine bay on the weekend and put it up. =)
The amount of work required is tremendous! I need to fabricate a new flange for the compressor housing to TMIC. I had to change the water cooler as the USDM water cooler is slanted which was blocking the JDM extractor. I had to change to a 2nd hand WRX waster cooler which is straight and does not block the extractor.
The USDM oil filter valve was too long and was blocking the JDM oil sump. So i had to get a new LGT oil filter valve which is slightly shorter.
The most critical piece of work was to fit the HKS actuator. The original actuator cannot be rotated. The mech fabricated a new bracket for the actuator. Then he realised that upon fitting the actuator was seated too close to the TGV, he later spent another 1 hours plus to solve this problem. After solving this problem the rest seemed easy.
My feel, the car revs very smoothly, better than the TD04, my last tune was for a TD04, I hope it'll be better after the tune for a twinscroll. I felt that the gear change seems to be smoother than before. There is no more boxer sound due to the equal length extractor manifold. Overall, I recommend this setup for a street car. Not for highpower though cos the VF47 tapers off around 4500rpm.
James.