Discussion Starter
·
#1
·
As everyone knows only the 04 STi front struts will bolt up to our cars. The reason only the 04s will work is two fold. The 05+ have a wider hub and have the mounting holes spaced further apart. I have seen people say to just slot the lower hole and cram some washers in there. That is no where near the correct way to do it and I would be scared to ride in a car that was done that way. Following is the correct way to do it. It is fairly easy to do if you have access to the tools. I had additional spacers made that I would be willing to sell at cost if you need some.
*This is just my experience with modifying struts to work. Everything you do is at your own risk. If you don't know what you are doing, then don't do it.*
Tools needed:
Welder
Dial calipers
Drill punch
Drill
9/16" drill
1/8" drill
Asst files
Primer
Topcoat
Someone to make spacers
Not only are the 05+ 0.200" wider, but the holes are 0.393" further apart center to center. That's more than 3/8". That's a pretty big hole to slot. Especially if you plan to run a second camber bolt.
So the first thing you need to do is have the lower holes ( total of 4 ) welded closed. When you get them back you will want to hit them with some primer and a topcoat if they aren't already.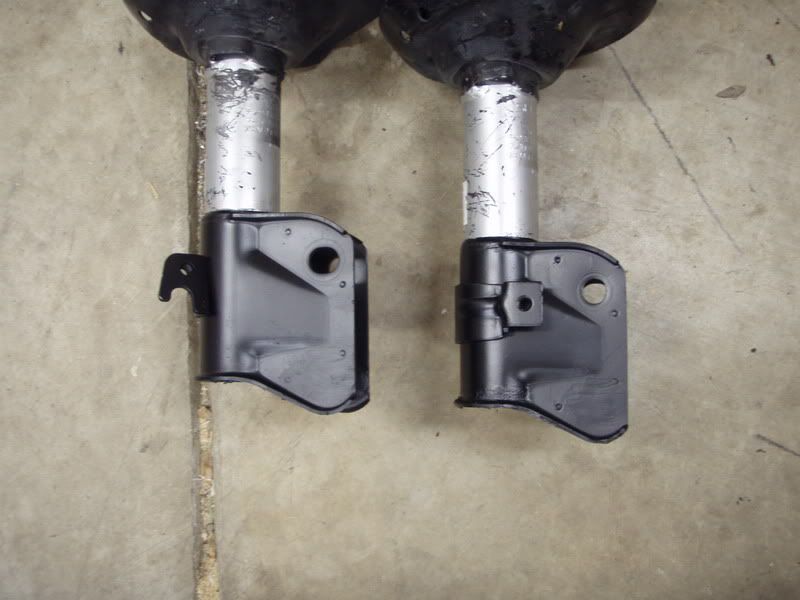 Next step is to re-drill the holes. There is a different number for the two sides because the upper holes are slightly different. Before you begin you will want to identify which side is which.
Side A- Has the horizontal oblong hole and has the angled bracket off to the side.
Side B- has the vertical oblong hole and has the bracket more towards the center.
All measurements are taken from the top of the top hole and are to the center of your new hole. These are represented by the white lines.
Side A- 2.895"
Side B- 2.856"
All of the left to right measurements are the same regardless of side. This is taken from the edge shown with the blue line and is to the center of your hole.
0.782"
You will want to drill the hole to 9/16". I recommend using a punch to keep your drill from moving. You will also want to start it using a smaller drill. I used an 1/8".
When you are done you will want to deburr your new holes and file off any flashing that is left on the inside where the hub inserts. You will want to touch up with some primer and topcoat. When you are done they should look like this.
Now onto the spacer. You will need four of them. You can either have someone machine them for you or I had extra made because the pricing for just getting four was ridiculous. I'll let them go for cost.
Spacer dimensions
1.375" OD
0.575" ID
0.195" thick
0.25" flat
You need the flat milled into it otherwise it will stick out past the strut and interfere with the hub once installed. So when installed the flat goes to the outside of the car.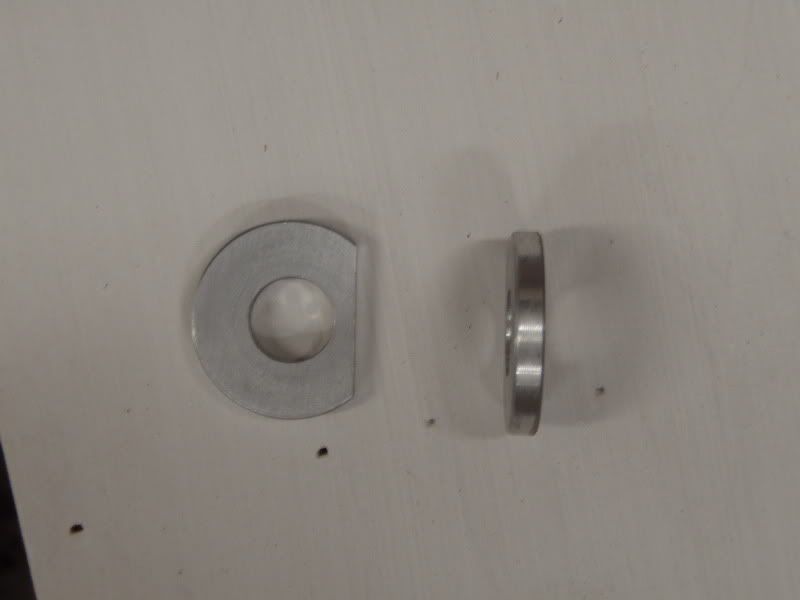 That's all there is to it. I wish I had install pictures, but I modified these for someone else.