2013 Forester2.5X Premium Automatic
Discussion Starter
·
#1
·
Was getting gas a few days ago in my '13 Foz and as I let go of the gas cap, rather than dangling by the side of the wheel well, it went bouncing underneath on the ground. Great. Tether snapped about half way between the cap and the gas cover. Since then have been holding the cap while pumping or more often then not, I forget it's broken and the cap goes bouncing on the ground again. So a couple day ago I figured I'd try to fix it.
Glue? No way that would hold. Flexible rubber and tiny surface area.
Replacement? Would have to buy a whole new cap as didn't see any way to replace just the tether from around the cap.
So, digging around I found a fix and so far so good. Found a wire butt splice connector (I believe for 12ga wire) and just used my crimping tool and tah-dah!!!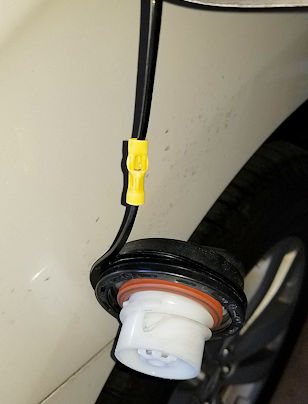 Works and holding so far and a quick and super cheap fix.
Just thought I'd pass this along to anyone standing at the pump holding their cap.