Believe it or not, this forum may have a significant impact on people's life.
This is the story of a guy who knew absolutely nothing about cars and ended up importing 3 Foresters in his quest for the perfect XT...
___________________________________________
About 3 years ago, I knew absolutely nothing about cars, much less about Subarus, most of my friends were the intellectual/activist types riding recycled bikes, and you would have had to pay me to even consider fiddling with a car in a garage, or even doing an oil change.
In summary, I've never been a "car guy"... but that was before I started reading stuff on SF.org...
2006
I began shopping for a new car. Key criteria were decent driving during the Canadian winter, good fuel economy and sufficient cargo for our new baby's stuff.
Came across sf.org for the first time during my research.
I saw the posts on the XTs, and how much fun the XT owners seemed to have, but with a new baby and a new house there was no way I could shed an extra 5k on a car...
So I imported my first Forester X Premium from NY State saving more than 10k on the Canadian prices:
I loved this car, but the more I read stuff on sf.org the more I wanted to get an XT. Plus, I felt that it lacked power when trying to pass on the highway.
2007
Then came 2007, a second child on the way, and could not convince the girlfriend to spend 5k to get an XT.
But at this point, I had a plan: I saved a lot of money by importing my 06; If I could sell it at a profit, I could get and 07, resell the 07 in 08, and one day I would have I would have my XT.
Meet my 07 X premium, again, imported from NY State:
2008
The Canadian dollar goes down, along with my hopes of getting an XT.
:tissue:
The more I spent time on sf.org, the more obsessed I was with the XT.
I even went to a few local Subaru club meets.
At this point, my girlfriend is getting very sick of hearing me talk about the XT and Subarus.
Spring 2009
3rd child on the way, I've spent 2 days trying to fit 3 car seats in the Forester, searching on the web for smaller seats, and its just too tight.
I was beginning to feel that I would have to face every man's worst nightmare: I would have to buy a mini-van (we did not want a big SUV).
Summer 2009
Canadian dollar picks-up and flies up to .94 US $.
I'm shopping for a mini-van. :crazy:
I get a call from the guy who bought my 06: "You would not be selling your 07 by any chance?"
My gf can't hear me complain about the mini-van any longer and finally says the magic words:
"Alright, get your XT so that you can finally talk about something else and stop complaining about the mini-van."
:biggrin:
September 2009
I ask the impossible in a
new thread
in the Vehicles Wanted topic on sf.org:
A 08 XT sports with low mileage, silver,
AND
5MT.
There must be 15 of those on earth...
2 weeks later, thanks to sf.org, I've got a deal on a fellow forum member's XT!!!
...and after 3 years, and a lot of headhaches (importing through a private sale revealed to be much more complex than through a dealership, but the seller was very understanding and helpful), I had a truck in front of my house three days ago with this on it: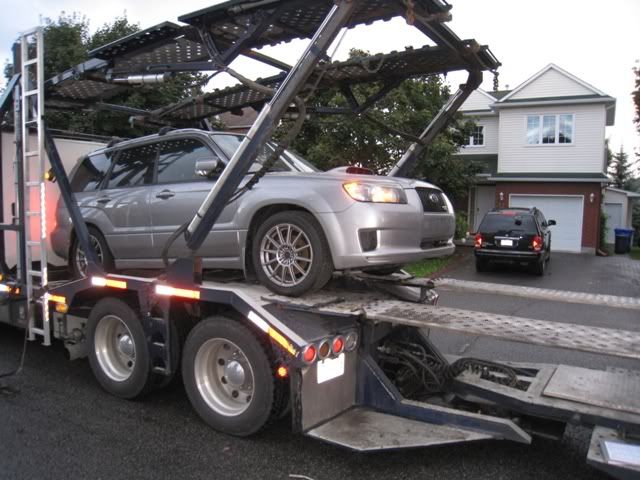 :woohoo: