Discussion Starter
·
#1
·
So it's March in Colorado...
Which means, Thursday it was 70 degrees at my house. Friday? We got 8 inches of snow here. Saturday was beautiful, not a cloud in the sky, but cold. We had planned on cleaning and organizing the garage, but seeing as this might be our last good storm of the season we decide to hit the mountains.
Loaded up the 'burb with gear, sleds and the boys and hit our usual trails up by Central City (Yankee Hill for the locals).
Easy a foot of new snow up there. Some trails we made first tracks. Others looked like an ATV or 2 had been through. A few snowmobile tracks too. We were the first truck/SUV up there for sure though, no tracks wide enough to be a vehicle.
2 recoveries accomplished.
The first was simple, a minivan had slid off the dirt road into a small ditch. That took about 3 minutes to get them out, and of course the decline of payment.

The second was an old Dodge Powerwagon I'd seen up there before, he'd slid into a big hole off the side of one of the trails, actually pretty close to where we recovered the Scion a few days prior. His buddy was there in his 4 runner, both rigs were chained x4. The 4runner was trying to pull him forward, but the powerwagon was up to his frame rails the entire length of his truck. A good stuck! They'd been there for a while digging and pulling. A few quick yanks from me backwards got him pulled back a good 10 feet. Got our shovels out, cleared the area forward, and the 4runner was able to pull him out. I've seen both those guys up there before, but they didn't recognize me in the 'burb.
I'll let the pictures do the talking for the most part. I can't even describe how beautiful it was. The sky was SO BLUE. I love this place.
One note on the truck - really learning how to drive it better. Ran the pressure down to 18psi all around and just kept her steady. The weight really works in your advantage if you know how to use it. Slow and steady, don't power through or you'll dig yourself in. A very very VERY different beast than the Foz in the deep stuff.
Airing down
Trail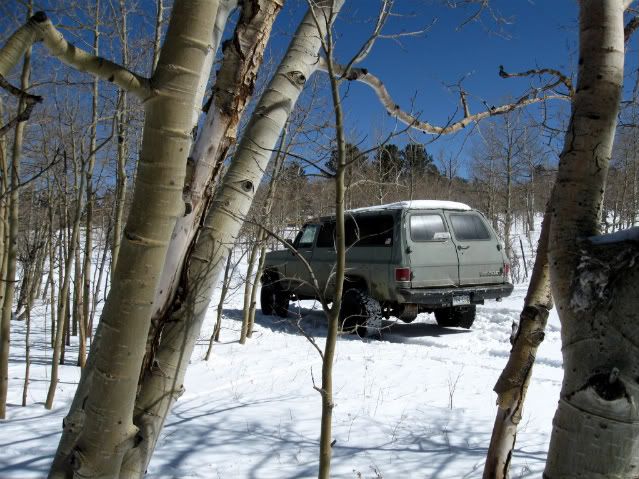 How to hide a big rig