How a school teacher mods a Forester...
This is the thread where I get to talk about my wagon, it's a 2004 Forester XT 6-speed.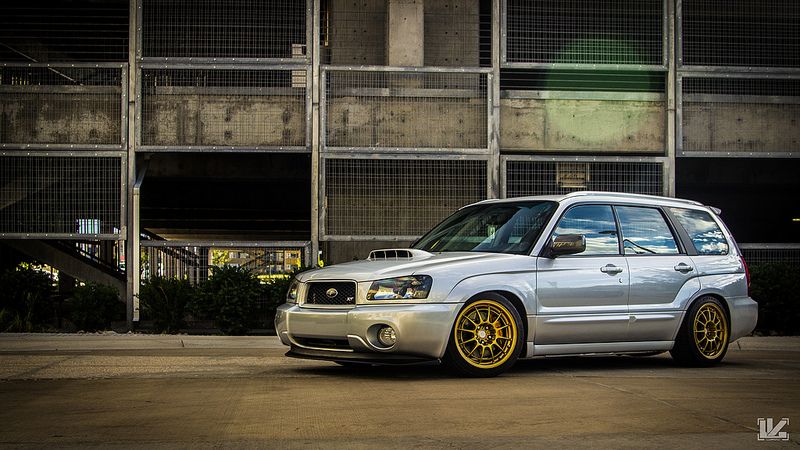 Well, here it is. I'll try and update this page as much as I can. Thanks and enjoy!
Purchased in 10/08 with 41xxx miles on the clock.
Currently has 97xxx miles.
Engine – Performance and Dress up
-IHI VF39 Turbo
-powdercoated black STI intake manifold
-TGV deletes
-3mm phenolic spacers
-complete top feed conversion
-Perrin V2 Fuel Rails
-Tomei Type S FPR
-TurboSmart FPR gauge
-blue 565 injectors
-Grimmspeed TMIC
-Grimmspeed y-pipe kit
-Turbosmart Plumb Back BPV
-Tomei Inlet hose
-Gimmick afta-maf hose
-APS 65mm CAI
-Amsoil cone filter
-Grimmspeed uppipe (black ceramic coated)
-Grimmspeed Ported/Coated STI collectors
-Grimmspeed crosspipe
-Grimmspeed catless DP
-Invidia G200 Forester Specific Catback
-Grimmspeed Gaskets
-Grimmspeed AOS
-SPT Turbo Heatshield
-All Yellow Caps Plastidipped Black
-V7 STI Splitter Custom Fitted For Upgraded TMIC
-Amsoil Signature Series Synthetic 5W-30 Oil
-Amsoil Severe Gear in Transmission and Rear Diff
-Dimple Magnetic Oil Pan Drain Plug
-Koyo Radiator with Shroud
-Mishimoto Radiator hoses
-Koyo 1.3bar radiator caps
-Granger 3-port Electronic Air Solenoid
-Turbosmart Manual "T" Boost Controller
-Open Source Street Tune by Jesse at Frigid North Performance
Drivetrain
-2005 STI 6-speed transmission and rear diff
-STI drive line
-Complete 5x114 hub/axle/knuckle etc swap
-STI trans mount
-SouthBend stage 2 "daily" clutch
-ACT Streetlite Flywheel
-Goodridge Stainless clutch line
-DCCD Pro Universal controller
-Kartboy SS + bushing combo
-Warbird Machine 2" Sphere weighted (470 grams)
-Warbird Machine Reverse Lockout
-Group N trans mount
-Kartboy trans mount bushings
-Beatrush Pitch Stopper
-TIC rear diff mount bushings
-Kartboy outrigger bushings
Brakes
-ATE Superblue
-STI Brake booster
-STI Master cylinder
-Grimmspeed MC brace
Front:
-Brembo 4 pot brakes
-Powerslot Rotors
-Stoptech Posi Quiet Pads
-Goodridge SS Lines
Rear:
-Brembo 2 Pot Calipers
-Powerslot Rotors
-Stoptech Posi Quiet Pads
-Goodridge SS Lines
Handling
Wheel Tire Setup:
-Summer-
-17x9.5 et44 Enkei NT03+M
-255/40/17 Bridgestone Potenza RE11A
-Winter-
-17x8 BBS STI goldies
-225/45/17 Bridgestone Blizzak LM-60
Suspension/Bracing/Steering
-05-07 STI Spec Tein SS-P coilovers
-Front Subframe spacer removed.
-2007 STI steering rack
-Whiteline steering rack bushings
-Cusco H-Brace
-Cusco lower rear power braces
-STI Aluminum Front Control Arms (w/ free caster mod)
-Whiteline ALK
-Whiteline RCA
-STI Aluminum Lateral Links w/ Group N bushings
-Whiteline 24mm adjustable front sway bar
-Whiteline 24mm adjustable rear sway bar
-Whiteline rear stout swaybar mounts
-Whiteline Rear Subframe Lockdown Bolts
-Kartboy Solid Front and Rear Endlinks
-Cusco Type 40 rear strut bar
-STI Titanium front strut bar
-GD Impreza rear subframe
-GD Impreza diff carrier
Alignment specs: -1.8 F, -1.5 R, 0 toe, 4.5 caster
Exterior/Interior
-02/03 JDM STI Scoop
-Subtle Solutions Hood Struts (best thing EVER)
-Blacked Out Headlights
-Osram Silverstar H4 bulbs
-Candlepower CPI Gold Selective Yellow Fog Bulbs
-DIY Mesh Grille Mod
-Custom "f" Badge Overlay
-Importology front lip
-06/07 STI V-Limited (rep) lip
-GD STI side mirrors
-Blacked out Rear Forester Badge
-Modded XTi Rear Badge
-Rear "SUBARU" Letters Removed
-C-Pillars and Waist Spoiler Vinyl-Wrapped in Matte-Black
-STRI electric boost/vac gauge
-Ultragauge
-Upgraded Front Speakers
-Tweeter Kit
-Extended Armrest
-Upgraded Headunit
-Subaru All-Weather Floor Mats (winter)
-Black Carpeted, with pink STI logo floor mats (summer)
-2005 STI Steering Wheel
-2005 WRX Premium Seats (with butt warmers installed)
-RECARO Pro-Ride Child Seat
-Upgraded Dash Bezel
-Diode Dynamics interior LED kit
-Grimmspeed plate frame (lol)
-Smoothed and Filled Front Bumper
-Rolled Front and Rear Fenders
300/319
Keep in mind this is on 91 octane at 5500 ft.