2005 Subaru Forester 2.5X
Purchased it on July 9, 2012 with ~98,525 Miles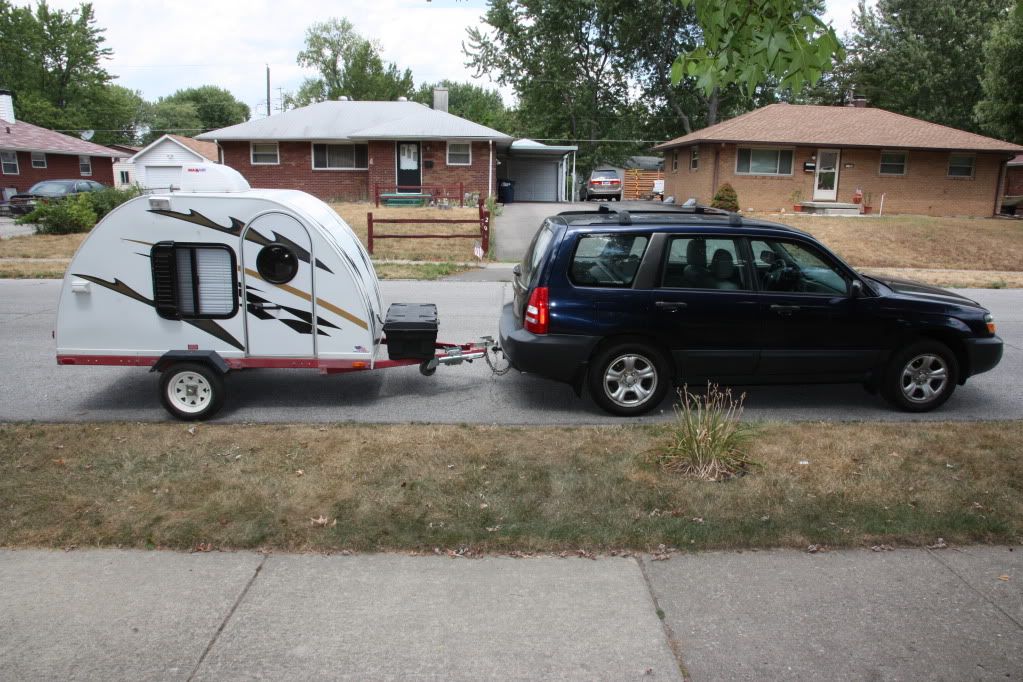 List of Options from Dealer Invoice.
Description
(5FB C BLR) 2005 Forester X 4EAT
Option Description
Pw/Pl/Pm/Ac/Cc/Abs,Fl/Sab
PORT ACCESSORIES
----------------
D3D TWEETER KIT 10-Feb-2005 A
X43 ROADSIDE ASSISTANCE LABEL 10-Feb-2005 A
XFJ FORESTER CROSS BAR KIT 10-Feb-2005 A
XGB FORESTER X FLOOR MATS GRAY 10-Feb-2005 A
XHN 05 FORESTER ORG 10-Feb-2005 A
XHP 05 FORESTER OIK 10-Feb-2005 A
F4U LWB CUSTOM TAILPIPE COVER 10-Feb-2005 A
F4U M3D CARGO TRAY 10-Feb-2005 A
F4U Q3J SPLASH GUARDS MAT BLACK 10-Feb-2005 A
07-13-2012
Installed Curt Manufacturing 12038 Class II Receiver & Hidden Hitch T-One Connector Assembly with ModuLite Module 118461.
http://www.subaruforester.org/vbulletin/f137/welded-nut-broke-off-frame-116564/
http://www.subaruforester.org/vbulletin/f137/ball-mount-rise-117191/
10-25-2012
WeatherTech FloorLiner DigitalFit
12-02-2012
Oil Change at Sears Auto Center at ~ 102,700 Miles
POWERFLOW OIL FILTER SL14612BP
12-05-2012 to 12-21-2012
Dropped off on 12-5-2012 for Control Arm Recall Check
Front Differential Fluid Change. Gear Selector Assembly and gear selector cable replaced at Subaru dealership
They had it for about 3 weeks as I had to find a used selector assembly. It broke in the parking lot of the dealer after I dropped it off for the Control Arm Recall. The selector cable was rusted and ceased causing wear and finally tear on the selector assembly. No need to replace control arms, which surprised me since it lived in New York before I purchased it here in Indiana. They also found the front differential fluid was dirty but contained no metal shavings during their inspection. Picked back up on 12-21-2012
Big Thanks to BTI_Bob for the sell.
http://www.subaruforester.org/vbulletin/f92/gear-selector-assembly-124890/
10-05-2013
Winter Preparation Parts Order & Spring 2014 Plans
10-08-2013
Cabin Air Filter Replacement
10-09-2013
Oil Changed @ 109,722 Miles, Radiator Flushed, Ambient Air Sensor Replaced, Wipers Replaced
10-10-2013
Spark Plugs and Wire Set Changed @ 109,746 Miles
10-11-2013
K&N Air Filter Installed @ 109,754 Miles
12-11-2013
111,111.1 Miles on Odometer
03-17-2014
Winter MPG