Discussion Starter
·
#1
·
DIY: Nail Removal & Tire Plug
This is a guide on how to remove a nail and plug your tire. This would save you a $20 tire repair or weekend when all the shops are closed. It would also hold you over until you can purchase all 4 tires when your tread is low. Yes, we have a full size tire in the back, but I was advised that if one tire has more thread than the others it would put strain on the AWD system. These kits are a good tool to add to your emergency car kit. I've used this many times in the past and has lasted me the life of the tire.
Do not attempt this if you have a nail in the side wall or is on the side tread.
Don't forget to purchase a plug kit at your local automotive store, Wallmart or Target. The one with the T-Handle works the best.
1. Loosen all the Wheel Lugs on the tire before lifting the car.
2. Lift car with a jack in the safe and proper lift points. If you have a 3 ton jack, and your doing the rear, lift from the Dif.
3. Remove the Lugs & Tire
4. Let some of the air out of the tire by taking off the tire valve and pressing in the middle with either a pen or the back of your tire gauge.
5. Locate Nail and remove using a pair of large Wire Cutters or Wise Grip if no head. If nail is short and not sure its leaking, use soap and water on the hole to see if it bubbles
6. Use cleaning tool that looks like a round file in a up / down motion. A little twisting helps in the beginning
7. Clean area and add a small dap of rubber cement. This will act as a lube and seal the area after plug is inserted.
8. Insert plug though the hole of the insertion tool by pinching the end and threading it half way. Then insert 2/3 into the tire. Then with one quick motion pull straight up.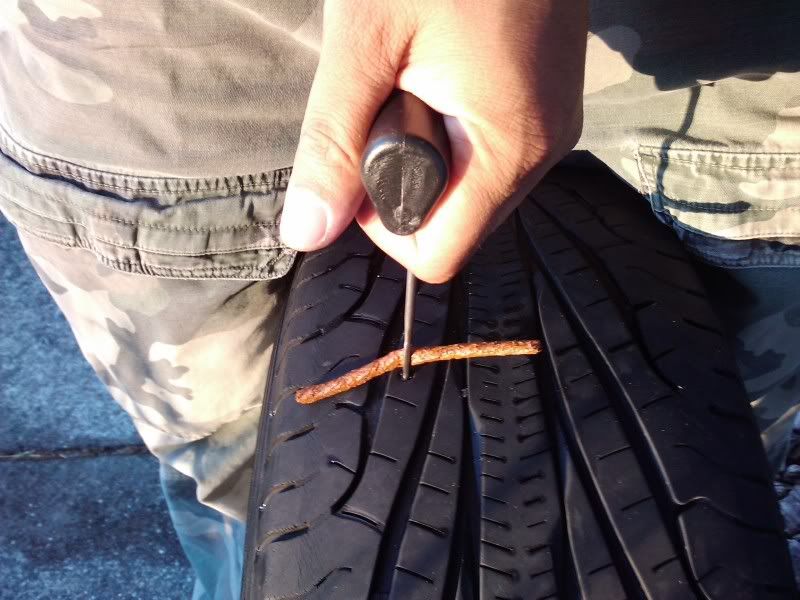 9. Cut Excess off to as close as you can to the tread.
10. Install Spare tire & lugs and drive your flat tire to a gas station ( Don't forget to bring Quarters $0.75, some states are free ) and fill the tire to proper PSI. While your at it check your spare tire if it has enough air which it probably doesn't.