I purchased my 04 Forester XT 5MT on December 16, 2019 as the Daily Driver replacement for my wrecked 05 WRX Wagon. It was in pretty great shape, had 133K miles on the clock, and was completely BONE STOCK except for a Magnaflow muffler. It had a set of snow tires on it, and also came with a set of brand new all seasons on some aftermarket rims, as well as fresh brakes and rotors on all four corners. The initial plan with this FXT was to drive it until I repaired and rebuilt the 05 Wagon into a V8 STi Wagon, then give it to my wife as a Daily Driver to replace her Honda Pilot. But, I fell in love with it, and the journey began.
All items highlighted blue are links to the items I used in this build, or links to some of the sources I used to complete these mods. I'll do my best to keep everything current, or if something is no longer available, edit accordingly.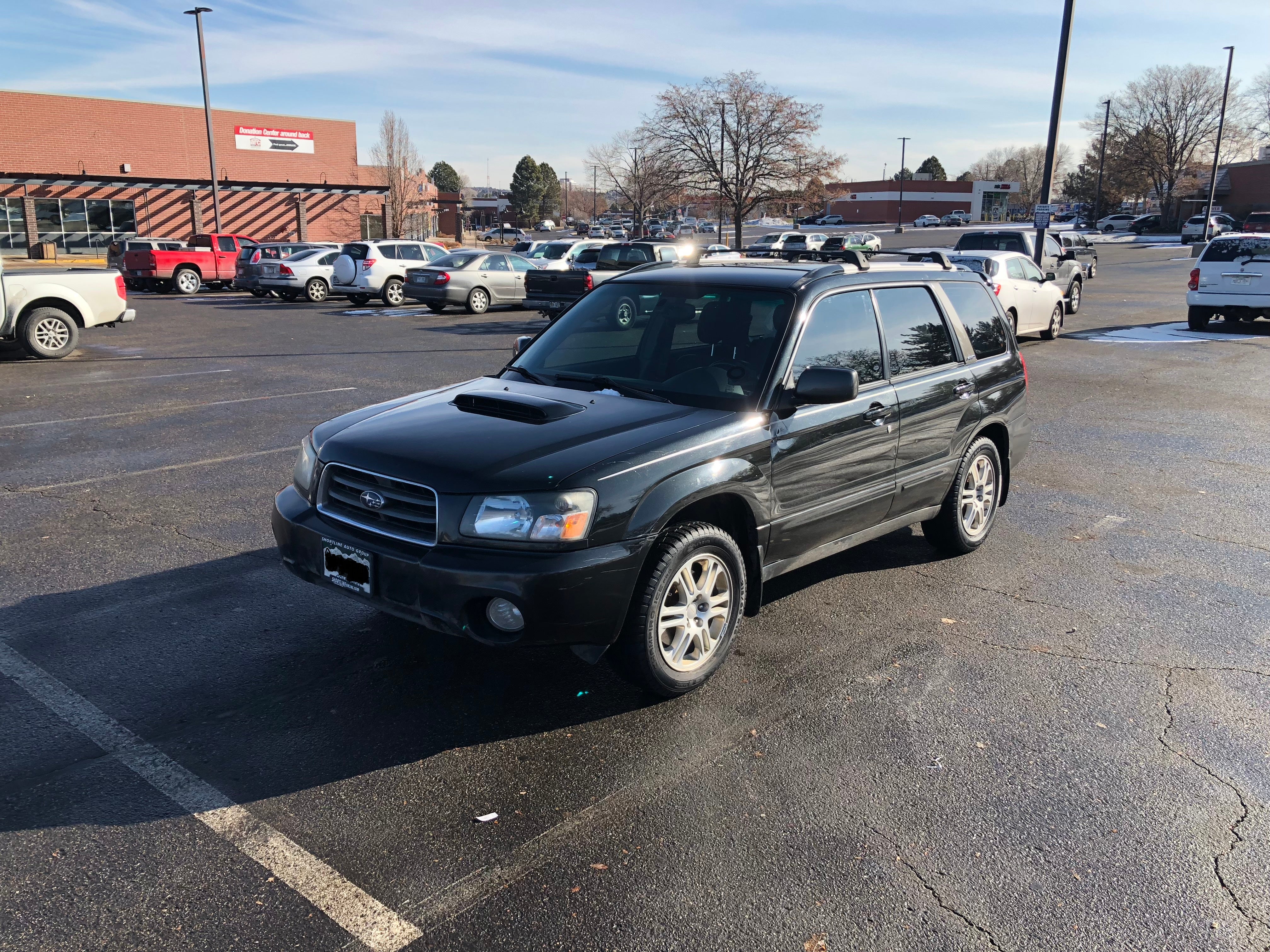 I began my mods with a drop in K&N panel filter, just like in my WRX. I pulled my Cobb AccessPort from the WRX after uninstalling it and began saving up to have it sent to Cobb to be reprogrammed with SUB 002. I figured I might as well because it would be a while before the WRX was completed and back on the road. I had a bunch of 168 T10 LEDs sitting around from when I replaced all the interior bulbs in the WRX, so I proceeded to swap out the boring "Warm White" incandescent bulbs on the interior, and proceeded to order the rest of the other bulbs that needed to be replaced. I also ordered some red 74 T5 LEDs to replace the dash instrument lights and the clock light, but half of the bulbs ended up being defective and some diodes weren't lighting up. I only found this out after checking all my bulbs, flipping them 180 degrees, and testing way more than once. During this time I also replaced the three 168 bulbs in the cluster with some red diffused Sylvania LEDs, which had a much more even output than the T5s I got from amazon. Unfortunately, Sylvania doesn't make any T5 LEDs, so I couldn't match the same lighting I was getting on the speedometer and tach, which frustrates the crap out of me.
At this point I decided I was going to go all out with the lighting. I ordered three red
NEO4
bulbs for the HVAC lighting, and three red
NEO3
bulbs for the foglight, cruise, and heated wiper switch lights. No more soft green lighting, except for the odometer/trip display and the indicator LEDs on the HVAC. At this point I also decided that my color scheme would be red and black with some carbon fiber accents here and there. I really wanted a Forester STi gauge cluster, but I felt it was too much money to spend, and I could get other items I wanted for way less.
I bought a
5-speed STi duracon shift knob
and installed it. I was amazed by how smooth the shifts became with the lightened knob. I had always used weighted shift knobs in my other vehicles, so this was a pleasant change. It also perfectly matched my color scheme.
Along with the shift knob, I also purchased some
OEM Aluminum Pedals
for an 02-07 WRX. I really missed the way these pedals felt, and the current pads on the FXT pedals were worn out and needed a refresh. I'll post some pics and a How To when I get them installed. In the meantime, I managed to score an STi intercooler with couplers and y-pipe from an 08 STi on Facebook Marketplace for $100, so I ordered some
OEM intercooler gaskets
because I planned on breaking the intercooler down, degreasing it, and resealing the y-pipe and bypass valve to the intercooler. I also ordered a
Mishimoto 2" 90 degree
silicone elbow because the STi turbo coupler won't reach the turbo in the FXT. I'll get around to installing it in the next few weeks.
The other day, I noticed the notorious end cap seepage all stock Subaru radiators are known for, so I will be ordering a Koyorad aluminum radiator to replace the leaking one. This decision is a no brainer for me, and I still don't understand why Subaru puts inferior junk into some of their best vehicles.
Also, following the red, black and carbon fiber scheme, I ordered some
Forester F Emblem Overlays
in carbon fiber and red. They will cover the Subaru emblems on the front grill, rear hatch and steering wheel and give the FXT a subtle change that not many will notice.
That is where I'm at right now, but as with all vehicles I've owned, I'll never be finished.
I'll also be adding all the parts I hadn't yet installed on my WRX, which include:
Perrin Turbo Inlet
Perrin Afta-MAF
Perrin Intercooler Coupler
Perrin Short Shift Adapter w/bushings
Perrin Turbo Blanket
Perrin Turbo Heat Shield
No Brand Catless Uppipe
I'm going to be creating links to all of my sources, as well as links to all the specific items I used. If you have any suggestions, please feel free to message me.