Got the infamous crack on the top right plastic portion of the OEM radiator. Was gassing up and did the usual
oil check/once over the car thing
. You can see in the photos that it is right at the transition between the right most fan mount and the the main portion of the plastic top. This is the radiator that replaced the original one under warranty. Luckily, I caught this one before it puked everywhere.
Photos of the crack. You can see where coolant sprayed out and dried white (this is how I found it).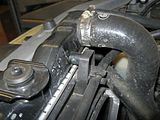 It's funny because I just lightly cleaned the engine bay last Thursday and would not have seen the dried coolant had I not done this.
The repair. Not sure if this will work. It is curing as I type.