Discussion Starter
·
#1
·
I had purchased 2004 Forester XT 5MT two years ago. Then I sold it (which I should NOT have :shake
for BRZ last year because I wanted to have a sports car.
Today, I traded the BRZ with 6000 miles for 2014 Forester XT with 6 miles on the ODO. I had to for a couple of reasons
1. In Colorado, I realized that need a car with ground clearance and AWD, especially with my other car being STi which is also low
2. Two door and no practicality. It says 2+2 but you really can't get anyone to sit in the back comfortably
3. While extremely communicative and fun to drive, BRZ is down some 30~40 horses at my altitude (5500+ ft) and lack of turbo just exacerbates the situation. I didn't feel safe to pass people on mountain roads because I didn't have enough room. It makes all the noise but gets nowhere.
4. BRZ is a great car in great weather, but hopeless in other situations. Yes you can get snow tire on it, but it still does not give me the same confidence that the STi gives.
Now, here are a couple things I noticed over 2004 FXT with the new 2014 FXT
1. It is bigger but still drives small-ish like the SG XT
2. It is higher off the ground, but more sporty and less wobbly somehow
3. Low end torque is better with FA20DIT than EJ255 & TD04
4. Lineartronic CVT is actually one automatic that I can live with. My 2004 FXT was a stick, because I couldn't stand that 4EAT at all.
5. Visibility is even better than older car, and that is saying a lot since SG XT had excellent visibility already
Some pictures -
My old 2004 FXT 5MT (shouldn't have sold it :icon_frown
with my 06 STi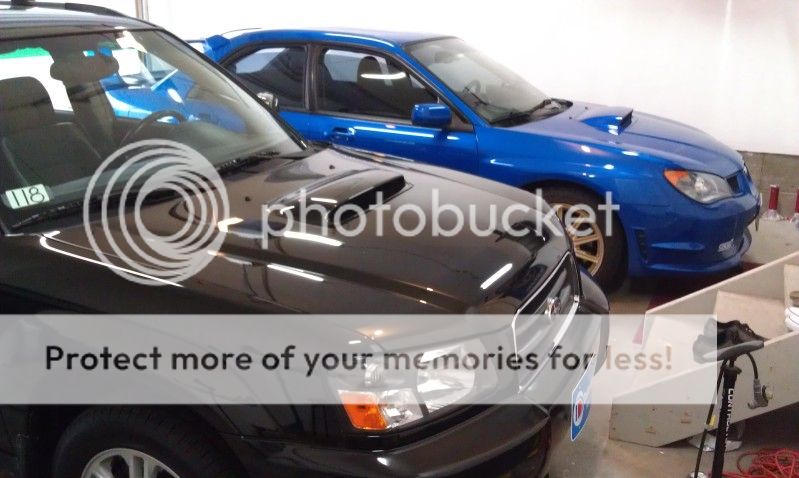 BRZ with STi
BRZ on the mountain roads
Forester XT this morning
...and finally, I'm glad to be back.