Discussion Starter
·
#1
·
Soooo, I finally got around to replacing my stock 6CD head unit in the Forester I bought a few months ago. I prefer the OEM look but I wanted to have a direct Sirius connection and an aux or USB input for my iPod. For a few months I had been running a portable Sirius unit through the cassette player, which worked surprisingly well, but in the long run not a viable option.
I hate, hate hate haaaate gaudy head units. And I didn't want to pony up to a touchscreen/navigation type head unit, as I couldn't afford a decent one, and I am strangely obsessed with having all my dashboard lights match, and apparently all the new monitor-style head units have blue trim lights.
Anyways, I went with the Clarion CX609. I am fairly certain it's identical to the Clarion DUZ385SAT but it just adds Bluetooth, and the ability to change the lights to match your dash.
For some silly reason, if one wants Sirius or XM radio hooked directly into a head unit, you have to buy a tuner box, and then a box that takes the tuner signal and transfers it to the head unit. Why it is necessary to have these two boxes, yet you can buy a tiny portable unit for $30, is beyond me, but in any event, I ended up mounting them under the passenger seat, as I didn't want to cram them behind the head unit (not quite enough room I think). It's the Clarion CLA-SC1 and whatever the Sirius box is called.
Soooo, here's the pics.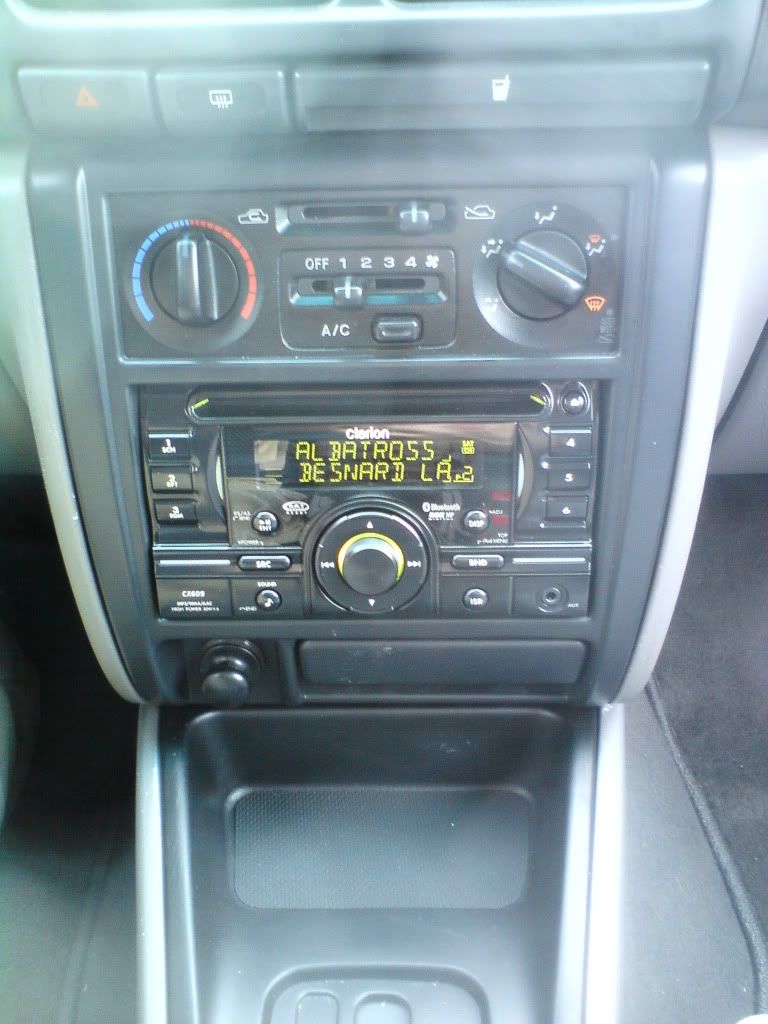 ...fairly OEM looking, at least in my opinion it was the most normal looking head unit I could possibly find. The only issue is it is to the left about 1mm, which sorta bugged me for a while but I don't mind anymore. Not really much I could do about that, and it's hard to notice unless you stare.
...Bluetooth mic placement. Similar to the SH Foresters' OEM mic placement.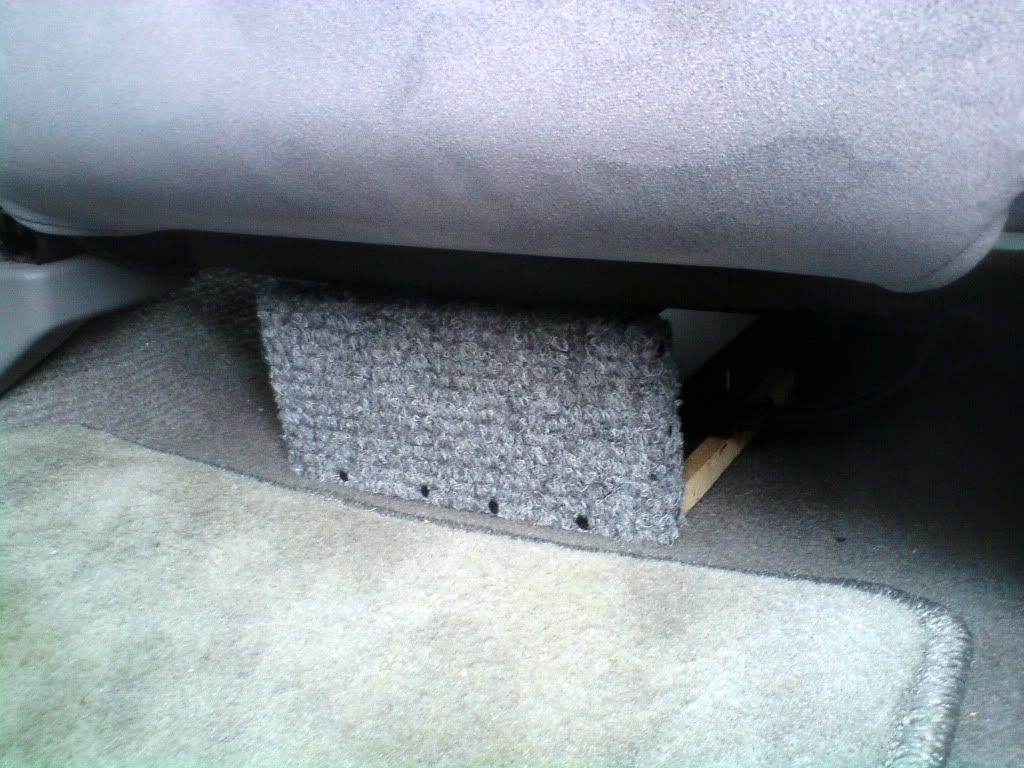 ...this looks ghetto in the picture, but in real life it's hidden and looks pretty darn good. It's just a piece of wood I velcro'd to the floor, and it has that carpeted anti-kick wall for when my son gets older.
Thoughts:
-Happy with it's looks. Except I wish they had a brightness setting, you can only adjust contrast, which means at night it's fairly bright and I need to yank it to hook up the dimmer wire once I figure out the polarity of the car and the CX609.
-iPod control is meh, it works well enough that I don't mind it but I wish there was a way to scroll through the lists faster.
-Sounds VERY nice powering the stock, 10 year old Subaru speakers. That extra power over the OEM head unit made a huge difference. They will get replaced eventually but honestly I could be ok with this setup for a while. But ultimately I need to do something about bass, a small sub I reckon.
-Bluetooth works very good but I HAAAAAAATE that when I sync my phone, it automatically goes to phone mode then I have to hit the Source button like 5 times to get back to Sirius or iPod. And if I do auto-connect, for some reason it makes my phone's alarm clock go off over the car stereo, which sucks. Sony Ericsson C702 if it matters.
In summary, I like it, I am just really really picky but when it comes down to it, this is a very good value if you want a low-key looking head unit with more modern features.