Well, for months now I've been chasing a low power/low fuel economy issue. I was plagued with low fuel mileage 12 -13mpg, inability to run much timing, low track times, and more recently oil consumption. Never blew smoke, or showed any blatant signs of a blown ring, most of my issues were believed to be tune related, but that wasn't the case when my compression test came back 145, 128, 150, 145.
UPDATE: Even though my compression test results were not terrible, here's what cylinder 2 actually looked like as of 8/16/10: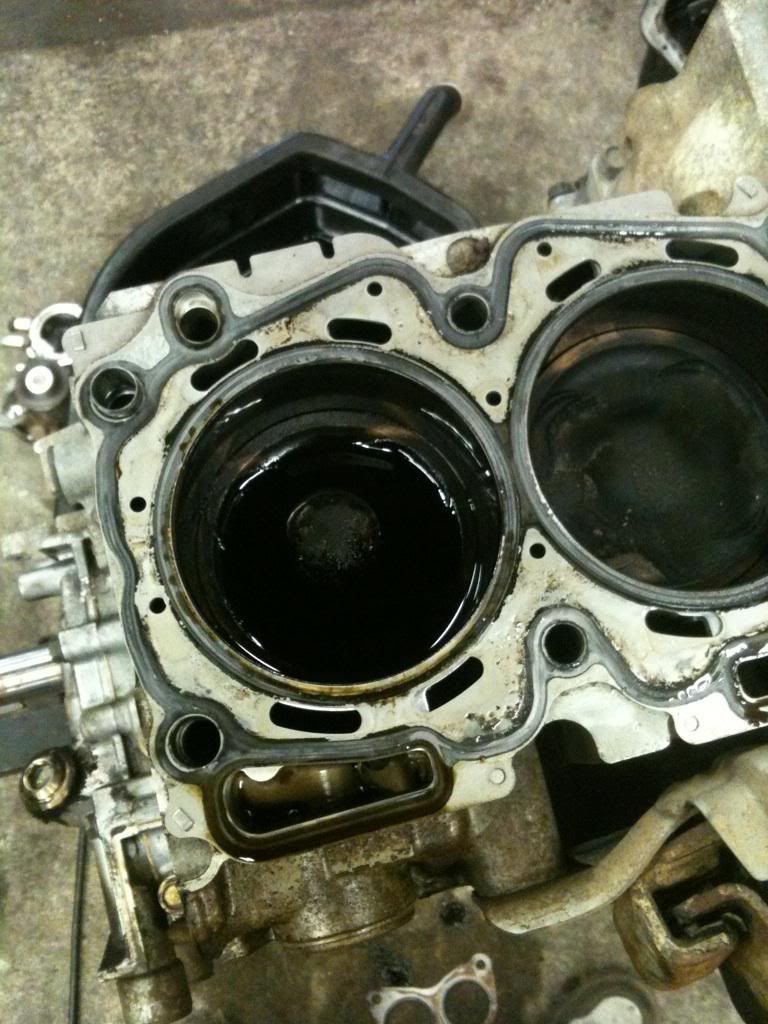 The cylinder was filled with oil and the piston is most likely cracked.
As of now I'm looking into built motors and mighty turbo's. I'm ideally looking for a motor that will be good for very spirited daily driving that can reliably handle between 400 & 500whp. I have a short 7 mile drive to work every day, but i drive a bunch outside of that since i hate riding shotgun with anyone thanks to an accident i was in in high school. I also take frequent trips to PA, upstate NY, and occasionally Florida. I also occasionally tow my ATV and maybe once or twice a year a pontoon boat also rarely I'll take the car to the drag strip. I probably put about 20,000 mixed miles on the car a year. I want something that'll last me at least a few years.
I've done a fair amount of research and it seems that pre-built short blocks are the way to go for best reliability & simplicity. I know many people say that a totally custom hand built motor is the way to go, but I feel there's too many variables that can go wrong. Depending on who builds the motors, with what components they choose there's a mess of variables that could go wrong and have me back in the same position in 10,000 miles.
With a pre-built block I feel there's greater chance of having a reliable motor, because even though it may not be custom built by hand, there was probably a lot more time into the design of something that will be, for lack of a better term, "Mass Produced". The motors may be turned out quicker, but depending on the company they should be put together with as much care, also all the components were designed to work well together in a brand new short block, as apposed to a custom motor where components are chosen somewhat randomly based on their attributes, and are built into a used block to whatever the builders specs and tolerances may be.
The motor I'm leaning toward right now is a rallispec street block for a reasonable $3k which from what I've read on nasioc has an excellent reputation, all reviews i found were positive, and the block is rated near 600hp with the OEM block itself becoming the weak link in the chain. Anything that can handle more power requires sleeving and is far too expensive. I may however spring for ceramic coated crowns as a little added insurance. Rallispecs block seems to be the best balance between OEM reliability/drivability with insurance for more extreme power levels. Also rallispec is close enough to home that i can pay them a visit should i have any problems. If anyone has any other recommendations I would definitely like to hear them.
Update: I Did end up purchasing a Rallispec Block, Pics: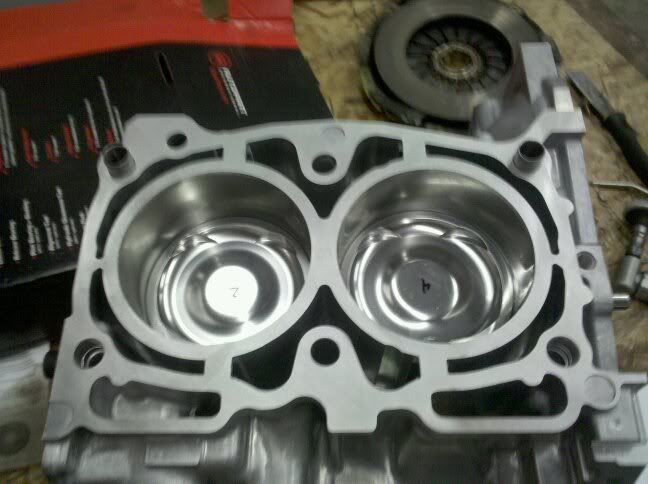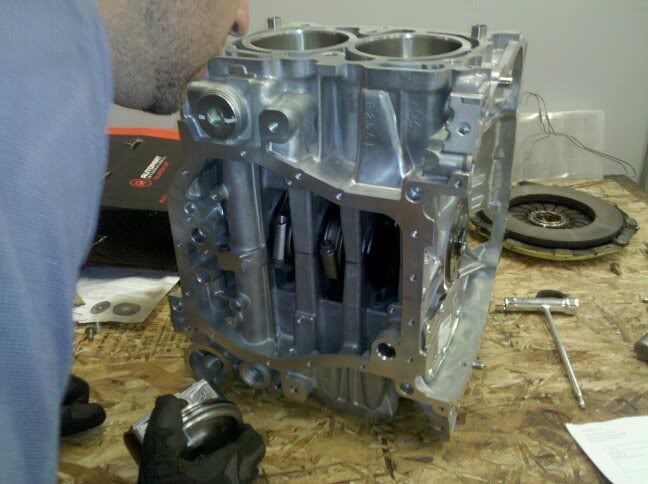 That being said about the block I'm looking into, odds are I'm going to recycle my existing heads, Area1320 in PA will be doing the swap for me as they said it can be done within a week, and their labor rates are very reasonable and Ryan has done enough work for me to know my car pretty well. Included in their short block swap costs is a resurfacing/inspection of the heads.
Update: I purchased new Kelford 264/264 cams, which turned into also buying another set of heads that i had refurbished and reassmembled with bigger valves, titanium springs, and retainers.
Update 12-27-10: Machineworld NY totally botched the heads and they were so out of spec the journals and cams were destroyed in the heads pictured below, will get pics of the destroyed cams and journals soon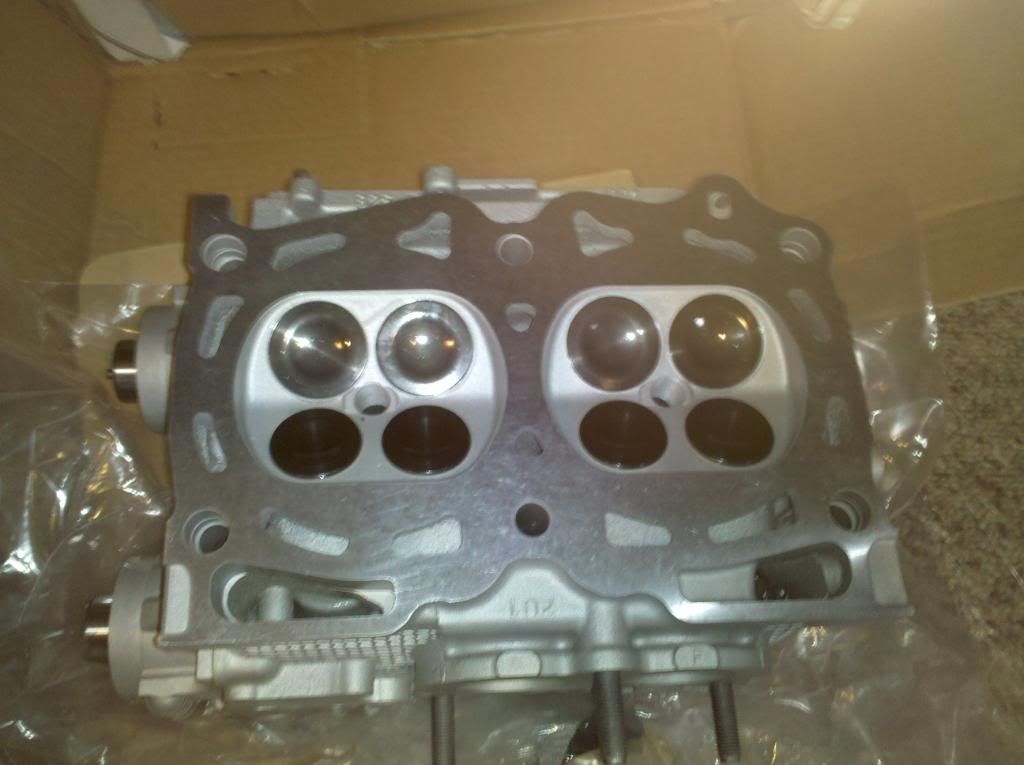 I'm very lucky something convinced me to go with new cams and heads because when my old motor was torn down & inspected, my old heads were also shot, the cams & journals were scored up pretty bad, most likely from metal shavings from the rings and pistons getting in there.
Other parts I'm looking to replace will be the oil pump, and possibly the water pump. I don't know what brand of each i should go with yet, and I don't know if there's anything else i should look to replace while the motor's out.
Lastly with a goal of 400whp+ on pump gas, the turbo I pick is going to be very important. Currently I have a TD06-20G 8cm² it's an OK turbo, but it can't touch the whp levels I'm looking to reach, I know some people will recommend meth or rotated, but meth is something I just don't wanna have to worry about since this is a daily driver, and rotated is going to be out of my price range as well as more complex then I'd like to be especially while staying with a TMIC.
Initially i was looking into a Dom 4 XT-R IWG, but after calling blouch they said a Dom 4 would be too laggy and not a good setup for daily driving. The blouch rep. recommended a Dom 3 XT-R, and i was set on that, but I called my tuner at EFI logics to see if he had any recommendations. They pointed me toward ATP 3076R based on their experience with them. I've looked around on nasioc and it seems that the ATP3076R and Dom 3 are pretty evenly matched. I would probably be running around 23psi, and i really don't know which way to go, EFI logics can get me ATP turbo's at a pretty good discount so I'm really leaning that way. I know BAC5.2 and some other members on the forums know their turbo's real well and understand the physics behind them, so if any of you guys read this feel free to chime in.
Update: Decided on an ATP stock location 35R IWG. The turbo is beautiful with very high build quaility & according to ryan @ Area1320, it actually fit in there perfectly. However ATP's service sucks, they sent me a messed up fitting and really refused to help me out and send me a new one, so i had to buy one and have it next day aired from cali because it's holding up my whole build since it's the turbo oil fitting.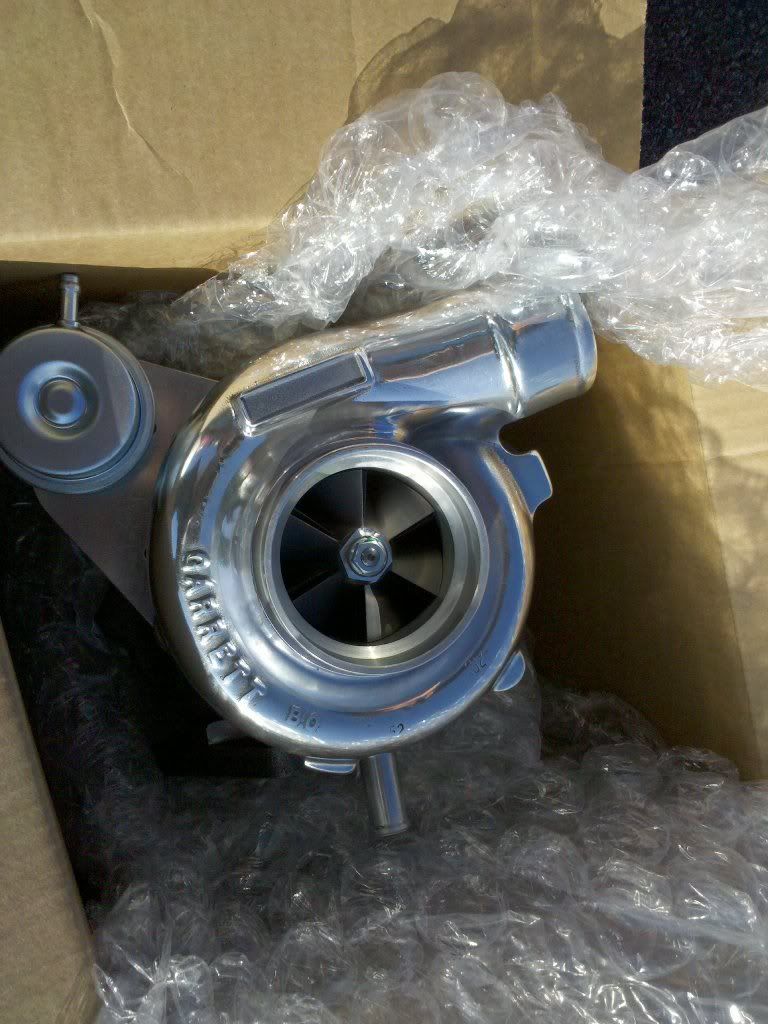 As I progress through this expensive ordeal I'll try and post pictures and progress of everything, and of course at the end I'll post dyno numbers and (maybe more importantly) track numbers.
I apologize for any poor grammar or misspellings, I wrote this up quick and I'll edit and correct things as the thread progresses.