1999 Forester L 5 spd man.
Discussion Starter
•
#1
•
O.K., this forum posting business is going to be a -learn as we go- (ojt) sort of proposition; as is the whole entire Subaru improvement endeavor. Apologies for any gaffs or faux pas along the way.
Probably best to start at the beginning. Here are a few pics from the day I bought the car. 1999 Subaru Forester L 2.5L n/a, 5 spd man.
[Add details here]
First item was to add some window tint. Not my top priority, but after watching a few "how to" videos on everyone's favorite online video platform, it seemed like a relatively simple and inexpensive project. Also the consequences of screwing it up were very manageable. I only did the windows in the back seat, and cargo area. The tint is pretty dark.
Next on the agenda, lots of research. Mostly scavenging for information on tires and suspension to get a little farther off the beaten path. Big huge thanks here to all who have posted on those topics on this, and other sites. My neighbor has a WRX with General Grabbers on Sparco 16s, and I thought they looked really cool. But then I came across a photo of an SG with Hancooks and that locked it. Had to have 'em.
215/70/15 Hancook DynaPro MTs. There not cheap, but I found a pretty good deal at everyone's favorite online auction site. Better yet, a shop a few blocks from my house said they would match the online sale price (that's the sale price W/O shipping!) And could have them in and mounted the next day. Done. That kind of service is peerless, and rare it seem these days. Thanks to the fellas who change tyres outside on Colfax Ave. And for anyone who is wondering... That absolutely IS the biggest tire you can put on stock SF suspension. In fact one of them was rubbing the spring perch on the way home -badly. Less than a 1/16" (1mm) clearance now, but that's enough. No problems once I "adjusted" the spring perch with a 4lb. hammer.
Of course, once you remodel the kitchen, the rest of the house looks 20 years older than it did the week before. And once I got the nice new tires on, the wheels looked like crap. Even with the money I recouped selling the tires that came with the car (on everyone's favorite online classified site) there was no budget for new wheels. There was, however, plenty of money for several cans of spray paint. Satin black for the stock steel wheels, satin bright red for the calipers and rotors. White center caps.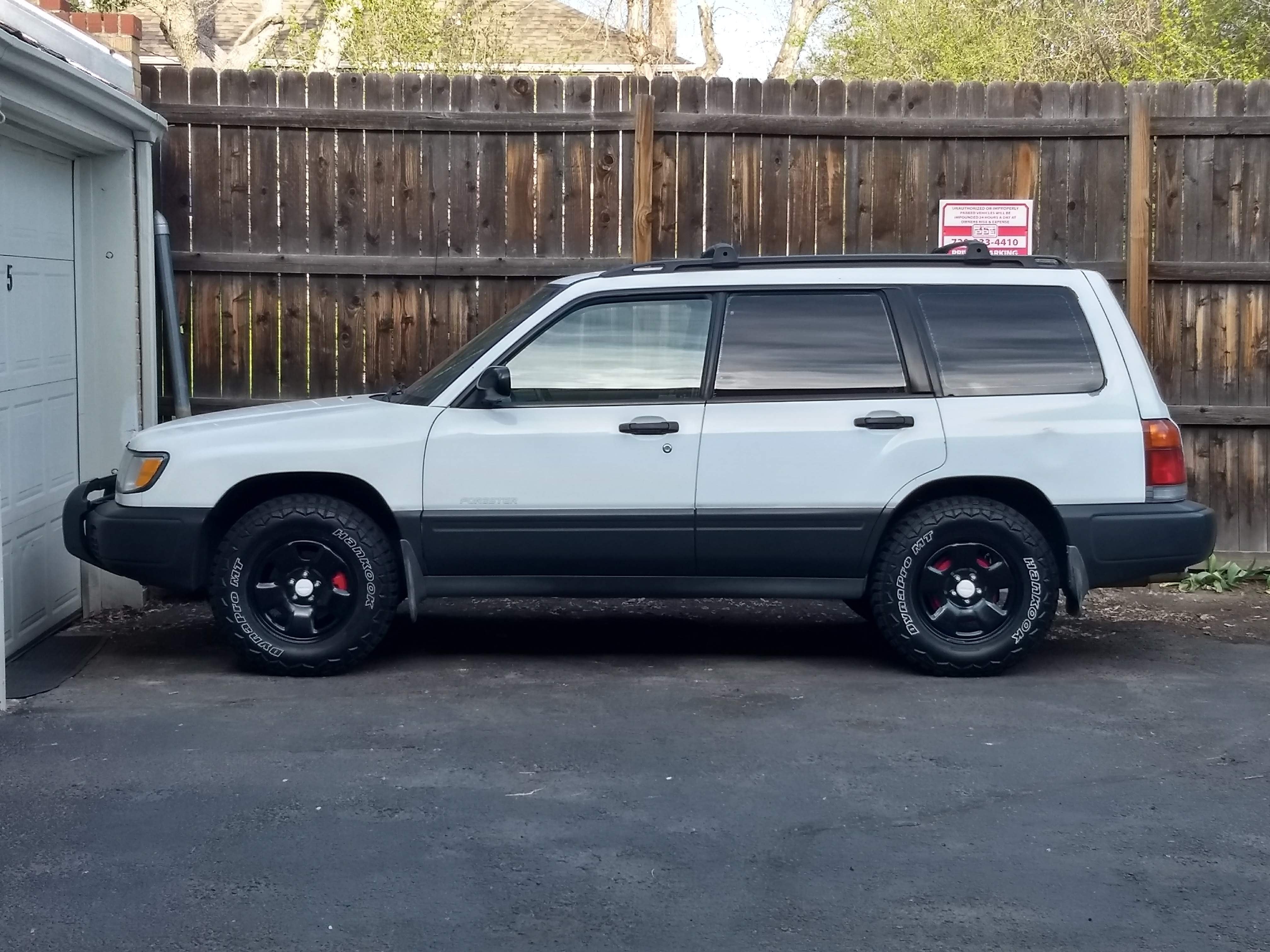 I'd be happy to add a link to the video I watched with superb instructions to paint your wheels with tires mounted. If that's not out of line. I can say that fundamentals of painting anything apply. The result is achieved in the prep work. Careful sanding, and good primer are a must.
Finally (for now). The purpose of the b.a. tires, and the increased traction/clearance they provide is to get to the good camp sites. That means we gotta bring our stuff with us, and that means a roof rack. Again, this is a shoestring budget kinda thing, so I picked one up at everyone's favorite big blue discount retailer. $80. A little smaller than I'd like, but it works for now.
Stay tuned for future fussing withs, and messing arounds, possibly including, but definitely not limited to...
-The sheet of 3/16" steel in my garage, yearning to be a skid plate
-Lighting stuff
-Seat covers or seat upgrade for the hilariously ugly interior
SG strut swap?
-Gauge cluster ?