Discussion Starter
·
#1
·
When I purchased the 2020 Subaru Forester Limited, I knew I wanted to try and reduce the amount of chrome trim. My end goal is try and make the outside look similar to a 2020 Sport model.
PARTS NEEDED:
1) Cover-Fog Light - $15/ea - (57731SJ040 & 57731SJ0050)
2) Forester Sport Grille (bottom) - All Black - $249 - (J1010SJ102)
3) Grille Assy (top) - All Black - $145 - (91121SJ060)
(Total: $400 for grille (OR) $30 for fog covers)
TOOLS NEEDED:
1) Small Light
2) Small Philips-head screwdriver
3) Long Philips-head screwdriver (w/magnet)
4) 8mm socket screwdriver
5) Plastic trim removal tools
TIME TO COMPLETE:
45 minutes
-----
Here are the only tools I used.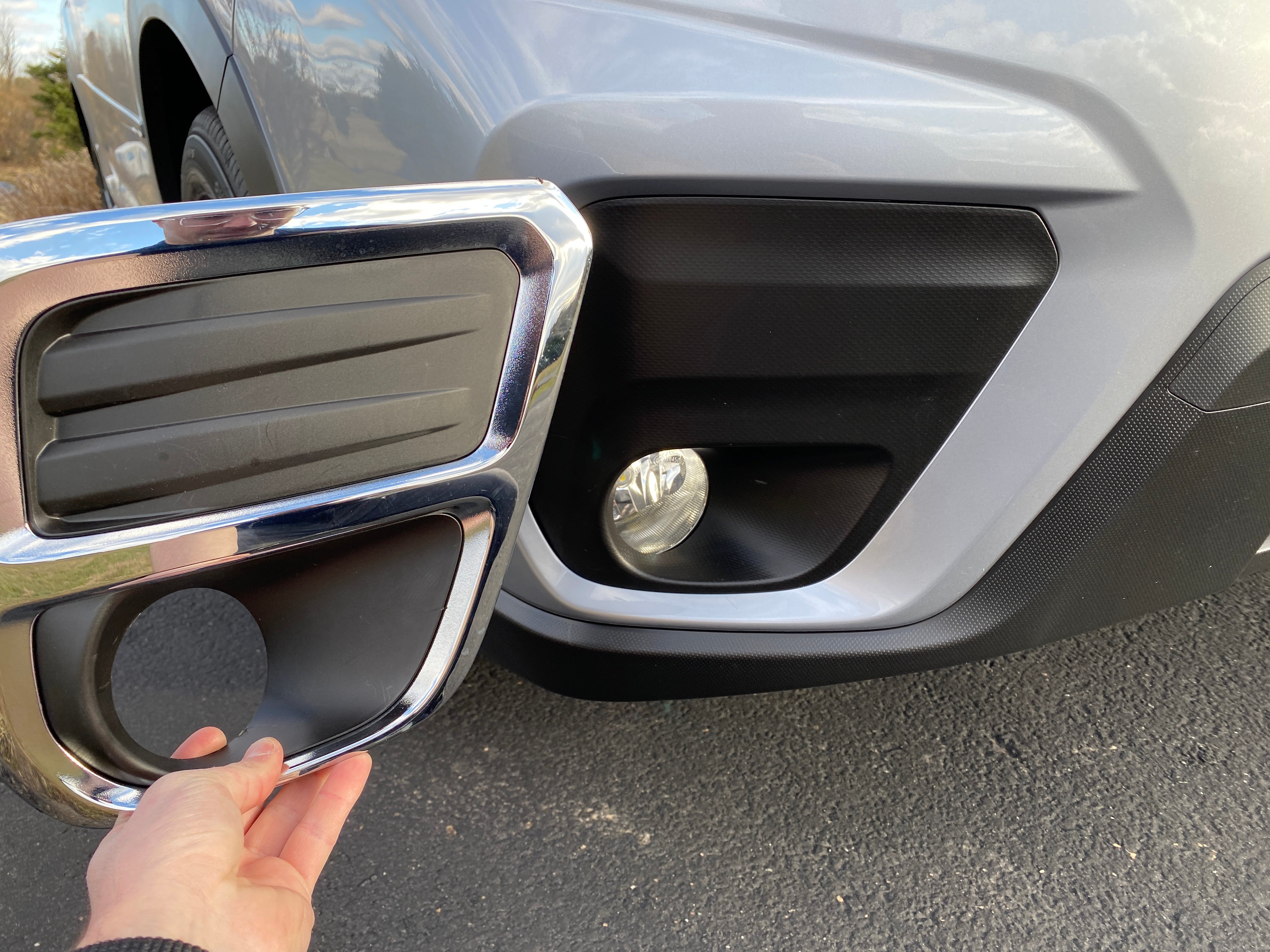 First, I replaced the Limited chrome fog light trim pieces (left) with those from a premium (on car). Another member has done this, too. I did this the day prior, so no install pictures, but it's pretty straight forward. There are a few clips under the front bumper that allow you to get your hands up there. It takes some pressure, but they pop right out.
Once I had the fog covers done, I moved onto the sport grille. This is the before picture.
What I didn't know was the sport grille is actually two pieces (upper and lower grill). I wanted to go all black to get rid of chrome. You can get just the sport grille that has a chrome bezel, but again, I got the full black bezel. This is the bottom portion comparison.
Here are the top portion of the grille comparison of stock to black.
I asked a few members, and seemed like taking off the front bumper wasn't needed. There is a video on YouTube that helps a bit. Here is where are all the screws and clips are.
1) Yellow X and O: Clips to guard behind grille. These clips come out, but just need to move the piece around to get hands in.
2) Red O: Clips holding in grille. Remove all of them.
3) Red X: Two small screws holding small center piece on grille. More on that below.
4) Blue X: Four screws holding grille to front bumper
As a note, once all the clips are out, use your screw drivers and squeeze your hand down to remove the 'Blue X' screws. Once every thing is out, use some force to push/pull the grille out.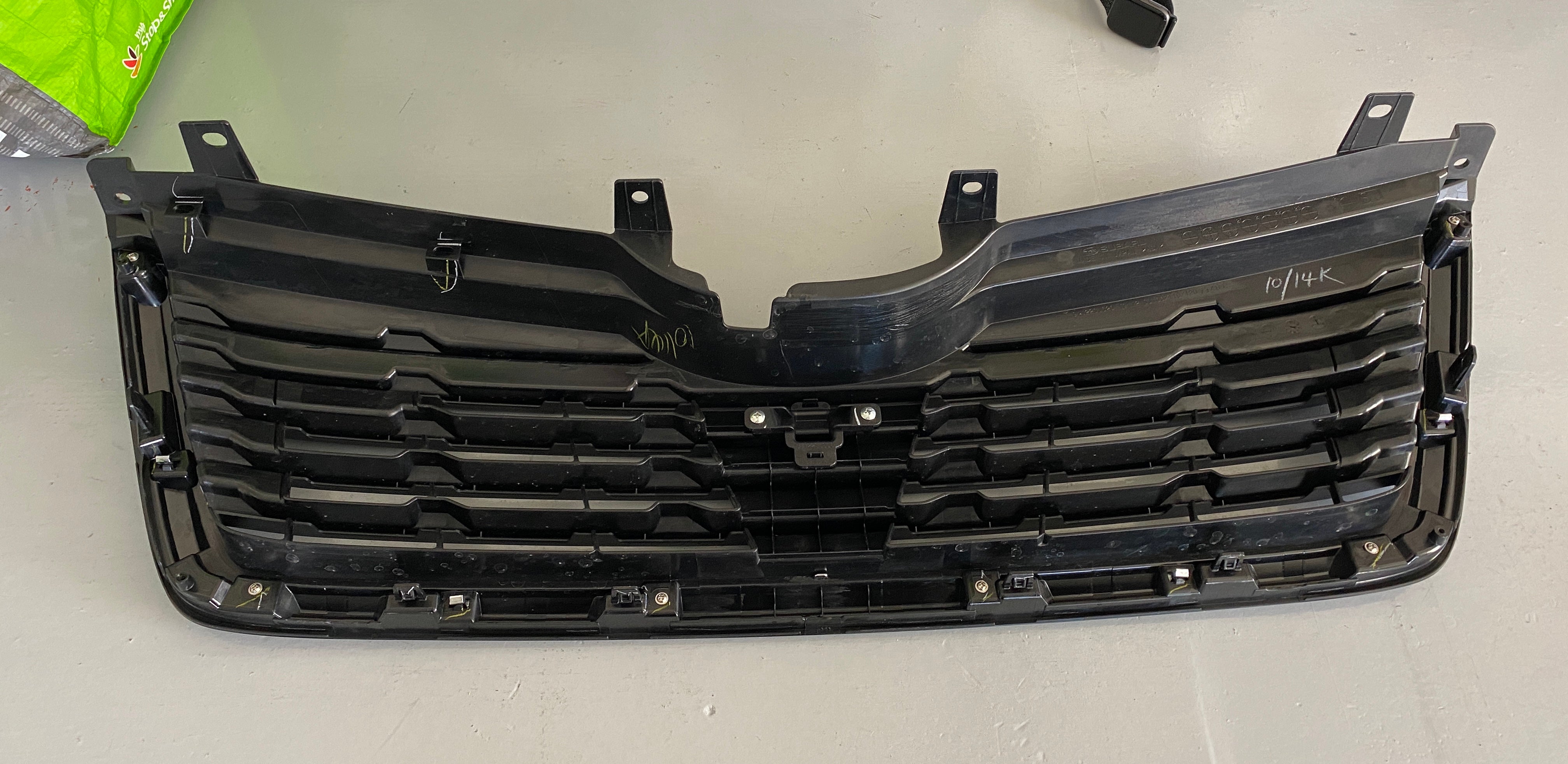 Here is the back of the bottom portion to see some of the clips holding it in.
Important part, I almost forgot to put this center piece in. Not sure why it's a smaller single piece, but it has two small screws. I used them from the old grille.
To put it all back, I just reversed all the above. I started with the four 'Blue X' screws and then all of the clips. It's very straight forward. Here is just the bottom portion completed.
Next I went to the upper portion. This I had pretty much zero idea on how to tackle. I started removing the 'Red-X' 8mm bolts. I then used the flat trim removal tool to pop the 'Blue-O' clips off.
(CONTINUED BELOW IN NEXT POST...)