Before taking delivery of my 2020 Forester last May I knew I would eventually be disabling the Auto Stop Start system as for my usage it would save a trivial amount of gas at the expense of extra wear and tear. Yes I'm aware there is a device I can buy. However $100 for a little gizmo to disable this is highway robbery and I refused to give in to that extortion.
I still wanted to keep the functionality of the switch even though I would likely never enable it.
After extensive internet searches and some basic electrical poking and prodding I discovered that all the switch did was short 2 wires together in a momentary switch. Internet rumor had it that you could just short these two wires together permanently and that would disable the system, somewhat akin to someone permanently holding the button in. This may have worked on earlier models but those evil engineers upped the ante and this DOES NOT WORK on 5th gen Foresters. I wish I had tested this before going thru all the effort of my first attempt.
So my first plan was to use a bistable relay that would switch every time I pressed the button. Think of it as essentially converting the button to a toggle on / off switch. I won't go into detail as it was a fruitless endeavor but it involved taking apart the switch and cutting traces on the circuit board and rewiring stuff to a relay that would flip flop when the button was pressed.
Anyway onto the good stuff:
Supplies needed:
Timing relay shown below ( about $5)
Add-a-circuit fuse tap to power the timing relay.
Appropriate fuse. I used 5A as I am also powering a dash cam.
Assorted scraps of wire and crimp connectors. (I recommend no bigger than 20ga for wiring into the switch.)
Mods if links are prohibited, please warn me and I will remove them ASAP.
Link to timing relay
("size 2" is the 12V version that you want)
Link to add-a-circuit
Our car uses the "Micro" type fuses
Note: An equally viable (and easier) way would be to splice into the wires behind the switch. I'm leery about hacking into my factory wiring and think modifying the switch is a more elegant solution, not to mention easily reversible by replacing the switch. I didn't note the wire colors but it should be easy enough to figure out after looking at my guide below if you want to just splice into the wire harness.
The idea is to use a timing relay to "press" the disable button for you X seconds after starting the car. I found this cheap little gem: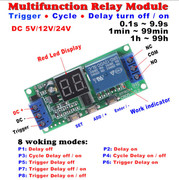 This is how it will be wired: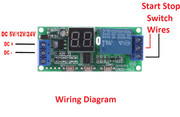 First we remove the switch from the dash. I don't have any pictures but there are tons of videos on youtube that show how to get to the back of the switch cluster on the dash. This video below shows a Crosstrek but it is almost the same as on our Foresters. If someone has a better video, let me know and I'll update the video link.
You don't need to pull the panel all the way off just far enough to access the back of the switches. There is a little finger to squeeze and unplug the switch. Then there are two "clips" on the top and bottom that you pry up with a small flat head screwdriver while gently pushing the switch in. Once you have both the top and bottom clips released the switch assembly will easily slide out the back.
Next we disassemble the switch to get to the circuit board inside. This is done by again prying a clip on either side and then the back part of the switch will come apart exposing the circuit board. You should have something like the pictures below: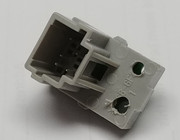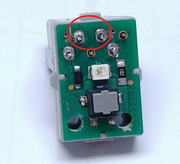 The two pins (wires) that the switch connect when you press the button are circled in red. These are what we took this apart to access. You will also notice I drilled two holes thru the circuit board and housing. These are to route the wires out the back of the switch to our timing relay. There is nothing that can be damaged on the circuit board in this area and it provides a convenient path to route the wires.
In case anyone is curious the other two pins (wires) used are just there to supply power to the switch LED. Circled in red below: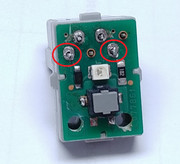 Now we just solder two bits of wire to the switch pins and route them thru the drilled holes. I used 20 ga because I had it laying around. I wouldn't use anything bigger than this. Another alternative would be to cut up some scrap network cable and use a pair of the fine wires.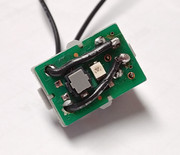 Once this is done, reassemble the switch and you should have something like this: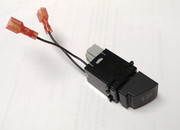 The hard part is over. Now it is just a matter of adding wires to the timing relay. I used both wires and crimp on connectors as shown to make it easier to install out at the car. I didn't want to try and monkey with screw terminals up under the dashboard.
All the pieces assembled and ready to take out to the car: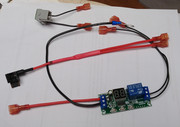 (note: my add-a-circuit is split into 2 wires as I am also using this to power my dash cam)
Now it is time to program the relay, as it is far easier to do now then try to program it when it is stuffed up in your dash. I had a handy 12V wall wart that I used for this. We want to use "P-4" mode and set "T1" to 10 seconds and then 1 second for "T2" and since we only want this to cycle once we set the final parameter "C" as 1. This will give us a 10 second delay when you start the car, then energize the relay for 1 second. Then it literally will do nothing until power is cycled. You can choose whatever timing you like. 10 second delay and 1 second "button press" just seemed reasonable to me.
If you don't have a 12V power supply, you can go out to the car and do the programming before stuffing it in the dashboard.
VERY IMPORTANT!!! The circuit board has lots of stuff that can be easily shorted out. Ideally you could use a big piece of shrink wrap but I didn't have anything that big so I just wrapped everything that could possibly short with multiple layers of electrical tape. I was able to leave the buttons and LCD exposed just in case I wanted to reprogram it.
Programming instructions for reference:
Step 1: power on,
Step 2: Press the SET key for a long time to enter the function selection, and display P1-P8. Press the SET key for a short time to switch between function 1 and function 8.
Step 3: Press ADD to select T1 time unit, display the value (-0/1/2/3), and set T1 time unit. At this time, press ADD to switch between 0/1/2/3. . Time unit:-0: 0.1 second file, time range 0.1 second -9.9 seconds -1: 1 second file, time range 1 second -99 seconds -2: 1 minute, the time range is 1 minute -99 minutes -3: 1 hour, time range 1 small clock -99 hours
Step 4: Press SET key to set T1 time and display T1. At this time, press ADD/Enter key to add and subtract time and display the numerical value (00). In case of functions 1, 2, 5 and 6, press the SET key to confirm saving, and the setting ends. If it is function 3, 4, 7, 8, enter the fifth step.
Step 5: Press the SET key to set T2 time unit. Display "-0/1/2/3", set T2 time unit, and press ADD key to switch between 0/1/2/3. . Time unit:-0: 0.1 second file, time range 0.1 second -9.9 seconds -1: 1 second file, time range 1 second -99 seconds -2: 1 minute, the time range is 1 minute -99 minutes -3: 1 hour, time range 1 small clock -99 hours
Step 6: Press SET to set T2 time and display "T2". At this time, press ADD/Enter to add and subtract time and display the numerical value (00).
Step 7: Press SET key to set the cycle times and display "C-". At this time, press ADD/Enter key to increase and decrease the cycle times and display the numerical value (00). If it is set to 0, it is infinite cycle.
Step 8: Press the SET key to confirm the save.
Once the timing relay is programmed and cycles properly, take everything out to the car. Looking at the fuse panel there is a 7.5A fuse for Accessory power (ACC). Circled in red below. This switches on when you start the car which is what we want. I used a 5A fuse in the add-a-circuit that was powering this relay and my dash cam. You could probably use a much smaller fuse if you can find one.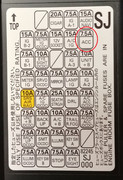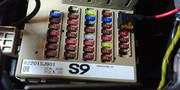 Install the add-a-circuit adapter as shown above.
Connect +12V from the add-a-circuit to relay power input.
Reinstall the switch into the switch cluster and connect the two wires to the timing relay.
Snap the trim piece with switch cluster back into place.
Use the Phillips screw you removed as a grounding point (or any other convenient metal fastener). I sandwiched the ring terminal in between the plastic trim piece and metal.
Snap the last trim piece back into place and close the fuse panel access cover.
Now you are done and never have to be annoyed by this "feature." 10 seconds after you press the start button (or turn the key) the amber icon should appear on the dash indicating Auto Stop Start is disabled. YAY!!!