Discussion Starter
·
#1
·
Hello,
I have a Subaru Forester MY13, 2.0 diesel (EE20) with a mileage just at 175000 km. It's always been served at an authorized Subaru workshop, but the day after the last service some weeks ago, the DPF light came on for the first time since I bought the car two years ago.
So I started reading up a bit on the DPF and plugged in an ELM327 OBD2 adapter and started to log the trips. I always drive >20 km and during the trips, the DPF regen gets activated pretty much each trip, as soot value reaches 69 %. Soot then further increases to about 85-95 % before it decreases, and at 19 % (typically 12 minutes), DPF regen deactivates.
The oil dilution counter kept increasing until it reached 10 % and then the DPF light started blinking. I spoke with the workshop and they scheduled a time a couple of days later, and during this time the oil dilution increased to 12 %. The dealer changed oil and filter and zeroed the counter. That was all they did, no further troubleshooting, and they told me they must have forgotten to zero the counter on the last service (so I didn't have to pay).
OK, so now the DPF light didn't flash anymore, but it still came on and went off during each trip just as before, and the oil dilution counter kept increasing. One day upon acceleration when I had the trailer hooked on, the DPF started to blink, check engine light came on, cruise control indicator started to blink and an alarm text told me something was wrong with the exhaust cleaning system.
Since I read out an ash ratio of 67 %, I decided to remove the DPF and send it away for cleaning. It came back with a test protocol that seemed very promising. Pressure went down from 93 mbar to 24 after cleaning, and flow went up from 103 m3/h to 515.
Now the DPF is reinstalled and fault code reset (P2463: Diesel Particulate Filter Restriction - Soot Accumulation); soot, ash and oil dilution are zeroed; this was done by the authorized workshop. But on the first trip, DPF light came on and went off twice. I have not yet connected the OBD2, but my gut feeling tells me something else is wrong. I also experience low power when accelerating. It just feels a bit weak. Idle is good though.
Yesterday, I began dismounting the EGR valve to see if it's clogged. I've came so far that it's free, but it can't get pass the EGR cooler... I have searched the forums and studied the diagrams of the euro4 version, but apparently it differs from the euro5 that I have. Any tips on how to proceed?
However, I found another thing. The air duct hose that connects the intercooler to the throttle body is cracked. Could this explain the sooting up!?
Do you any other ideas on what could be clogging the DPF? I'd rather not clog it again, now that it's clean... Should I remove the intake manifold to see it that is clogged with soot?
Here's some pictures!
Log data on a trip before oil dilution counter was reset: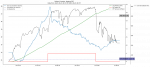 Log data on a trip after oil dilution counter was reset:
Cracked hose - EGR valve - Throttle body - EGR cooler blocking the passage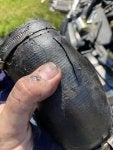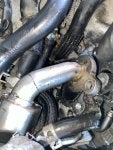 Thank you for listening!