Discussion Starter
·
#1
·
2013 Forester.
The key fab and the radio stopped working. Checked all fuses and located a blown 20 Amp fuse in the fusebox under the hood. Fuse Number 9 that is labeled "Back Up".
I replaced the fuse and a few seconds later smoke was coming from the dash. I disconnected the battery quickly and removed the radio as that is where the smoke seemed to be coming from.
After pulling the radio it was apparent this was the source of the smoke.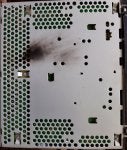 I am stumped as to what happened here. Did the radio just crap its pants? I have an aftermarket back up camera that is tapped into the rear back up lights on the inside. The camera works fine. My thinking is its the radio but possible the rear camera which is mounted to the license plate got water in it? Again the camera works fine.
Also after pulling the radio the key fab works again(Door lock interior buttons never stopped working just the fab and alarm)
Any help thank you in advance.