My Fos turned 100,000 miles last month and I decided to replace my O2 sensor as my MPG has slowly declined per my records shown on my
100,000-mile MPG Curve
thread.
http://www.subaruforester.org/vbulletin/f107/my-100-000-mile-mpg-curve-65816/
I purchased a front O2 sensor from Jackie at Annapolis Subaru and I saved >$40 since the local dealer quoted a cost of penny's less that $200 for the part. Thanks Jackie! The part number is 22641AA360, and the description on the receipt states "SENSOR AY AI".
The sensor is located in the front of the engine compartment near the bottom, and can be viewed and reached from the top. Standing in front of the compartment, you can see the sensor when looking down between the radiator fan and the engine pulleys/belt. The sensor is located directly below the power steering pulley.
I used a crow's foot socket that I rented from AutoZone since there wasn't enough head room for spark-plug socket type tool. It was on tight and I could not loosen the sensor with just a ratchet. I ended up getting under the passenger's side wheel well and removing a few plastic screw-plugs that hold the plastic splash guard that needs removed to replace the fog lamp. The cover did not need removed, just bent enough to get in the engine compartment from there...it was easy. From there I used a breaker bar which did the trick. Don't get me wrong, there isn't much room and it wasn't easy to get everything in place, but once I did, the bar easily loosened the threads.
From there, it's simply unscrewing the sensor, removing the wiring harness, removing the clip that holds the orange-colored wiring sleeve, and installing the new sensor. Below is a photograph of the front O2 sensor and wiring harness taken while standing at the front passenger-side corner of the car, and it also shows another sensor located directly below the passenger-side spark plugs location. The additional sensor appears to also be a part of the exhaust, but I'm not sure what it's for?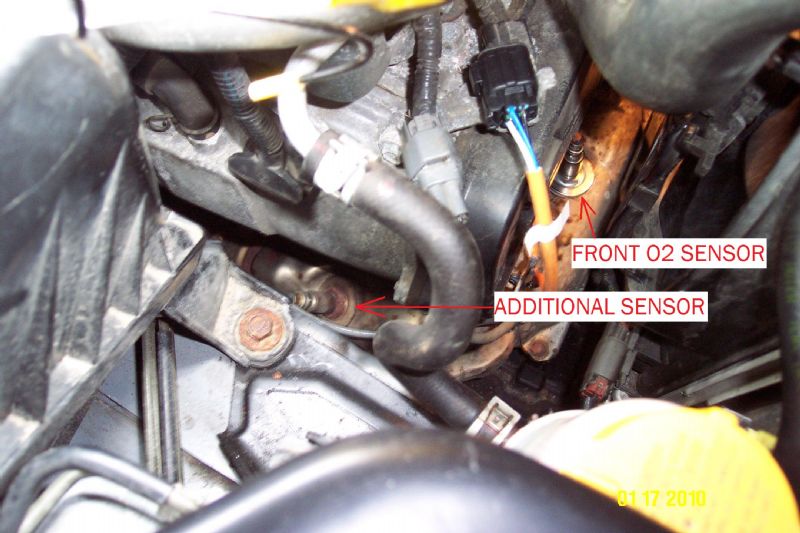 If everything went smooth, the O2 sensor can be replaced within 1/2 hour, but it took me probably 1 hour all in all after figuring out how to loosen the darn thing.
Hope this info helps someone...some day.