If your like me than you probably don't want to spend a crap load of money for hood struts for your car and you can't stand the stock hood prop. Here is a tutorial I created for cheap hood struts. I tried to post this in the DIY section but it wont let me so I'll put it in here.
Tools Needed
12mm Socket
10mm Socket
½" Open End Wrench
½" Socket

Metal Cutting Saw
Drill or Drill Press
Center Punch
5/16" Drill Bit
¼" Drill Bit
Materials Needed
Gas Struts from McMaster-Carr http://www.mcmaster.com/#catalog/117/1188/=ff6ee6

You could either get the 30lb struts or the 40lb struts. This would depend on if your looking for more lift out of them. I chose the 30lbs because I didn't want my hood getting thrown open after a certain point. I probably wouldn't go higher than 40 because it will put stress on the hood if it opens quickly and then the struts bottom out stopping the hood.
Part Number: 4138T563
30lb Force
Extended Length: 17.13"
Compressed Length: 10.83"
Ball Std Thread Size: 5/16"-18

Cost Shipped: $35

Materials From Lowes/HomeDepot
1"x1/8"x3' Angle Iron
(4) ¼" Washer and (4) 5/16"-18 Nylon Nuts
Paint

Cost $15

For these struts, you will need to make the brackets that hold the struts in place. This is very easy to do. I used a dry cut saw to cut my brackets. You should be able to cut fairly accurate with a hacksaw or cutoff wheel, etc… Below are the specs to which the brackets need to be made.

***Remember you need to make the brackets for both sides so the left and right will be made in opposite directions

These are the dimensions for the hood brackets: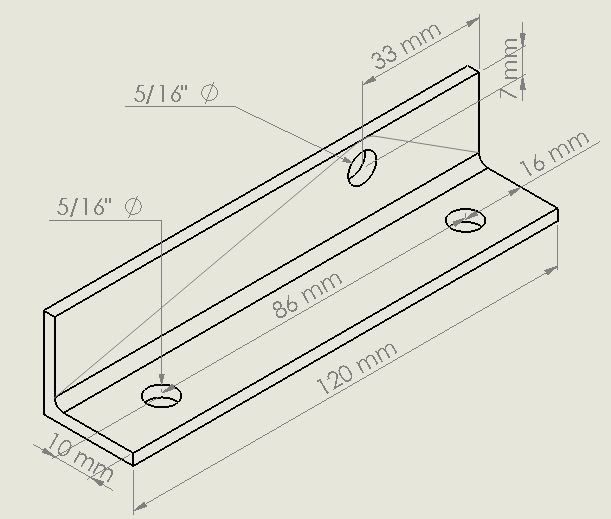 And here are the dimensions for the fender bracket:



Here a picture of what I used to cut my brackets: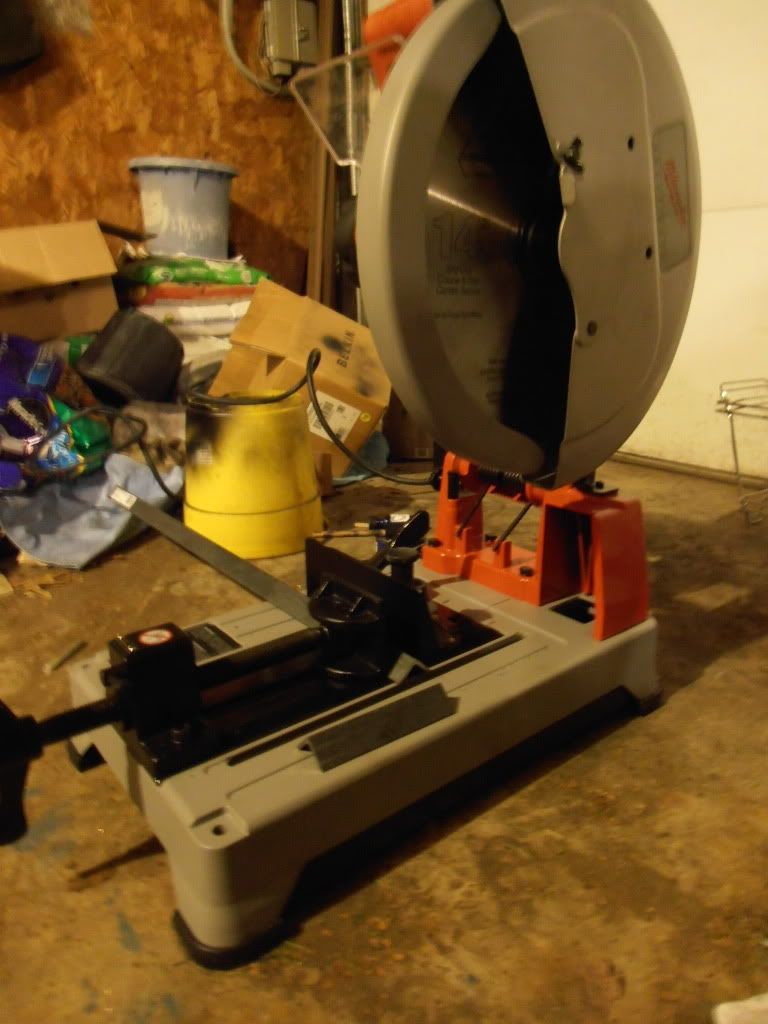 I used the center punch to make the spots for where to drill the holes. This is used so that way the drill bit won't wander when starting the hole. After these brackets are fabricated, it is time to install the brackets.

Here is a picture of my brackets after I painted them and they were ready to mount. I also used a stationary belt sander to grind down the points and to give it a better look. I'm sure this can be done using a bandsaw or a hacksaw.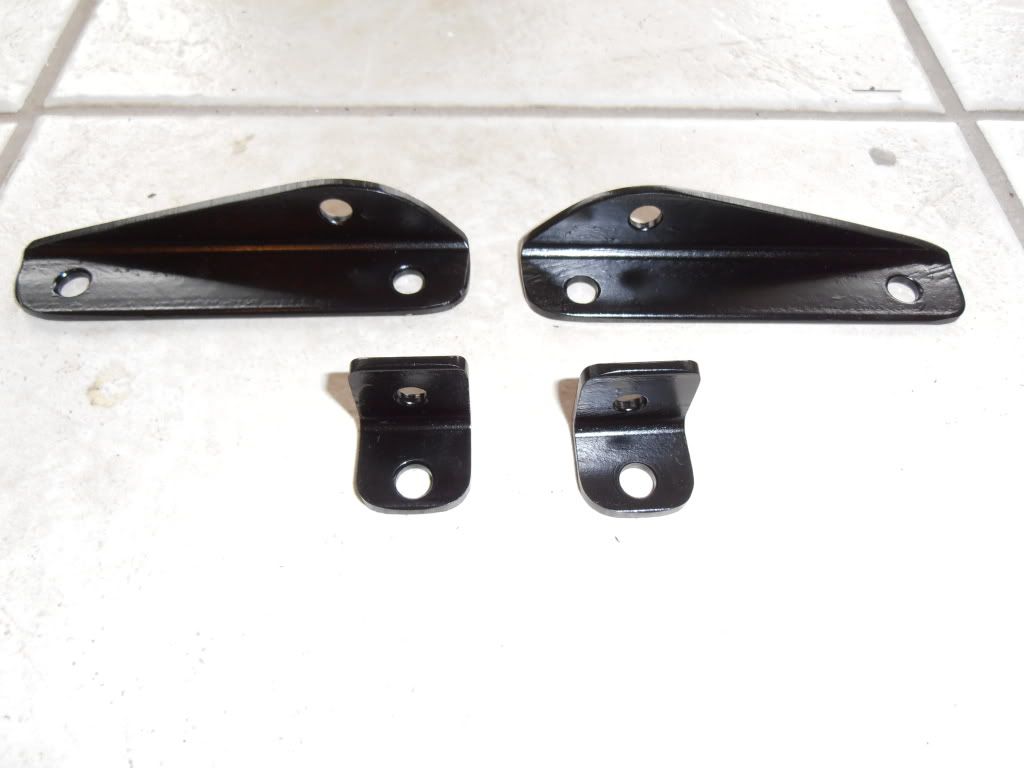 Installation

First Remove the Fender Mounting Bolt by using a 10mm socket and install the fender bracket as shown below: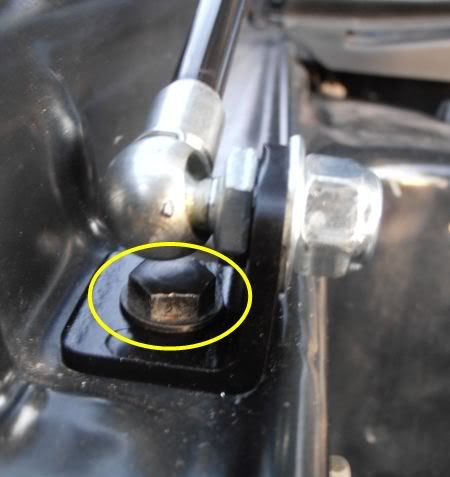 Next, using a 12mm socket, remove the two hood bolts. Make sure to hold hood or have someone help you hold the hood so that way it doesn't fall. Then install the hood brackets that you made.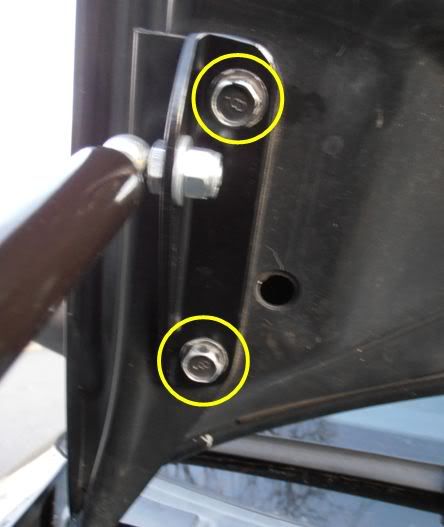 Then install the gas struts using the ½" open end wrench and a ½" socket.
Repeat for the driver's side.

You might need to trim the hood seal so the struts clear it but it might not be necessary. I just use a utility knife to trim off about 1" on each side so the struts slide past when the hood shuts.

One thing that might help for single person installers is to use the stock hood prop to hold the hood while you install the brackets.

Finally, Enjoy your new hood struts: