Discussion Starter
·
#1
·
Hello people,
I replaced my right side valve cover gasket few days ago and I'm now in process of making sure it seals properly. As expected I spilled some oil while taking the cover off. I tried to clean the spilled oil as well as I could and burn the rest with heat cycles. But either I did poor job while replacing the cover with new gasket or I have another oil leak in same general area. Pictures will tell more than I ever could.
I cleaned this area with brake cleaner and now there is fresh oil again.
Filter also got a bead hanging from it.
Now this could be a whole another problem.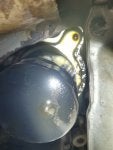 This pic is taken from other side, the part where the filter attach is almost clean...
...but from the other side it definetly is not.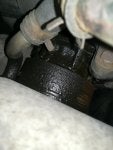 I read a forum post about a leaking turbo oil feed and return lines but it couldn't splash the oil filter, could it? Could these oil stains be from the old valvecover leak? Or could there be a pool of excess oil somewhere I spilled and its making a mess shown in 1st pic?
Anyway I'm propably going to clean this mess soon, once I do maybe I can be more certain if there is another oil leak but in the mean time any and all help is welcome, thanks.